How mature women are spending their hard-earned money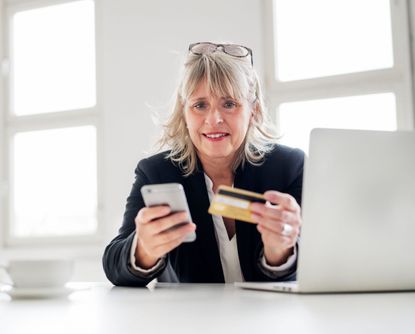 woman&home newsletter
Sign up to our free daily email for the latest royal and entertainment news, interesting opinion, expert advice on styling and beauty trends, and no-nonsense guides to the health and wellness questions you want answered.
Thank you for signing up to Woman & Home. You will receive a verification email shortly.
There was a problem. Please refresh the page and try again.
Women in their forties and fifties are more likely to be the main earners in their household, with the power to spend and invest, says Andréa Childs.
On a recent catch-up with friends, we covered the following topics: the yoga range at aldi (the £5.99 racerback bra is a thing of beauty); scoring a discounted Dualit toaster online (classic luxe for less), and whether the savings on said toaster justified buying a pair of Ejing Zhang earrings from Net-a-Porter (answer: it would be rude not to).
While my friends and I all earn different amounts, it would be wrong to define us as "the spender", "the saver" and "the smart shopper". Depending on our mood and our bank balances, we could be all of the above.
MORE: 7 money-saving tips… that actually work!
"Midlife women today are asset-rich. they're often the first generation to go to university and hold executive jobs, and they're inheriting from the baby boomers before them," claims Rebecca Rhodes, founder of marketing agency superHuman. "We're running countries, media companies and banks. It's no surprise this up-for-it attitude filters back to our home life."
Clare Francis, director of savings and investments at Barclays Smart Investor, says women tend to be the CEO of the household. "Women are managing the day-to-day finances – everything from paying the monthly bills to booking family holidays," she explains.
"We're experts at both shopping and making savings. but we also feel there are things worth treating ourselves to, particularly if we've cut back in other areas. We work hard and spend our money wisely, so a facial or new handbag feels like a reward."
How we spend our money
This isn't about being wealthy; it's about identity and attitude. Fashion label JD Williams calls us "Midsters"; women aged 45+ living a "vibrant phase of life full of new possibilities". according to its report, a third of us have always worked, without taking a career break, and the same number see ourselves as the main breadwinner in our household.
We've earned the right to spend our money as we like, and we're old enough to know that wasn't always the case. Until the Sex Discrimination Act came into force in 1975, banks could refuse to give women mortgages without a male guarantor. And as late as 1980, we could be turned down for credit without a man's name on the loan agreement.
Now, as those mortgages are being paid off and our spending power increases as our children leave home, we're relishing our economic clout. Names such as Jaguar, Nars and Not your Daughter's Jeans are chasing our custom, but too many stores are missing a trick when it comes to targeting our cash. Consumer forecaster the Futurist identies "affluent Midults" as a key demographic and warns that brands ignore us at their peril.
Its latest Global overview states, "the affluent Midult is about to take centre stage as the most dominant generational subculture of our time and redefine 'middle-aged'. This group consists of savvy, sceptical and self-reliant females between 35 and 55 years of age. according to new data, the afluent Midult has more spending power than any other generation." That definition may be above my pay grade, but I do recognise myself in the description by Jossie Ellis, head of growth for personal finance app, Money Dashboard.
"Having looked at over three million transactions from users, we can see that women in their midlife (40 to 65) are at the peak of their spending powers," she says. "In fact, they're shelling out a larger proportion of their income across every category, than at any other time in their lives."
Whatever our income, it seems women are metaphorically holding the purse strings. or in the real world, setting up direct debits, doing the online grocery shop and booking a spa break.
"Self-gifting" is a phenomenon embraced by our generation (we spend more on treats for ourselves than women aged 18 to 34). but the concept has morphed from spending on stuff, to investing in our self-care. That spa break? We deserve it.
Investing in our future
Maybe it's the influence of Deborah Meaden, Kelly Hoppen, Oprah Winfrey or any of the other fearless financial role models on TV, but we're learning the thrill not just of spending money but investing it too. (When Oprah bought a 10% stake in Weight Watchers, the price of shares leapt. Her $43.5 million investment is now worth more than $400 million.)
It turns out, we're pretty damn good at it, with female investors typically outperforming their male counterparts and the FtsE100 index. "Over a three-year period, our female members achieved average annual returns 1.8% higher than the men," agrees Barclays' Claire Francis.
If we're not buying into existing businesses, we're starting our own or generating a second income (86% of sellers on Etsy, for example, are women). "Midlife women don't want to move straight from the day job into retirement. We have a wealth of experience and have built up savings that we're ready to invest," says Maike Currie from Fidelity International.
We have cash, confidence and experience, and it's time the world woke up to our economic power.
I think it's time for another brunch with friends. on the agenda, starting our own stocks and shares investment club, what we'll be "gifting" ourselves this Christmas and whether Lidl's award-winning sparkling wine is really as good as everyone says it is. Who holds the purse strings? We do.
Written by Andréa Childs.
Sign up to our free daily email for the latest royal and entertainment news, interesting opinion, expert advice on styling and beauty trends, and no-nonsense guides to the health and wellness questions you want answered.