Line of Duty Season 6 Episode 1: what is a CHIS, and what's going on with Kate?
The show's sixth series kicked off last night, and we already have a lot of questions...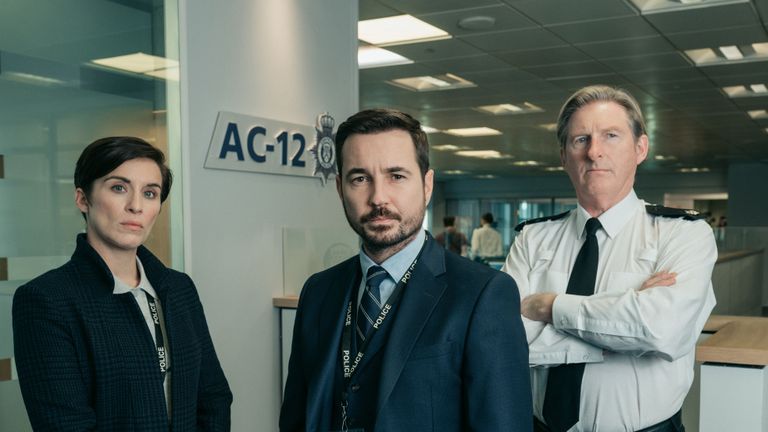 (Image credit: BBC )
Houl yer whisht!* Line of Duty Season 6 made its return to our TV screens last night, and what a twisting and turning episode it was.
Our favourite anti-corruption officers Steve Arnott, Kate Fleming and Ted Hastings are back for another instalment of nail-biting interviews and uncovering bent coppers. 
Like many TV series, the sixth season of Jed Mercurio's hit police drama was delayed due to the Covid-19 pandemic. Despite ongoing restrictions, the team was still able to finish filming last year, meaning we're finally living all things AC-12 once again.
*Northern Irish for "shut up", for the uninitiated 
More from woman&home:
** Warning: spoilers up to the most recent episode of Line of Duty lie ahead! **
Line of Duty Series 6 Episode 1 recap
We're used to Line of Duty series openers being pretty explosive, but last night was a fairly slow burner compared with the premieres that came before it. We still had the trademark opening of an operation that didn't go quite to plan, during which DCI Joanne Davidson (rather randomly) redirected the mission to a suspected armed robbery.
When the team later reached the block of flats as planned, Terry Boyle, a man with Down's Syndrome and whose flat the organised crime group (OCG) has been using since series 1, was arrested. However, it soon became clear to the team that he had been swapped in for the real suspect, Ross Turner. Viewers will remember that the group stashed Jackie Laverty's remains in Boyle's freezer, which was noticeably absent from his flat when forensics swept it later in the episode. Later, a much-discussed informant on the case was found dead. 
Sergeant Farida Jatri, who viewers may remember from series 4, flagged DCI Davidson's suspicious behaviour to Steve but later panicked saying "you have no idea what she's capable of". Viewers then found out that she and Davidson had been in a relationship when Davidson went to collect the rest of her things from Jatri's home. Who's leading whom up the garden path here? 
The episode's biggest revelation, however? Kate Fleming is no longer working with AC-12 and has moved to the Murder Investigation Team headed up by Davidson. Fans were thrilled that she met up with Steve later in the episode and agreed to swap intel, but how did her departure from AC-12 really go down? We have a feeling there could be more to this than meets the eye...
The show is famous for its many (many) acronyms and last night had viewers Googling a new one: what is a CHIS? Here's a refresher of the show's most common acronyms. 
Acronyms in Line of Duty - what is a CHIS? 
CHIS – Covert Human Intelligence Officer
MIT – Murder Investigation Team 
DIR – Digital Interview Recording
OCG – Organised Crime Group
AFO – Authorised Firearms Officer
ARV – Armed Response Vehicle 
FI – Forensic Investigator 
UCO – Undercover Operative
When is the next episode of Line of Duty Season 6?
Line of Duty Season 6 is back on Sunday 28th March at 9pm on BBC One. Fans will be pleased to hear that this series is an episode longer than usual with seven instalments in total – meaning the finale will air some time in May. 
This season the team is investigating DCI Joanne Davidson, played by Kelly MacDonald. DC Chloe Bishop, played by Shalom Brune-Franklin, has joined the AC-12 team, while Prasanna Puwanarajah and Perry Fitzpatrick are also new additions for series 6. 
Is Line of Duty based on real events? 
It may calm your nerves to know that the Line of Duty storylines aren't based on real events and people, but they are inspired by real cases, according to Metro. And while AC-12 is a fictitious unit, it is based on real anti-corruption police units. Jed Mercurio, the show's creator who also created Bodyguard, works with a team of former police officers to ensure the show is as realistic as possible. Probably why it's so very gripping! 
What channel is Line of Duty on?
Line of Duty has aired on BBC One since its fourth series. Before that, the first three seasons aired on BBC Two, where it quickly became the most popular drama in the channel's history.
 * Warning: spoilers for the most recent season of Line of Duty lie ahead! *
Line of Duty Season 5 ending – what happened in the last series finale?
The series ended with the revelation that Gill Biggeloe had been working with the organised crime group, aka OCG, and was in on the plot to frame Superintendent Ted Hastings. (Did nobody else have her down as corrupt from series 3 after her dealings with Dot Cottan?)
It turned out that Biggeloe had planted the seeds of doubt in John Corbett's mind that Hastings was instrumental in his mother's death, hence the vendetta. She had also recommended him as the undercover officer for operation Pear Tree, during which he infiltrated the OCG. After narrowly avoiding being stabbed by another corrupt officer in the ladies, Biggeloe is taken into custody and later given a new identity.
Despite clearing his name (for now), a few questions about Hastings' odd behaviour last season remain unanswered. Was there more to his laptop disposal? What were the instant messages he was receiving? Is there more to the story of him and John Corbett's mother? 
The fifth season finale also saw that Ryan Pilkington – who has been around since series one – is now training to become a police officer, after Lisa McQueen lied and said she didn't know of any other OCG members still at large. We don't need to tell you that this isn't good news...
This is the question on every Line of Duty viewer's lips: who is the infamous H working with the OCG? Until the most recent series we all thought this was an officer whose last name began with H, based on Dot Cottan's confession from the third series.
However, the finale revealed a game-changing twist in the H mystery – they're actually group of people. The team realised that they'd misinterpreted Dot's dying declaration; the letter H in Morse code is four dots, representing four corrupt officers. Cottan, Biggeloe and the deceased ACC Derek Hilton make three, meaning just one remains at large.
It's likely that the H mystery won't be completely solved until the final season of the show – and there is talk of a seventh series still to come. So, who is the final H member? Only time will tell...
Where is Line of Duty filmed? 
Series 6 of Line of Duty was filmed in Belfast. While the first season of Line of Duty was shot in Birmingham, the show has been filmed in Northern Ireland, since its second series.
We can't wait to get our teeth into the next episode.