Kate Garraway reveals her own 'mortifying' health struggle amid husband Derek's battle to recover at home
Kate is facing more misfortune after what has been an incredibly tough year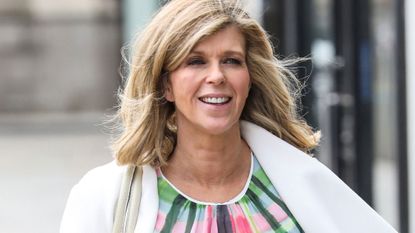 (Image credit: Photo by MEGA/GC Images/Getty Images)
Kate Garraway has opened up on her own secret health struggle that she's been facing in recent weeks, amid her husband Derek Draper's battle to recover at home.
Kate's husband Derek was hospitalised in March 2020 when he fell ill with Covid-19.
The former political advisor was taken into intensive care and placed in an induced coma, spending over a year in hospital facing the awful impact the coronavirus infection had on his body.
Good Morning Britain host Kate documented part of Derek's heartbreaking journey in her ITV documentary, Finding Derek, and after months of NHS care, Derek was allowed to return home in April.
While Derek, who is incredibly weak after a huge eight stone weight loss, is receiving further care at home, in a bid to regain control over his life, Kate has faced more misfortune in the form of her own medical woes lately.
Kate, who shares 14-year-old daughter Darcey and 11-year-old son Billy with Derek, told GMB viewers how she had been forced to miss plans with ITV colleague Ranvir Singh after developing both an eye infection and an ear infection.
And suffering from sight loss from the nasty ailment also meant that Kate made a huge money mistake while online banking.
Chatting to Ranvir on air today, Kate explained how her weekend had taken an irritating turn, "I know it's always one of my excuses, I can barely read the autocue at the best of times, but I had an eye infection Friday, do you remember it was watering a bit when I was on the show, and then it spread to the other eye. So I couldn't put my contacts in, I couldn't see anything."
---
More from woman&home:
---
"I actually was sending random texts to people," Kate went on to say.
"I transferred money into the wrong account and had to ask for it back, it was mortifying. And then I had an ear infection."
Kate recently thanked her loyal supporters for giving her strength during Derek's hard times, telling her Instagram followers that her book, The Power Of Hope, had made it to a second week at the top of The Sunday Times Best Seller list.
"Oh my god, I can't believe it! #ThePowerofHope is on The Sunday Times bestseller list at the #1 spot for a SECOND week 🥺," the Smooth Radio host wrote, alongside a snap of her book ranking top of the coveted chart.
In an outpour of love, she went on to write, "It makes the struggles to get the book done so worth it. To see and hear how it's touching you all so much is just incredible and I've been slowly getting through and reading all your messages telling me how it's helping so many of you.
"From the bottom of my heart, thank you all so much for caring and sharing your personal stories with me. Thank you again and again 💕🙏🏻."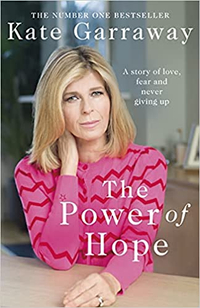 (opens in new tab)
The Power of Hope by Kate Garraway - £10 | Amazon (opens in new tab)
Kate Garraway opens up on the hardships and hurdles she and her family faced as husband Derek faced an excruciatingly hard health battle after contracting Covid-19 in March of 2020.
When Derek finally made it back to the family home, Kate gave an insight into why he had been able to leave the hospital after a year spent under medical surveillance.
"It was a medical reason for reason for coming home as well as our desire and his desire too, to try and encourage a more normal environment to stimulate his recovery, cognition, and consciousness better," she said on GMB.
Detailing the day Derek arrived home, Kate went on to say, "When we came in the door, as we pulled up… I could see two little faces of Darcey and Billy looking out of the window and they ran out of the door, and Derek immediately burst into tears and there was a lot of hugging.
"He absolutely knew he was home."