Kate Garraway shares another heartbreaking update on husband Derek's coronavirus battle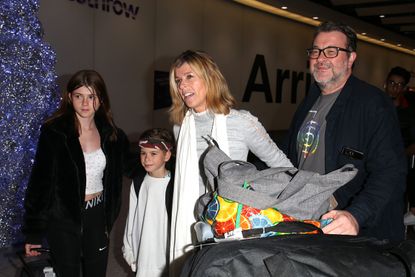 (Image credit: Getty)
Kate Garraway has shared another hearbreaking update on her husband Derek's coronavirus battle.
Derek Draper has been fighting for his life against Covid-19 in intensive care since the end of March.
Kate, who shares children Darcey and William with her husband, took to Instagram today to speak to fans about his condition.
As she stepped out to clap for NHS staff last night, the Good Morning Britain host praised their outstanding work, writing, 'None of those keeping my Derek alive have ever made me feel it's a chore, they want to win this as much as I want them to, but it must be so hard. He is still critically ill in intensive care, but where there is life there is hope.
'I know I am not alone in struggling . We are all facing challenges , whether we have a sick loved one or not , so let's stand together & I hope something on there helps YOU.'
Kate's TV colleagues also relayed a message from her to viewers on GMB this morning.
Ben Shepherd explained that Kate has been able to communicate with Derek, who is now in a coma.
"She wanted to share that she's been able to speak to Derek in the evenings in the coma.
"She's been able to share music with him, to talk to him, to support him," Ben said, while Charlotte Hawkins added, "Normally you'd be able to be there, right by your loved one's side…
"It's so hard for families not being able to be there, not being able to see their loved ones."
Ensuring that the kind words of support sent to Kate from fans are reaching Derek, Ben continued, "She said, the thing you can pass on to everybody… She's been able to pass on those messages that you've sent to her, to Derek.
"So he's getting a sense of the support and positivity that's coming from all of you.
"As Kate said last week, she can't respond to everybody, much as she wishes she'd love to be able to."
Our thoughts are with Kate, Derek and their family at this tough time.