Justin Trudeau: How He Wooed The World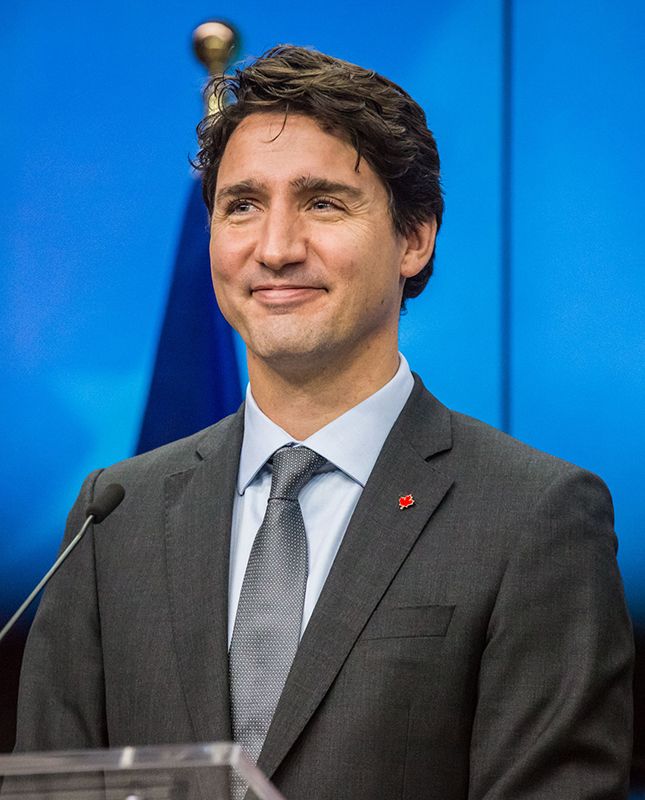 (Image credit: Rex)
Forget all those Bieber Beliebers: there's only one Canadian Justin we're interested in and that's the country's swoony PM, Mr Trudeau.
Sure, he may have the looks and swagger of a silver screen hunk but that's not the only reason we love him (although it certainly helps). We're far more impressed with his right-on feminist credentials, positive climate change activism and downright hilarious yoga moves. And that's just for starters…
Ever since Justin Trudeau assumed office as Canada's 23rd prime minister in 2015 he's been wowing us on a regular basis, providing us with enough shareable clips and GIFs to rival Beyonce on social media.
Which is why we decided to round up his best moments. Introducing The Right Honourable Justin Trudeau. JT, these are your best bits…
Justin Trudeau...A Bit Of A Heartthrob tbh
We hate to be shallow, but you can't hide the truth. This week the internet exploded when photos of a young, shirtless Justin Trudeau emerged on Twitter. We're talking swoony.
Justin Trudeau…The Feminist
Yes, that's right. Here's a man who isn't afraid to call himself a feminist – or encourage other men to do the same. In 2016, Trudeau used his platform at the World Economic Forum in Davos to speak out on gender equality alongside Facebook boss Sheryl Sandberg saying: "We shouldn't be afraid of the word 'feminist'. Men and women should use it to describe themselves anytime they want." Right on,
JT…
Justin Trudeau...The Bhangra Dancer

http://www.youtube.com/watch?v=R8ypraEielc
No, seriously. He's really good at it. In 2015, a vintage clip of Trudeau swinging around in a white desi kurta-pyjama ensemble to hit 2009 Bollywood song 'Dil Bole Hadippa!' rightly went viral. According to a party spokesperson, the killer moment was captured during an event organised by the India-Canada Association of Montreal in 2009.
Justin Trudeau…The Yoga Master
It turns out Justin is a pro at the mayurasana (that's the "peacock pose" for those who aren't in the know) – and could probably teach us a thing or two at our local gym of dreams. If you missed it first time round, check out @JustinTrudeau's 2013 tweet and bask in its glory. Namaste.
Justin Trudeau…The Good Samaritan
In 2014 Justin Trudeau was travelling through Montreal Metro station when he spotted that a wheelchair user was having a hard time accessing his metro due to a broken down escalator. True to form he rolled up his sleeves and helped carry his fellow commuter down the stairs. It's the small acts of kindness we remember the most.
Justin Trudeau…Thinks What We're Thinking
Especially when he's looking down at President Trump's sweaty palm at an Oval office photo opp. Earlier this month Trump's offered hand was met with righteous consternation by Mr Trudeau's facial muscles – and the image went viral. His face = our face. He's a man of the people.
Justin Trudeau…Says Refugees Are Welcome
In stark contrast to Trump's executive order, the world gave a sigh of relief when Justin Trudeau immediately took to Twitter to vocalise his support of refugees worldwide. "To those fleeing persecution, terror & war, Canadians will welcome you, regardless of your faith," he declared. "Diversity is our strength." Trudeau is a man of his words: in 2015 he made it an immediate priority for Canada to accelerate the entry of refugees from Syria. To date, his administration has provided sanctuary to nearly 40,000 refugees.
Justin Trudeau…Likes To Cuddle Pandas
Forget everything you ever thought was cute and take a look at this photo of Justin Trudeau cradling two cuddly panda bears for a naming ceremony at Toronto Zoo. It doesn't get any better than this, does it? Of COURSE not.
Justin Trudeau…Also Likes To Flirt With Our Queen
What's the betting Trudeau managed to make Elizabeth blush with this cheeky tweet? After HM thanked the Canadian prime minister for "making her feel old" on Twitter. He came back with this smooth response: "On the contrary, you are forever young." It's a fine line, but JT expertly tightropes it with George Clooney levels of ease.