Just like us, Jeffrey Dean Morgan still hasn't gotten over Denny's death on 'Grey's Anatomy'
"I was trying everything I could do to get out of that death"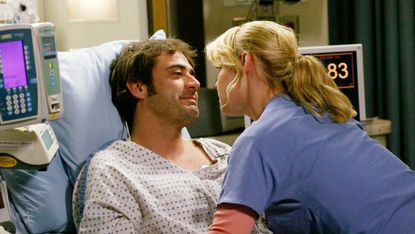 (Image credit: Byron Cohen/Walt Disney Television via Getty Images)
Before wowing us with his performance as the complex Negan on The Walking Dead, Jeffrey Dean Morgan stole our hearts (and tears) on Grey's Anatomy. Though his time was short-lived on the show, Jeffrey recently recounted his experience and the impact the role had on his career in Sean Evans' spicy YouTube series Hot Ones.
During the early seasons of Grey's Anatomy, Jeffrey played the unforgettable role of Denny Duquette, a patient who caught feelings for Dr.Izzie Stevens (played by Katherine Heigl). The show had such an impact on him that when the time came for his character to leave the show, he tried everything he could to stay.
"Grey's Anatomy' I knew was something special," said Jeffrey. "That's the one time that I saw my death coming, and I was trying everything I could do to get out of that death."
To top it off, his character would also go down as one-half of a fan-favorite romance (which still stands true today). Jeffrey had stumbled on a golden role on a hit medical drama series and knew he couldn't lose a shot at being a part of it longer.
"That character, Denny, and that love story with Izzie kind of took the world by storm," Jeffrey said. "I knew how f---ing lucky I was to be there."
Not yet ready to say goodbye, Jeffrey headed to the one person who had the power to change his scripted fate, executive producer and creator Shonda Rhimes.
"I was like, 'Please don't kill me! I will do anything,'" he spoke of their meeting. "I did. I begged her."
Unfortunately, Denny's fate was sealed, and Izzie had to say goodbye to her love. By the end of the show's second season, Denny died, leaving Izzie heartbroken. This wouldn't be the last we saw of Jeffery's character though, his begging paid off as the show brought him back in further seasons for dream sequences and hallucination scenes.
While his time on the show was short-lived, it was that role that helped advance his career as an actor.
"That's what changed my life," he said. "Being Denny, where I never got out of bed, is why Zack Snyder hired me to be The Comedian (in 'Watchmen'). That's how special that was."
The actor previously opened up about his emotional exit from the show back in 2006, when Jeffrey expressed his disappointment to Los Angeles Times.
"It was a grim day, let me tell you," he spoke of filming his final scene. "A dark, grim day. I'm still not over it. It broke my heart to leave that show."
The show was an unforgettable experience for him in ways he wasn't expecting, and today, he still holds the experience close.
"I had no idea what it would be like," he said. "How attached I would get. To Denny and everyone there. It is such a great show, such a great group of people. It was the only time in my career when I didn't mind getting up at 5:30 in the morning, didn't mind the 16-hour days. I couldn't believe it. So ... yes, I fought to stay."
Rylee is a U.S. news writer who previously worked for woman&home and My Imperfect Life covering lifestyle, celebrity, and fashion news. Before joining woman&home and My Imperfect Life, Rylee studied journalism at Hofstra University where she explored her interests in world politics and magazine writing. From there, she dabbled in freelance writing covering fashion and beauty e-commerce for outlets such as the TODAY show, American Spa Magazine, First for Women, and Woman's World.