Judy Murray reveals why she loves the annual tradition of Wimbledon so much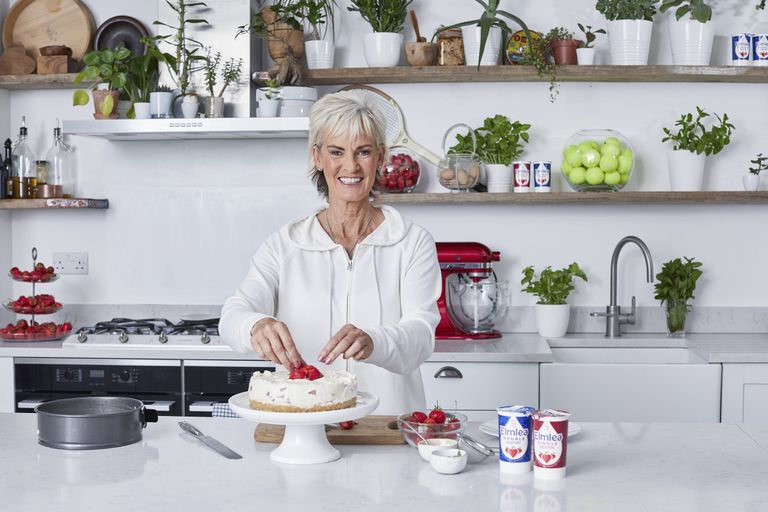 By Amy Hunt
Andy and Jamie Murray's mum Judy is a regular fixture at the annual Wimbledon tournaments, watching on as her sons scoop win after win.
The 59-year-old is of course almost as responsible for their success as they are, having coached them both through their early careers.
And now, she's revealed exclusively to Woman & Home why Wimbledon is so special to her and her family - besides the obvious.
MORE:Pippa Middleton brought along an affordable summer clutch with her to Wimbledon this week
Discussing the reason why the tennis event pulls people in year after year, she confessed that she loves "the history and the tradition!"
Judy continued, "It's like a throwback to another era in lots of ways, and it's the only event in the world that's played on Grass Courts with players in all white clothing."
Of course, one other iconic staple of Wimbledon is the food and drink. After all, strawberries and cream are almost as synonymous with the event as the tennis itself.
So if Judy were to put on her own Wimbledon spread? She told us, "It would be a picnic for sure! Strawberries and Elmlea, cucumber sandwiches, mini sausages and Pimms.
"I love to get creative in the kitchen too, and that's where my no-bake cheesecake recipe comes in. With its creamy taste and velvety texture – and super easy step recipe, it's an absolute winner with my family.
But who takes the top spot as chef in the Murray family?
Judy confessed that while it might be her son, his weekly food meal plan delivery does help. When asked who the better cook is, she said, "Probably Andy, though he cheats a bit and does the whole "mindful chef" thing where all the ingredients are all measured out and prepared for you.
"I prefer to keep it simple with easy ingredients!"
MORE:14 fascinating facts about women at the Wimbledon Championships
And it seems the mum-of-two is also keen to get her two grandchildren into the sport her family love so much at some point too. Andy has two daughters, Sophia and Edie, with wife Kim Murray.
https://youtu.be/vi7ZgPo7LvA
Judy explained, "They are too small for tennis, but they have a little play in the kitchen already. Hoping we can get them into cooking too!"
Elmlea has partnered with Judy Murray, Jamie Laing and Roman Kemp, to encourage the nation to #DoMoreThanPour this tennis season. Each celebrity has served up their own take on a traditional Strawberries and Cream twist. To watch and vote for your favourite celebrities' recipe, check out Elmlea social channels on Instagram, Facebook and Twitter.