Jennifer Grey reveals why she still cries when she watches Dirty Dancing
Jennifer Grey says she gets teary every time she watches herself in the iconic movie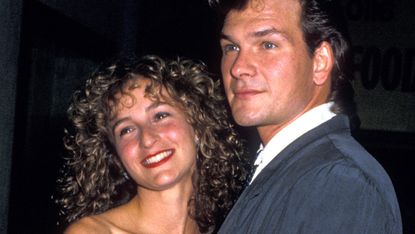 (Image credit: Getty Images)
Jennifer Grey, who played Francis "Baby" Houseman in the critically acclaimed and nostalgic film Dirty Dancing, has revealed why she still cries when watching the movie.
Dirty Dancing is a film that most people know and love for its iconic scenes and songs - Patrick Swayze's killer dance moves, the song (I've Had) The Time of My Life and of course, the infamous Dirty Dancing lift that fans of the movie have tried to recreate for decades. In fact, the movie is so beloved that a rumored Dirty Dancing sequel is in the works.
Jennifer Grey recently did an interview with People, where she revealed that even almost 40 years later, she still cries when she watches the movie.
"It gets me every time," Jennifer said. "It feels like I'm living it when I'm watching it. And then I'm realizing that Patrick [Swayze] is gone."
Patrick Swayze, who starred as Baby's love interest and dance coach, Johnny Castle, in the film, died in 2009 at 57 years old. He died of pancreatic cancer, just 20 months after receiving his diagnosis.
In a separate interview with People, Jennifer discussed that her and Patrick were not naturally a match when they initially met on set, and that there was a bit of tension between them - similarly to their characters in the film.
However, looking back, Jennifer said that she wishes she could go back in time and have a different reaction to working with Patrick, as their relationship on set was fraught. "I feel like if I could say anything to him now, I would say, 'I'm so sorry that I couldn't just appreciate and luxuriate in who you were, instead of me wishing you were more like what I wanted you to be,'" she said.
Jennifer also revealed that, while on set, she was "terrified" to do the famous lift choreography at the end of the movie, but that Patrick was an unwavering source of strength for her. She explained to Closer Weekly in 2017 that their dynamic was good because she was afraid of everything and he was afraid of nothing - and that he "was really strong and very protective" of her.
Better yet, the two never even rehearsed the lift - they just did it that day, and somehow it magically worked out (no doubt thanks to Patrick's swoon-worthy and very apparent physical strength).
"I only did it on the day I shot it," Jennifer told The Guardian in 2015. "Never rehearsed it, never done it since. I don't know how all these people who reenact it have the guts to throw themselves into the arms of anyone other than Patrick Swayze. It's insane."
In Jennifer Grey's spare time, she admits that she loves to play Wordle (she's just like the rest of us!!)
"I played Wordle yesterday," she told People. "I've gotten it on the second try but mostly the third. I wouldn't want it on the first—I want a little tension."
Madeline Merinuk is woman&home's US lifestyle news writer. She covers celebrity, entertainment, fashion, and beauty news but is also obsessed with internet trends - you can find her reciting trending TikTok sounds out loud at any given time.
After winning multiple student journalism awards for her investigative work, she graduated from Hofstra University in 2021 with a B.A. in Journalism. After graduating, she worked at today.com, the digital site for the Today Show, where she wrote pop culture news and interviewed big-name personalities like Emily Ratajkowski, Haley Lu Richardson, Emma Corrin, and more.
Her personal interests, in no particular order, are: cheese, Joni Mitchell, reading, hot yoga, traveling, having multiple chapsticks in every handbag at all times, and dancing to ABBA songs as if she were in the Mamma Mia movies.