Is Sarma's dog Leon still alive? What happened to the beloved pitbull while the Bad Vegan star was in jail?
Everyone's wondering if Sarma's dog is still alive...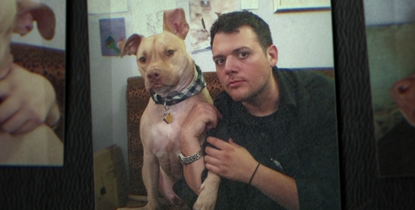 (Image credit: Netflix)
Everybody is watching Bad Vegan: Fame. Fraud. Fugitives. on Netflix, the new four-part docuseries about vegan restaurateur Sarma Melngailis, who illegally transfered money to her then-husband Anthony Strangis in an effort to make her dog Leon immortal (yes, a strange tale indeed).
Turns out, passionate viewers aren't only wondering what happened to Sarma from Bad Vegan but they are also curious about the fate of Leon. Is the pitbull still alive? And what happened to the beloved dog while the Bad Vegan star was in jail?
As the documentary explains, Sarma adopted Leon back in 2010 from Sean Casey Animal Rescue in Brooklyn, New York and, once her and husband Anthony Strangis were arrested in 2016, the dog's fate weighed heavily on the owner's mind.
"When the police came into my room to arrest me in Pigeon Forge, Leon acted like they were there to play with him," Sarma said to Tudum (opens in new tab), Netflix's official companion fan site. "This worked in my favor since they kindly agreed to not seen him to the local pound, an idea which, in that moment at least, freaked me out more than my own arrest. Leon is incredibly friendly and, while not good at sniffing out con artists, he does somehow know to be very gentle."
The rescue dog's name was actually Quinn but Sarma renamed him after the 1994 Luc Besson film Leon: The Professional.
WHAT HAPPENED TO LEON WHILE SARMA WAS IN JAIL?
In the documentary, one Anthony Caruana, a homeless man who had become friends with Sarma, reveals that he actually called the Tennessee police department after hearing about Sarma's arrest to make sure that Leon would end up at a loving home and not with strangers.
According to Digital Spy, at the time of Sarma's arrest, a man named Dustin was taking care of Leon. The site reports that the restaurateur had befriended Dustin at a local Chipotle restaurant. Sarma's father, John, eventually took over the responsibility while his daughter was in jail. Once she was released, the two reunited.
IS LEON STILL ALIVE?
Leon is still alive and well and he actually just celebrated his 12th birthday. Leon even has his own Instagram account: @oneluckyrescuedog. According to the page, he currently lives in Harlem with Sarma.
Anna Rahmanan is a New York-based writer and editor who covers culture, entertainment, food, fashion and travel news. Anna's words have appeared on Time Out New York, the Huffington Post, Fortune, Forbes, Us Weekly, Bon Appetit and Brooklyn Magazine, among other outlets.