Inventing Anna's Anna Sorokin is out on house arrest, but she hasn't lost her spirit: "I'm still living better than all of you"
Inventing Anna had everyone gripped this year, but what's the next chapter for Anna Sorokin?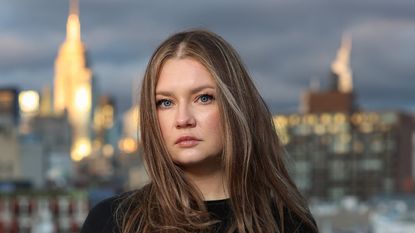 (Image credit: Mike Coppola/AD/Getty Images for ABA)
Anna Sorokin is a free(ish) woman, but what does the inspiration of Netflix's Inventing Anna have planned for the rest of her life?
The true story as told by Netflix and created by Shonda Rhimes had us all hooked when it came out earlier this year, as it told the tale of Anna, who adopted the name Anna Delvey.
As this mysterious Anna Delvey, she worked her way through (and into) Manhattan's social elites, using a fabricated trust fund to persuade the city's high rollers to invest in a members-only arts club.
In 2019, she was found guilty of many crimes, including grand larceny, and of stealing more than $200,000 from investors, banks and friends.
She spent the majority of her two-year sentence in Rikers prison, but was released in early 2021. After that, she spent some time with ICE, as she had overstayed her initial visa.
Now, she finds herself on house arrest in a newly renovated one-bedroom apartment in the heart of New York City's East Village.
A new interview with Variety magazine catches up with the scammer-turned-social-media-antihero, and what she plans on doing next.
The Variety interview explains that, far from humble surroundings, Anna's apartment features four prints from Graham Fortgang's "New York Is Dead" photo series, each costing $2,500 to $8,000 each.
There's also a wall dedicated to her own art, illustrations that she created behind bars and whose copied prints, she claims, have already made her a cool $200,000.
Proving that she's always looking for her next move and opportunity, Anna explains that she spent her time in prison productively.
"I don't know why people are so surprised, it's not like I pulled off something overnight," she says. "I was constantly working while I was in jail and I sold a lot of my art, I wasn't just sitting there doing nothing."
The fascinating interview includes titbits like who her dream dinner guests would be (Anna Wintour, Bret Easton Ellis and Elon Musk), plus what she's planning to do next – and the answer might surprise some.
She wants to host VIP dinner parties to raise money for criminal justice reform.
She explains, "Nobody ever cares about my thoughts on criminal justice, like how I would want to reform it or make a difference. I feel like it'd be a shame if I were to waste my voice and the attention I'm getting on just a photo shoot."
"I'm in this unique position where I actually have a platform, and I have the credibility of somebody who's actually been through the system as opposed to just being a random famous person who needs a pet cause."
"It's gotten so much attention because it's still not completely out of character," she continues. "It's not me, like feeding homeless children. It's still something that people would expect of me."
While her future goals remain in the planning stage for now, some of Anna's flair as depicted in the Netflix series can be seen in the interview.
From the lack of food in her kitchen ("I just have people deliver everything to me) to her describing her love for La Croix sparkling water ("The packaging is just so chic, it's the best.")
If anyone was waiting for an apology tour from the convicted scammer, it's not likely to come anytime soon.
At the end of her interview, she orders in two bottles of wine. Cheersing the reporter sent to interview her, she says, "Everyone's saying I'm slumming, but I'm still living better than all of you."
Jack Slater is not the Last Action Hero, but that's what comes up first when you Google him. Preferring a much more sedentary life, Jack gets his thrills by covering news, entertainment, celebrity, film and culture for woman&home, and other digital publications.
Having written for various print and online publications—ranging from national syndicates to niche magazines—Jack has written about nearly everything there is to write about, covering LGBTQ+ news, celebrity features, TV and film scoops, reviewing the latest theatre shows lighting up London's West End and the most pressing of SEO based stories.