Idris Elba on the 'hardest role ever' - and it's not what you think!
The star of Luther, Idris Elba, has a surprising answer when asked about his hardest role to date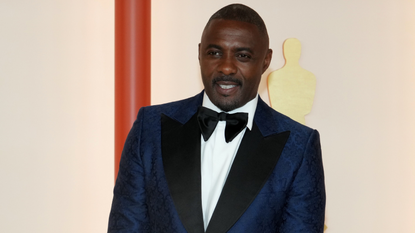 (Image credit: Jeff Kravitz / Contributor)
Turns out, it's not so easy being oh-so-handsome, at least according to actor Idris Elba, who just gave a pretty funny interview.
In a new conversation pegged to the release of his new Luther Netflix movie, the 50-year-old actor joked that his "hardest role ever" actually had nothing to do with the countless movies and TV productions he's been starring in throughout his career but, rather, involved his being named "sexiest man alive" by People magazine back in 2018.
When asked whether he had to be coached through that photoshoot or he already knew how to pose as the most sought-after man on the planet, Idris specifically remembered approaching the photographer on set about the topic.
"I said to the photographer, 'I don't always photograph great in pictures, this picture needs to be great,'" he said to ET Canada (opens in new tab) about the whole shindig. "[They're like] 'No, no, no. We've done this a million times, we know how to do it.' And I was like, 'Ok, I'll just be me.' Then they do this sort of thing where they make your favorite camera angle work for the cover."
As for his initial reaction when he first learned that he was going to be named sexiest man alive, Idris was a tiny bit incredulous.
"I was like, 'Come on, no way. Really?'," he said to People (opens in new tab) back then. "Looked in the mirror, I checked myself out. I was like, 'Yeah, you are kind of sexy today.' But to be honest, it was just a nice feeling. It was a nice surprise — an ego boost for sure."
As coveted as the annual title may be, it clearly has not gotten to Idris' head, who also told the outlet that he still gets surprised when fans recognize him.
"I don't presume that everyone knows who I am, even though I've been acting for a long time," Idris, who recently gave a cryptic response to Luther's diversity drama, said on the record. "When I look in the mirror, it's just a guy that was trying to be an actor. So if I walk into a restaurant in the middle of Belgium, I'm not expecting everyone to recognize me."
As hard as that is to believe, it certainly adds to Idris' appeal, especially considering that his accomplishments go way beyond Hollywood: the actor famously DJ-ed Meghan and Harry's wedding reception back in 2018.
Opening up about that experience with the Mirror (opens in new tab), the actor revealed that the Duchess had pre-planned the whole playlist.
"Meghan had sent me a playlist, so I knew what she wanted already," the Wire star said, adding, "They're good friends and I wanted to make sure they had a great time, so there was a lot of pressure."
Talk about the job of a lifetime!
Anna Rahmanan is a New York-based writer and editor who covers culture, entertainment, food, fashion and travel news. Anna's words have appeared on Time Out New York, the Huffington Post, Fortune, Forbes, Us Weekly, Bon Appetit and Brooklyn Magazine, among other outlets.