Icon Joan Collins to play this controversial royal as she opens up about refusing to slow down ahead of 90th birthday
The inimitable Joan Collins is set to play one of the most controversial figures in the royal family's history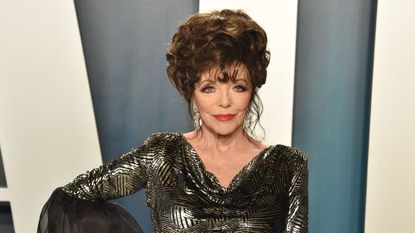 (Image credit: David Crotty/Patrick McMullan via Getty Images)
Joan Collins' next birthday is something of a big one, with the living legend turning 90. However, don't expect her to slow down any time soon.
The Dynasty icon has shared her attitude on ageing for a new interview with Saga Magazine, as well as revealing a tidbit on her next juicy role where she will play none other than Wallis Simpson, the woman behind Edward VIII's abdication.
---
She prefers to focus her tireless energies on how she "looks, feels and behaves" – and she finds the whole concept of talking about a woman's age to be "tremendously rude" anyway.
She told the publication, "My mother's generation never did it. But you know, people have been calling me an older woman since I was 38."
While discussing roles she's played in the past – and the role many assume she plays in her real life, which is that of a "super bitch" thanks to her most famous role as Dynasty's Alexis Carrington – Joan dismisses the idea that fictional roles must blur into reality.
She said, "I think it's utterly ridiculous that powerful, resilient women are portrayed as dangerous, whereas in my experience it's the predatory men who are the real threat."
Instead, Joan opened up about how happy and lucky she feels as she approaches her 20th wedding anniversary to husband, Percy Gibson.
"He takes care of my children and all our finances. He's the love of my life," she happily shared.
"Of course, we have our little spats like other couples might do, but we've both got our safe spaces."
Joan being the iconic diva she is went on to divulge that her safe space is her walk-in closet.
Proving she really does still have the energy and ambition of a woman in her 40s, Joan's diary remains booked and busy as she prepares to take on the role as Wallis Simpson for an upcoming project, In Bed with the Duchess, which may become a film or TV series.
She revealed, "I play the Duchess of Windsor from the time that the Duke died right up until her death. It's a fabulous story."
Wallis was the American divorcee who fell for Prince Edward. Protocol refused Edward the chance to marry her and be king, so he famously abdicated after less than a year on the throne, in one of the most shocking moments in the Royal Family's history.
Edward's abdication meant his brother, George VI, became King and set the path for the now Queen Elizabeth II to become monarch.
After Edward died in 1972, Wallis was rarely seen in public and her time is of great mystery and speculation.
Something Joan will no doubt relish playing on screen.
Jack Slater is not the Last Action Hero, but that's what comes up first when you Google him. Preferring a much more sedentary life, Jack gets his thrills by covering news, entertainment, celebrity, film and culture for woman&home, and other digital publications.
Having written for various print and online publications—ranging from national syndicates to niche magazines—Jack has written about nearly everything there is to write about, covering LGBTQ+ news, celebrity features, TV and film scoops, reviewing the latest theatre shows lighting up London's West End and the most pressing of SEO based stories.