How to watch the new Donna Summer documentary on HBO and how did the disco icon die?
Donna Summer was a complicated icon – and a new HBO documentary explores it all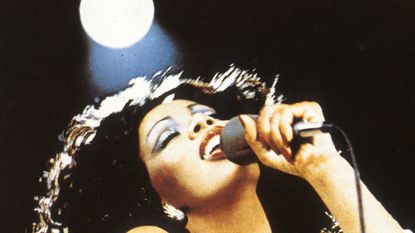 (Image credit: GAB Archive/Getty)
The word trailblazer gets banded around a lot, but when it comes to Donna Summer, she's truly deserving of the title.
A disco diva who set the world alight with iconic classics including Love to Love you Baby and Last Dance, the full, frank and often shocking story of the singer is one much more layered than people might expect.
With HBO's new documentary, titled Love to Love You, Donna Summer, the singer's daughter Brooklyn Sudano and the film's co-director Oscar winner Roger Ross Williams examine the icon's life, offering never-before-seen footage and interviews with those who knew her best to explore the life of an elusive superstar.
Here, we look at the history of the 'Queen of Disco,' some of the biggest revelations from the new film, and how to watch the new HBO documentary.
When did Donna Summer start singing?
Donna Summer truly broke out into the mainstream during the disco era of the 1970s, becoming known as the "Queen of Disco", as she helped transcend the genre.
While she reigned over the disco dancefloors of the 70s, Donna's big break actually came a little before the world was gripped by Saturday Night Fever.
Influenced by the counterculture of the 1960s, Donna's first foray into showbiz started as the lead singer of a psychedelic rock band named Crow.
In 1968, she joined a German adaptation of the hippie musical Hair in Munich, where she spent several years living, acting, and singing.
It was here where she'd meet legendary disco producers Giorgio Moroder and Pete Bellotte – a meeting that would spawn some of her biggest hits – and some of the biggest disco hits in history – including I Feel Love and Hot Stuff.
She would go on to sell over 100 million records worldwide, making her one of the best-selling music artists of all time.
Donna Summer documentary: what are some of the surprising revelations?
In the HBO documentary, fans learn that the Queen of Disco was a private person – even with her own family.
In fact, it's revealed her children were never allowed in her bedroom.
One of her daughters explains that they "would find out things by reading newspaper articles they had clipped out and hidden in places."
Another troubling revelation from the film suggests that, underneath the feelgood music she made, Donna had faced some shocking abuse in her life.
Donna claimed she had been molested by a minister as a teenager. The allegations were confirmed by her brother, who said that the minister "did the Devil's work better than most."
Later, boyfriend Peter Mühldorfer would become violent towards her, something which he confirms, stating in the film "I hit her and I never could forgive myself."
The truth about Donna Summer's 'Adam and Eve, not Adam and Steve' comments
One thing many fans might tune in to the Donna Summer documentary for is an exploration on the controversy surrounding her later years – particularly her comments that were seen as homophobic.
While she was the Queen of Disco and beloved by many gay men during the 70s, Donna returned to her Christian roots by the 80s, with a revamped sound and a more conservative appearance.
There was one 1983 concert where it was alleged at the time the singer made numerous comments, touching on AIDS and homosexuality.
Alleged homophobic comments made during an 1983 concert included telling her audience, "It was Adam and Eve, not Adam and Steve", "I'll pray for you tonight" and "I've seen the evil homosexuality come out of you people … AIDS is your sin…"
It's important to note Donna Summer always vehemently denied these comments. Family members insist that comments calling AIDS a divine reckoning were falsely attributed to her, and she never said them.
The documentary film includes a brief snippet of a press conference in which Donna clarified the misunderstanding and asked for forgiveness.
How did Donna Summer die?
Donna Summer died on May 17, 2012, from lung cancer, at her home in Naples, Florida.
She was 63 years old.
How to watch the Donna Summer documentary
Love to Love You, Donna Summer debuted on MAX (previously HBO Max) on Saturday, May 20.
It is now available to stream with a valid MAX account.
Jack Slater is not the Last Action Hero, but that's what comes up first when you Google him. Preferring a much more sedentary life, Jack gets his thrills by covering news, entertainment, celebrity, film and culture for woman&home, and other digital publications.
Having written for various print and online publications—ranging from national syndicates to niche magazines—Jack has written about nearly everything there is to write about, covering LGBTQ+ news, celebrity features, TV and film scoops, reviewing the latest theatre shows lighting up London's West End and the most pressing of SEO based stories.