Here is what Kelly Clarkson tells her kids when they get "really sad" about their parents' divorce
Award-winning artist Kelly Clarkson gets candid about how her children are dealing with her divorce and it's heartbreaking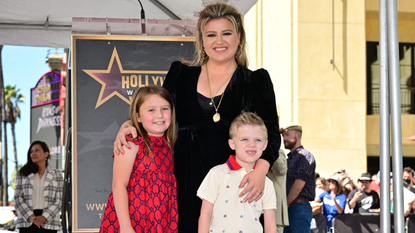 (Image credit: FREDERIC J. BROWN / Contributor)
Although it's been two years since Kelly Clarkson filed for divorce from her husband Brandon Blackstock, the couple's children, 8-year-old River Rose and 6-year-old Remington Alexander, are clearly still dealing with the repercussions of the split.
Following Kelly Clarkson's divorce settlement, the American Idol winner has gone on the record about how her son and daughter feel about the situation - and it's honestly heartbreaking.
"I literally ask my kids every night when we're snuggling, 'Are you happy? And if you're not, what could make you happier?'" Kelly said while appearing on The Angie Martinez IRL podcast. "Sometimes they'll say, especially the past two years, and it kills me and I want them to be honest, so I don't ever say, 'Oh god, don't tell me that,' but a lot of times [they are like], 'You know, I'm just really sad. I wish mommy and daddy were in the same house.'"
Although Kelly "can't even imagine" getting married again, she makes it a point to support her children and encourage them to share their feelings.
"I just sit there and I'm like, 'I get it. I'm from a divorced family as well. I get it. That sucks. But we're going to work it out. And you are so loved by both of us,'" the 40-year-old mom said on the record. "I think communicating with them and not treating them - not treating them like an adult, because they're not - but not treating them like a child [is important]. They're not small feelings. Those are huge feelings, and those are huge emotions."
Although always candid about her divorce, Kelly has been reluctant to discuss how the split has affected her kids.
"We know the best thing here is to protect our children and their little hearts," she said on The Kelly Clarkson Show back in 2020. "I'm usually very open, and I usually talk about everything, but in this case, I will talk a little bit here and there about how it affects me personally, but probably won't go too far into it because I'm a mama bear and my kids come first."
When opening up about the reasons behind her separation from Brandon, Kelly has, in the past, reflected on the importance of "me time."
"I think that sometimes you're around each other too much," the Grammy award-winning musician said on a segment about relationships on her NBC daytime talk show last year. "That's what I think, being single now. I'm like, 'God, I don't think my ex and I ever had, like, me time.' I definitely didn't."
As painful as it is to read about children's reaction to divorce, we're glad Kelly has gone public about the topic given how it resonates all across the world.
Anna Rahmanan is a New York-based writer and editor who covers culture, entertainment, food, fashion and travel news. Anna's words have appeared on Time Out New York, the Huffington Post, Fortune, Forbes, Us Weekly, Bon Appetit and Brooklyn Magazine, among other outlets.