Heather Graham calls out Hollywood for being 'sexist' in 'every phase of the business'
"I'm glad we're growing as a culture," says actress Heather Graham after slamming Hollywood's behavior and noting there's still a lot of work to be done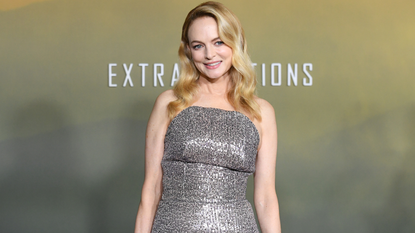 (Image credit: Michael Tullberg / Stringer)
Heather Graham has been part and parcel of Hollywood royalty for decades now - so she clearly knows what she's talking about when discussing some of the industry's most troubling aspects, including the "so sexist" movies that defined her career back in the 1980s.
"No one really thought about it or commented on it," the 53-year-old actress said to People in a new interview pegged to her role in the Amazon Prime film On a Wing and a Prayer, opposite Dennis Quaid. "At that point, people thought they were being really evolved and now we look back and go, 'Whoa, that was so sexist.' I'm glad that we are growing as a culture."
Don't be fooled, though, notes Heather as she claims that, overall, "nothing has changed drastically."
"More people care, but it's not suddenly equal," Heather said on the record. "It's still pretty sexist, to be honest. Every phase of the business, whether it's financing, distribution, the reviewers, all those people are mostly men. To get a female driven story that is appealing mostly to women through all these levels of male dominated business, it's not that easy."
Putting her money where her mouth is, the actress is doing her part by trying to step into the director's chair more often - including in one of her future projects, Chosen Family, which she also wrote and will star in.
The film tells the story of Ann (Heather), a generally unhappy yoga teacher who tries to "achieve inner peace" while helping out her addict sister Clio (Julia Stiles) and starting a romantic relationship with a divorced dad of a 7-year-old girl.
"I always felt like I was a supporting character in a man's story," said Heather. "I wasn't always going, what do I want? I was going, how do I people please someone else? My journey has been to get more clear on what I want and go after that. [...] I like cool, groovy female directors that are telling humorous stories about female points of view. I'd like to be in those more."
Heather's certainty in addressing aspects of her life and career runs deep and doesn't merely apply to the movie industry's characteristics. In the same interview with People, in fact, the celebrity goes on the record about her decision not to have children.
"I think we all have different paths," Heather said to the outlet. "You just have to embrace the one that you're on. If, somehow, I had had kids, I'm sure that would've been cool. But at the moment, not having kids, I do feel free. And I get a lot of sleep. That is pretty great."
Although the celebrity acknowledges that expectations around kids differ between the sexes ("I do feel like as a woman, culturally, you're not allowed to say, 'I didn't want to have kids. Because it's like, what's wrong with you?'"), she does admit that she doesn't "feel that I'm missing anything."
If anything, she says, "I do sometimes feel like my projects are little kids."
Anna Rahmanan is a New York-based writer and editor who covers culture, entertainment, food, fashion and travel news. Anna's words have appeared on Time Out New York, the Huffington Post, Fortune, Forbes, Us Weekly, Bon Appetit and Brooklyn Magazine, among other outlets.