How Hannah Gadsby is changing the landscape of female stand-up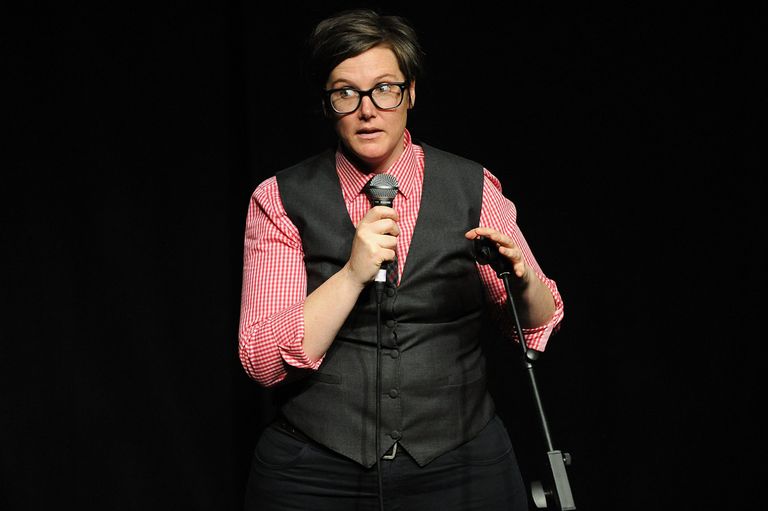 Hannah Gadsby's new show is completely groundbreaking, as well as hilarious.
The Australian comedian might joke that her 'overnight success' was more than ten years in the making, but Hannah began to make serious waves last year, when her tenth stand-up show, Nanette, was released as a Netflix special, becoming one of the most talked-about comedy specials ever. The show toured for 18 months, taking the main prize at Edinburgh Festival's Edinburgh Comedy Awards before travelling to New York.
Nanette – named after a random barista – explored the comedian's experiences with homophobia and misogyny through the lens of her characteristic observational humour. But with Douglas – named after her dog – she's taking things to the next level. As Hannah puts it, she "found her voice with Nanette, and with Douglas, she intends to use it".
MORE: Brilliant podcasts by women that will inspire you to do great things
But if you think you know what to expect, think again. Houstonia's Nicki Koetting describes the comedian's new show as part standup, part TED talk and part… art history lecture. And Hannah knows her stuff: she has actually presented three art documentaries, inspired by her comedy art lectures. There's much more to Douglas than that, though: the last couple of years have given Hannah 'a few very new ideas to think and talk about'.
She discusses the impact of her new-found fame in the show, revealing: 'People want to take selfies with me, and people want to share their trauma with me—in the same breath. I have a hard time looking cute in a selfie when people just shared their trauma with me. I look like I've been kidnapped.'
But while she admits she's 'fresh out' of trauma after Nanette, Hannah does use Douglas to open up an important conversation about being on the autistic spectrum.
She shares her own hilarious (and heartbreaking) experiences of dealing with the condition in the new show. 'It's like being the only sober person at a party full of drunks,' she explains. 'And you don't know they're drunk.'
Douglas premiered in Melbourne in March and is currently touring the US. Excitingly, the show will hit the UK in October – and it's set to be released as a Netflix special later this year. We can't wait.