'Had I not entered Bake Off, I'd probably be a social worker'—Nadiya Hussain talks confidence, her career plan B and trashy TV
Nadiya Hussain sits down for an exclusive interview with woman&home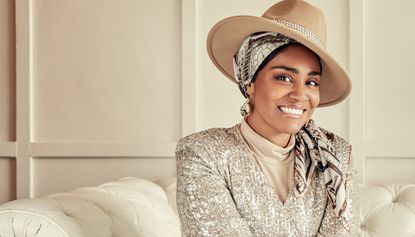 (Image credit: woman&home/Dan Kennedy)
While it's only been six years since she won The Great British Bake Off in 2015, Nadiya, 36, is now one of the country's most acclaimed and accomplished cooks.
On top of becoming one of Great British Bake Off's most successful contestants, she's also released a memoir, homeware collection, and a children's fiction series as well as a raft of best-selling cookbooks including Nadiya Bakes and Nadiya's Family Favourites.
In her latest, Nadiya's Fast Flavours, and on the accompanying BBC2 TV series, the mum-of-three shares quick-to-cook, tastebud-tantalizing family meals.
Nadiya Hussain on her family life through lockdown
Lockdown taught Nadia and her family some important lessons revealing it made them stronger as a unit.
"A valuable lesson learned has been that as much as we love each other, it's important to spend time apart. There were moments in lockdown where the novelty wore off and I thought, 'I would love my normal life back, where I'm working and the kids are at school'."
The hardworking mum of sons Musa, 15, Dawud, 14, and 11-year-old daughter, Maryam continues, "The kids kept saying, 'We're stuck at home' and I had to change [that] by saying, 'We're not stuck at home, we're safe at home. We're very lucky that we have homes, comfort, food, and a roof over our heads where we can stay safe'."
Nadiya Hussain on having more children
"My ovaries pulsate, every time I see a new baby. But, actually I quite like sleep now. We've got two cats, chickens, a budgie and fish—everything we need—we do not need any more children."
"I'm one of six and my husband's one of seven," she explains. "And between the eldest and the youngest in our families is a 13-year gap so essentially a completely different generation to the eldest. Do I want a 30-year-old son and still be dealing with high school?"
---
Nadiya Hussain on becoming a household name
The star has become a household thanks to The Great British Bake Off. Yet she still gets surprised when other celebrities recognize her.
"It was a pinch-me moment when newsreader Jon Snow recognized me," she says. "I was at an event and he gave me a hug and said, 'You're doing wonderful things. Keep doing wonderful things'."
She adds, "The moment when Mariah Carey knew me by name on The Graham Norton Show was also pretty cool. She asked me about my Christmas. My daughter was really impressed!"
Nadiya Hussain on what helps her every day
"I pray five times a day. It's both mindfulness and meditation and that spiritual focus really helps me," she explains. "Often, when I'm feeling overwhelmed with work or my mind feels slightly foggy, I clear my mind by going for a walk, for five minutes or one hour."
As parents, doing things that we enjoy is really important because we're so focused on raising our children that we often forget about ourselves. Apart from cooking, I love drawing, writing poetry and trashy television especially Married At First Sight Australia. Sometimes you've got to see all that drama to realize 'I have a lovely husband and gorgeous children!'"
Nadiya Hussain on the greatest thing she's learned
"The confidence to exist in my skin. The confidence to know that brown is beautiful. The confidence to believe that I'm good at my job and not to constantly be in a state of gratitude," she says proudly.
"I am absolutely grateful for every opportunity, but I'm also very good at my job. It's taken a long time for me to say that. A woman saying that out loud is often misconstrued as, 'She's cocky' or 'She's not humble' but for a man, it's like, 'He's so confident'."
The hardworking chef teaches her children the importance of taking up space. "We have a mantra in our house—elbows out," she says. "I tell my kids that throughout life they will feel like they don't fit in but they have to create space for themselves because in doing so, they're creating space for others."
"I work in a very male, Caucasian-heavy industry and there are middle-aged white men within this industry, there is nobody like me but I've learnt to be okay with that," she explains.
"It is about representation. Lots of people out there, like me, will look at mainstream media, publications, books, literature and say, 'Am I a part of that narrative? Do I see myself in here?' Like me, loads of people won't see themselves. By being in this space, I'm telling other people 'I exist and so do you'."
If she hadn't entered Bake Off, Nadiya says she'd probably be a social worker. "At the time, I was finishing my degree and I wanted to do a job that was meaningful and that helped," she says.
Nadiya adds, however, "I know there's this glamorous side to this job, but I do get to help. Being the minority representing people like myself, is a big responsibility."
Nadiya Hussain on her identity and how it contributes to her creativity
"I straddle two different worlds," says the chef. "I'm British, but I'm also Bangladeshi and I've spent my whole life trying to prove how British I am. I get asked all the time, 'What makes you British?' It is so exhausting."
"Then being Bangladeshi, I'm constantly under the microscope," she adds. "It's like, 'How Bangladeshi is she if she's constantly making pies and stews and is not actually cooking curries?'.
"I am happily in a grey area where those of us who don't really fit in anywhere else sit. I am not a purist," she says. "I mix the recipes that I love—those that are part of the Western world and Bangladeshi culture, and I have complete creative licence to do that. And if I'm doing it well, why not?"
Nadiya Hussain on her latest book, Fast Flavours
"This is the only job that has felt completely natural," she says. "I love being in a creative headspace. I have recipes coming out of my ears and my best ideas come in the middle of the night."
Her latest book, Fast Flavours, is out on October 28, 2021.
"My latest book Fast Flavours is as much about being quick in the kitchen as it is creating flavor fast and knowing how to use an ingredient. We all have moments when we come home and fancy something specific, perhaps something spicy or cheesy or nutty or sweet. Whether it's a breakfast, lunch, dinner dessert or a snack, there's something in the book for everybody!"
---
The full interview with Nadiya is featured in the October issue of woman&home, on sale September 30, 2021
---
Miranda McMinn is the editor of woman&home magazine, the brand that prides itself on celebrating, supporting, and inspiring midlife women. Previously she has worked on magazines and newspapers including Marie Claire, Red, The Times, the Observer, and the Daily Mail.
A midlife warrior herself, Miranda has three children and has a passion for country walks, log fires, and winter swimming—she swims all year round in the Hampstead Ladies Pond and heartily recommends it—nothing like a dip in a 4 degree pond to get you ready to face the day!