Eamonn Holmes reveals why Ruth Langsford once threw a Christmas turkey dinner at him
Oh dear...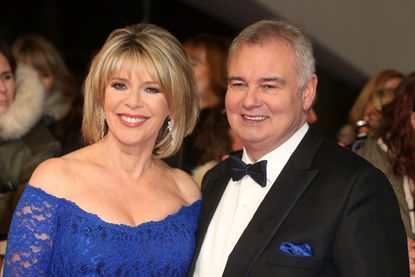 As fun as Christmas can be, it tends to come with family feuds and Eamonn Holmes has just revealed a personal incident that occurred a few years back.
During an interview with The Mirror (opens in new tab), the TV presenter shared a gesture that didn't go down well with his wife, Ruth Langsford.
It seems Ruth wasn't too happy about a gift Eamonn gave to her on the big day.
Eamonn said, "When Ruth and I first started dating she gave me 44 presents and I gave her five. She is addicted to Christmas.
"Then there's the year we didn't talk.
"I'd been busy working on GMTV and doing three quiz shows a day.
"Ruth told me not to worry about presents for her… so I gave her an envelope of money and she threw the turkey dinner across the table and right down my front."
Although it's not specified when exactly this Christmas fight happened, it's clear it had no long-lasting effects on the couple's relationship.
The pair - who have been together more than 20 years - married back in 2010, eight years after welcomed their son, Jack.
Back in July the couple spoke about the secret to a happy marriage.
Eamonn said, "The secret is compromise, the secret is consideration and lots of conjugals."
Whereas Ruth posed a different answer. She said, "Laughter is what keeps us together.
"Eamon's very good actually. We have a very equal relationship, it's very equal in our marriage. People will say, 'who wears the trousers,' well nobody.
"You find your way, he's not the boss and I'm not the boss – in modern relationships that's probably how it should be."
Eamonn celebrated his 60th birthday last week and Ruth had a very special surprise in store (opens in new tab) - a trip to Vienna, Austria.
The presenter took to Instagram to share the news, posting a photo of himself alongside Ruth.
He wrote, "Mystery trip for my Birthday. Ended up in #Vienna with my children waiting there for me!
"Never been before – can't wait to come back. Great time in a Truly Majestic City."
Lizzie Thomson is a regular contributor to woman&home, and also contributes to Metro.co.uk, Ideal Home, Culture Trip, and Evening Standard, covering all things lifestyle.