ITV apologises after Eamonn Holmes' remark about the Duchess of Sussex
The TV host was unaware of the racial connotations of a word he used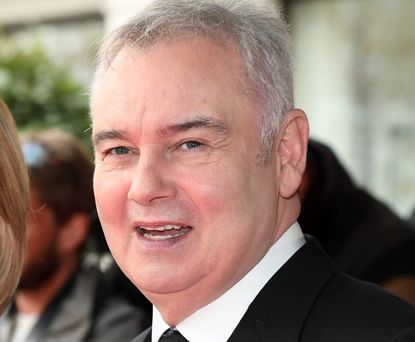 ITV has issued an apology following a comment from This Morning presenter Eamonn Holmes (opens in new tab).
Eamonn described the Duchess of Sussex as "uppity",in regards to her behaviour at Wimbledon.
But ITV say the TV host was unaware of the historically racist connotations of the word.
According to The Sun (opens in new tab), the word was often used in the 19th century to describe black people in the US who "did not know their place".
The comment from the presenter was made back in July, when Eamonn and wife Ruth were debating an incident at Wimbledon, whereby attempts were made to stop tennis fans photographing the Duchess.
Speaking on the daytime show at the time, Eamonn said, "If you have an uppity attitude, you're only through the door two minutes and suddenly you're sitting at Wimbledon and your royal protection are saying, 'No photographs, no photographs!'"
Following the comment, the presenter received an Ofcom complaint. ITV's Head of Diversity, Ade Rawcliffe, also received a letter from a viewer.
ITV has since defended the TV personality, saying Eamonn was unaware of the racial connotations, and also announced a ban on the word being used on-air in future.
Ade Rawcliffe also wrote to the viewer, saying, "Eamonn was unaware of the history of the term 'uppity; and how it could be interpreted when describing Meghan Markle.
"We are not saying that ignorance is in any way a defence, he was using the term to describe what he interpreted as arrogance.
"The origins of the term have now been explained to Eamonn and the wider editorial team and it won't be used again. We apologise for any offence that this may have caused you."
A spokesperson for ITV also toldThe Mail on Sunday, "Eamonn Holmes was absolutely not reprimanded for his use of the word 'uppity'.
"Conversations took place with Eamonn and the wider production team involving an explanation of a possible interpretation of the word, which had come to light on the basis of a complaint made to the channel after the broadcast.
"Therefore this was a point of learning for the wider team, not in any way a rebuke."
Lizzie Thomson is a regular contributor to woman&home, and also contributes to Metro.co.uk, Ideal Home, Culture Trip, and Evening Standard, covering all things lifestyle.