Drew Barrymore on having tried everything in the bedroom: 'That's why I'm so boring now'
Actor and talk show host Drew Barrymore speaks up about her relationship with sex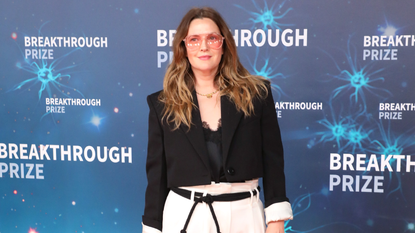 (Image credit: Taylor Hill / Contributor)
Drew Barrymore is clearly very comfortable talking about sex.
Drew, who recently admitted she doesn't need sex after revealing she hasn't had an 'intimate relationship' for six years, went on the record about the topic once more on her own podcast Drew's News.
Chatting with co-host Ross Mathews about Netflix show How to Build a Sex Room, where couples hire luxury interior designer Melanie Rose to create their most fantasized about rooms, Drew called herself a "dirty bird... but just in the corners of my mind where I never will tell and it's just for me."
The 47-year-old actor and talk show host went on to say, "I can understand certain kinky things. Listen, I've tried everything. I've done everything - that's why I'm so boring now."
Talking about sex rooms in specific, Drew said that she doesn't find a need for one. "I'm fine in bed, mish posish," she noted, referring to the missionary position.
"Those days are long gone," she commented further. "Back when I was younger, I had all the energy in the world. But now, no."
The pretty funny conversation comes just a few months after Drew, who made her TikTok debut dressed in hilarious character costume a while back, stated that she can go "years" without having sex while discussing actor Andrew Garfield's decision of being celibate for six months while preparing for his 2016 role in Silence.
"I was like, 'What's wrong with me that six months doesn't seem like a very long time?,'" Drew said on her program. I was like, 'Yeah, so?' "
A month after her public comments, Drew elaborated on her thoughts in a blog post titled Rebels Who Love (opens in new tab).
"I'm sure that there was one point in my life where six months might have seemed extreme, but I'm on the other side of that now," she wrote. "At nearly 48 I have very different feelings about intimacy than I did growing up. I did not have role model parents and I engaged with people in grown up ways since a tender age! I was looking for companionship! validation! excitement! pleasure! hedonism! fun! And adventures!! Now, because I can't get in the time machine and change my history. So I now choose to look at it through a positive lens, which is that I lived!"
The star doubled down on her position, stating that she is "just in a completely different place in my life and maybe in the near future I will get into a relationship [...] but it simply hasn't been my priority."
"So for the record, I do not hate sex!," she also wrote. "I have just finally come to the epiphany that love and sex are simply not the same thing. I searched my whole life for, which is to be a calm woman and not a bombastic party girl. Also, when you grow up and are in a marriage with kids and you think you'll only be with this one person for the rest of your life and then that doesn't happen? It rocked me to my core, to put it lightly."
Drew was likely referring to her marriage to fellow actor Will Kopelman. The couple tied the knot back in 2012 but split up after four years, in 2016. They share 10 year-old daughter Olive and 8-year-old daughter Frankie, whom Drew referred to in her blog post.
"I am lucky enough to have my cup runneth over in the love department: I have my two daughters, and for the first time ever in my life, I'm actually including self-love, too," she wrote. "I wish for everyone that they find out what makes them feel good about themselves and seek that! And if and when they happen to find what makes them feel bad about themselves, that they pay attention and avoid it, and even abstain from inviting in emotions that do not lead to self respect. And then of course, find out what makes them feel good about themselves and seek that! And to be passionate and protective in the fact that we all deserve love! and we should all give love! but love and sex are simply not the same thing."
A round of applause for Drew, folks!
Anna Rahmanan is a New York-based writer and editor who covers culture, entertainment, food, fashion and travel news. Anna's words have appeared on Time Out New York, the Huffington Post, Fortune, Forbes, Us Weekly, Bon Appetit and Brooklyn Magazine, among other outlets.