We earn a commission for products purchased through some links in this article.
Former Downton Abbey star Michelle Dockery has, for the first time, spoken about her late fiancé, John Dineen, who died two years ago after a battle with cancer.
35-year-old Michelle and John were engaged for a year before his untimely death, and she has admitted that she does consider herself a widow, despite the fact that they didn't have a chance to get married.
In an interview with The Guardian, she confessed, "I've never been more committed to anything in my life than to him."
And discussing his death in 2015, Michelle said, "I don't have the vocabulary to describe what it felt like and what it still feels like. I refer to myself as a widow, yes. We were engaged, and married at heart, and so I do consider myself a widow.
"So at the time everything just shut down. Work, everything. Work didn't matter. You suddenly become an [oncological] expert. This stuff becomes your world, and that of course was my priority."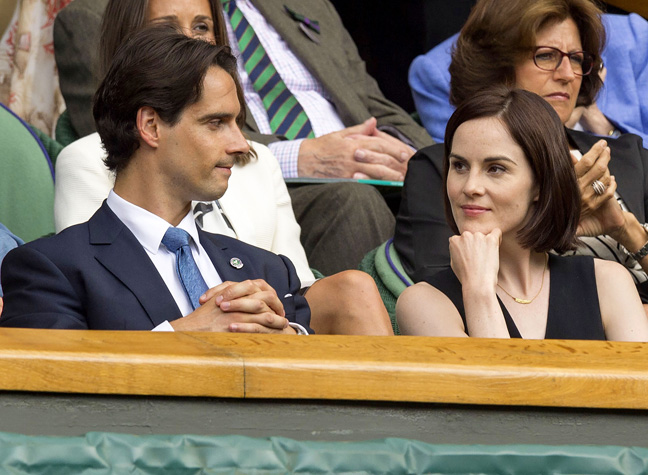 Michelle also discussed that the trauma was made all the more difficult given that her Downton Abbey character, Lady Mary Crawley, was going through the same thing.
In the period drama, Lady Mary has just lost her husband Matthew, in the war.
The actress admitted, "One of the difficult things at the time was the parallels with Mary.
"It was just baffling, and still is to me, that my character's storyline was so similar."
Although her life on Downton is now firmly in the past, Michelle has been working on two new projects – Netflix series Godless, and a play, Network, at the National Theatre in London.
But she revealed that after a hectic few years of work following her tragic loss, she's now ready for a break. The actress confessed that following the loss of her fiancé, she threw herself into work – but that now, she's ready for a slower place of life.
"It's just important for me to take the right time off. There was this feeling after John died of, what do I do now? What am I doing with my life? And so work was the next step. I just had to work. To throw myself into the next job was the only option for me."