Discover Mary Berry's Secret Ingredient...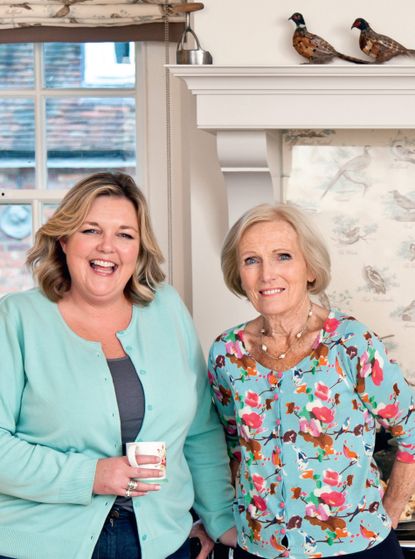 (Image credit: BBC Books)
As her latest cookbook hits the shelves, Mary Berry introduces her secret ingredient, collaborator Lucy Young.
Mary on Lucy... Lucy's been my PA for 23 years. She is an essential part of my life. People are always trying to poach her and give her other jobs, but she's part of our family now and we all love her. She started as my part-time assistant when she was just 19 and within 3 months she was full-time. Since then, we've done all sorts - we've had a cook school together, we write books together. She's even written books in her own right. She's a very special girl and I'd be lost without her. Outside the kitchen... I go to Lucy for advice on all sorts of things, even what to wear! When the National Television Awards were coming up, I just looked out all my old formal dresses to try on. But Lucy said 'Oh no, you need something new.' I'm so glad I listened to her! Favourite recipe in the new book: I'm very fond of the Pear and Lemon Curd Tart. Insider cooking tip Weigh everything!
Lucy on Mary... When I first started working with Mary, I was terrified. I remember she asked me to make some meringues and I was so nervous, it took me four attempts to get it right! That wasn't because of Mary though - she's always been lovely to me. I think the reason we work together so well is because we respect each other and we're alike in a lot of ways. We have the same work ethic and sense of humour and we've never argued. Neither of us could do without each other. If she wanted to retire one day, I would have to go out on my own but she'll never retire and so long as she doesn't, I'll be here. Outside the kitchen... I'd say Mary and I were friends now more than anything. She's so thoughtful. On a Monday, I'll come to work and there might be some beautiful flowers on my desk or some chocolates she thought I'd love. It's not just me she thinks about either, she shows consideration to everyone and really appreciates that I have a life outside work. She gave me some marmalade for my husband the other week and when we were married two years ago, she did a beautiful reading at our wedding. Favourite recipe in the new book: It would have to be one of the puddings - the Pear and Lemon Curd Tart is delicious. Did Mary say that too? See, we really are alike. That is so spooky. Insider cooking tip Store-bought puff pastry is just as good as home made so I would never waste the time making my own. The same goes with filo pastry. I remember making it at college and it took four hours to make!
RELATED: Meet Mary Berry on our foodie river cruise through Portugal and Spain this summer!
Mary Berry At Home by Mary Berry & Lucy Young is out today, published by BBC books. Order your copy now (opens in new tab)!