Producers have 'high hopes' Kim Cattrall will be back for Sex and the City spin-off despite feud with Sarah Jessica Parker
We finally know how Samantha is being written out of the show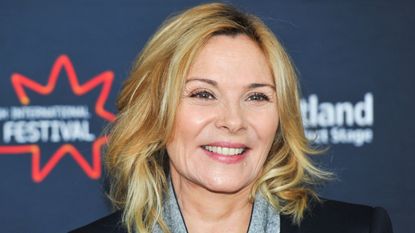 (Image credit: Roberto Ricciuti/Getty Images)
"Men, Babies, Doesn't Matter. We're Soulmates."
These words spoken by the fiery, feisty and flirty Samantha Jones captured the sisterhood that was at the heart of Sex and the City—but the new spin off series will explore what happens when soulmates become estranged.
That's right, we finally know just how—and why—Samantha Jones won't be in And Just Like That.
Why isn't Samantha returning to Sex and the City spin-off?
Several outlets are reporting a source close to the show explaining that, in the series premiering on December 9, Samantha and Carrie have had a falling out.
"Viewers will learn that she is thriving in England even though she has fallen out with Carrie," the source told the Daily Mail.
Explaining why Samantha has swapped the Big Apple for the Big Smoke, the source added, "We couldn't have Samantha roaming around New York City and not have the other women (Charlotte and Miranda) not interacting with her. It just wouldn't have made sense."
"Sending her to Los Angeles wasn't an option as we'd done that in the first movie, so having her character based in London really was the perfect way to keep her alive and explain her absence."
With their characters set to be butting heads, it could be a case of art imitating life as Kim and Sarah Jessica Parker's relationship has publicly soured in recent years.
What happened between Kim Cattrall and Sarah Jessica Parker?
As is normal in Hollywood, Kim, SJP and the rest of the cast were dogged with feud rumors for years during Sex and the City's heyday.
Various reports suggest that some of the bad blood began with SJP's title as an executive producer on the show.
Upon finding this out, Kim apparently tried to negotiate for a higher salary and this was followed with reports of Kim not sitting with her castmates at the 2004 EMMYs.
Though mostly rumor and hearsay for years, Kim opened up on her perspective in an interview with Piers Morgan in 2017.
She said to the TV personality, 'We've never been friends - we've been colleagues. And in some ways that's a very healthy place to be, as you have a clear line between your professional life, and your personal, too.' Kim went on to address SJP's behavior towards her directly, simply stating, 'I really think [SJP] could have been nicer.'
Just one year later, the feud exacerbated on social media.
Following reports Kim's brother had died, SJP shared her condolences with her former castmate in an Instagram comment. Kim responded in a separate post, 'Your continuous reaching out is a painful reminder of how cruel you really were then and now,' she wrote. 'Let me make this VERY clear. (If I haven't already). You are not my family. You are not my friend.'
SJP has kept quiet on the situation, but she responded to a fan on Instagram when the And Just Like That news was first announced and it was clear Samantha wouldn't be returning.
Responding to the fan's comment on how much they'd miss Kim/Samantha, SJP replied, ""We will too. We loved her so."
Could Samantha return to And Just Like That?
The show's creators are optimistic that Kim may return for the second season of And Just Like That.
The source is reported as saying, "Carrie is the one who has the tough time without Samantha and by the end of And Just Like That you'll see Carrie extend the olive branch and try and rekindle the friendship."
"We have high hopes that by the time we begin filming the second season, Kim will have joined the show and Samantha Jones can make a triumphant return to the big apple. We want Kim back.
"Samantha Jones is one of television's all time much loved characters and Kim is a phenomenal actress who brings her to life perfectly. She needs to come home, if not for us, but for the fans that adore her."
And Just Like That will premier on December 9, streaming on HBO Max.
Jack Slater is not the Last Action Hero, but that's what comes up first when you Google him. Preferring a much more sedentary life, Jack gets his thrills by covering news, entertainment, celebrity, film and culture for woman&home, and other digital publications.
Having written for various print and online publications—ranging from national syndicates to niche magazines—Jack has written about nearly everything there is to write about, covering LGBTQ+ news, celebrity features, TV and film scoops, reviewing the latest theatre shows lighting up London's West End and the most pressing of SEO based stories.