Denise Welch Says Depression Was 'Most Frightening Thing That's Ever Happened To Me'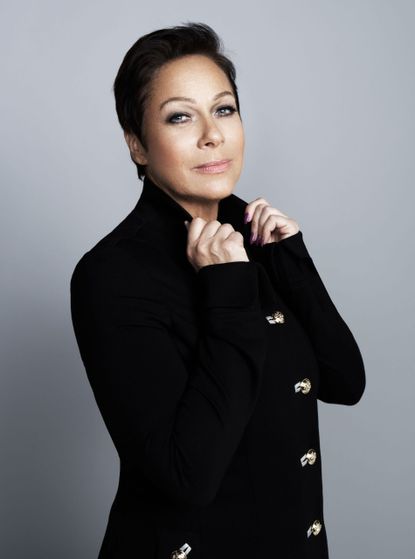 (Image credit: HAPPIFUL MAGAZINE)
Denise Welch, former Coronation Street actress and Loose Women panelist, has opened up about her battle with depression which she says "robbed" her of "the ability to love".
She has been open about her struggles in the past but in this incredibly candid and honest interview withHappiful (opens in new tab)
magazine, Denise, 59, gives an insight into how bad it got.
Denise first suffered clinical depression and pastpartum psychosis following the birth of her son, Matty who is now 28-years-old. His father is Denise's former husband Tim Healy.
Denise recalls one occasion when she suffered an all-night panic attack as newborn Matty cried. She said: "I remember sitting on the settee and blackness starting from my feet, working up my body, and I was immediately in a thick, black suicidal depression."
She added: "It's the most frightening thing that's ever happened to me in my life. Depression depresses every single thing in you. At its blackest, you are void of feeling."
Many women feel under incredible amounts of pressure when they become a mother and Denise emphasises that she never felt negatively towards her son. She just couldn't fight off her own negative feelings towards herself.
CREDIT: Happiful Magazine
She goes on to explain that her battle with depression was the inspiration behind Matty's song called She Lays Down. Matty is lead singer of the band The 1975. Denise explained that when Matty was older she told him about how she would lie next to him and "pray that something would happen to make me love him".
She added: "Depression robbed me of the ability to love."
The former Loose Woman eventually turned to alcohol to "self medicate". She admits that during her stint on Coronation Street she struggled to cope with the intense workload, but feared being judged for taking time off for mental health.
And while Denise says she will never truly be free from depression, she also commented that she is in a much happier place as she approaches 60.
She said: "I've learned to live with depression and it's like a very unwelcome guest who I've got better at tolerating because I know the guest will leave in a short space of time."
She added: "I feel so much better, mentally and physically, entering my sixtieth year than I did my fortieth and my fiftieth. Friends of mine, like I am, are approaching 60 and fear it, but I feel like I'm only 60. I feel like this is my second chance!"
If you or someone you know is struggling with mental health issues there is support available. TheNHS (opens in new tab)
have depression support groups and charities likeMind (opens in new tab)
and theSamaritans (opens in new tab)
also have help available.
After being prescribed anti-depressants Denise said she "began to see the light at the end of the tunnel". She also says that the menopause is "the best thing to have happened" to her as much of her depression was linked to a chronic oestrogen deficiency.
CREDIT: Happiful Magazine
The shoot with Happifulshows just how far the much loved presenter and actress has come. She looks full of life and we hope that she continues to go from strength to strength.
Jessica is a Senior Food Writer at Future and is an enthusiastic, self-taught cook who adores eating out and sharing great food and drink with friends and family. She has completed the Level 1 Associate course at the Academy of Cheese and is continually building on her knowledge of beers, wines and spirits. Jessica writes food and drink related news stories and features, curates product pages, tests and reviews equipment and also develops recipes which she styles on food shoots.