Captain Tom launches charitable foundation in memory of his wife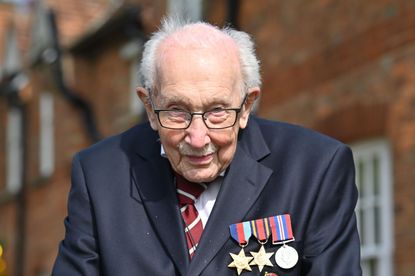 (Image credit: AFP via Getty Images)
Captain Tom has launched his latest venture in memory of his late wife Pamela.
Captain Sir Thomas Moore, known as Captain Tom (opens in new tab) to most, galvanised the country back in April during the height of the pandemic when hebegan a fundraising campaign for NHS Charities Together, where he aimed to do one hundred 25-metre laps of his garden, in the lead up to his 100th birthday. He ended up raising a record-breaking £5.2m and consequently got a knighthood from the Queen. (opens in new tab)
So you'd think that would be an achievement enough for Tom, but it seems he is unstoppable. Today, he launched his latest venture:The Captain Tom Foundation. In memory of his late wife, Pamela, the foundation aims to combat loneliness and support those struggling with bereavement.
Speaking to Naga Munchetty on BBC breakfast Tom said, "to help lonely people (opens in new tab) and people who are in difficulties. Not necessarily old people because there are some young people who really are not properly looked after."
Pamela struggled with mental health her whole life and as she got older developed dementia, she ended up spending many years in care where Tom would visit her every day. But he felt he lost her before he did so physically, it was during these years he felt particularly alone. He aims to "inspire hope when we need it the most" and hopes the public can join him in his next step.
MORE: Duke and Duchess of Cambridge send emotional video message to national hero Captain Tom Moore after donating 'undisclosed' sum (opens in new tab)
Speaking with his daughter Hannah Moore on Good Morning Britain, they said, "we want to stay together to continue to do powerfully good things". Their goal is to ensure Tom's message of hope becomes an enduring legacy for the next few generations.
The foundation will raise money for MIND, The Royal British Legion, Helen and Douglas House and Willen Hospice.
The launch of the foundation coincides with his book publishing today. The autobiography, named after his famous words 'Tomorrow Will Be a Good Day', is a memoir of his life as a former British army officer taking us right up to the current day of how he captured the nation with his fundraising.
Rachel is a freelance contributor to woman&home, covering news as well as books, lifestyle and travel. Her byline has also appeared in The Independent, The Financial Times, ELLE Magazine, VICE, Glamour Magazine and others. She loves nothing more than talking with people to share their stories. When she is not writing you will definitely find her nose in a book or magazine, or perhaps training for the next half marathon, practicing yoga or eating in London's best restaurants.