Bruce Willis retires from acting due to aphasia—other celebrities who've battled the condition
Bruce Willis isn't alone in his diagnosis of aphasia, a speech condition which affects up to 40% of people who've had a stroke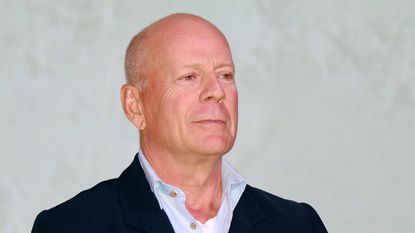 (Image credit: Getty)
The news that Bruce Willis will retire from acting due to his aphasia has led to widespread interest in the degenerative condition—as well as which other celebrities it has affected.
The US actor's family announced on Wednesday that he would be quitting Hollywood for good because of health issues, much to the shock of his devout followers.
In an emotional Instagram post, Bruce's ex-wife, Demi Moore, revealed that the 67-year-old would be "stepping away from the career that has meant so much to him" because of the impact of his aphasia on "his cognitive abilities."
The announcement has prompted an influx of supportive messages from the family's fans and friends, many of whom were shocked by the update.
"This is a really challenging time for our family and we are so appreciative of your continued love, compassion and support," Demi added. "We are moving through this as a strong family unit, and wanted to bring his fans in because we know how much he means to you, as you do to him."
Aphasia, often caused by stroke, is a neurological condition which inhibits the person from being able to express or understand words.
"This can apply to isolated words or names and it is normal for many of us to have occasional aphasia when we search for a name or don't recognise someone," explains Dr Stuart Sanders, a General Practitioner at The London General Practice. "The usual cause of aphasia is brain damage in isolated parts of the brain which control language and speech, usually as a consequence of arterial blockage leading to mini strokes."
In some cases, patients will recover from aphasia without any treatment. Those who don't, however, are usually advised to undergo speech and language therapy to help them restore their verbal functioning.
"Speech and language therapy works to help a person regain their ability to communicate. In instances where the person has trouble understanding words, the therapy may include matching pictures with words," explains Sonia Khan, Senior Pharmacist at Medicine Direct.
"For people who find it hard to articulate, the therapist may use techniques like getting them to practice naming pictures or finding words that rhyme. Helping people to formulate words by getting them to repeat what the therapist says is also a technique; they will begin with single words and move onto phrases and sentences are the patient's recovery progresses."
Sharon Stone
After suffering from a stroke in 2001, Sharon Stone was left with a number of health issues—including aphasia and a chronic stutter. Speaking to Harper's Bazaar in 2015, the Basic Instinct star revealed how the 'nine day brain bleed'—which almost killed her—has affected her long-term cognitive functioning.
"It almost feels like my entire DNA changed," she said. "My brain isn't sitting where it used to, my body type changed, and even my food allergies are different."
Sharon also shared the unlikely positive side effects of the aneurysm, noting that it pushed her to become "more emotionally intelligent."
"I chose to work very hard to open up other parts of my mind," she said. "Now I'm stronger. And I can be abrasively direct. That scares people, but I think that's not my problem. It's like, I have brain damage; you'll just have to deal with it."
Patricia Neal
US actress Patricia Neal battled aphasia after she had three consecutive strokes in 1966 while she was pregnant with her fifth child.
She awoke from her coma to discover that she was visually impaired, paralysed on her right side and unable to speak. Her condition improved somewhat over the next few months with therapy, but it's understood she continued to suffer from the effects of her brain haemorrhage until her death in 2010.
According to her husband, children's author Roald Dahl, the Oscar-winner 'struggled with the names of objects and people' and 'invented new' words to help her communicate more easily.
Randy Travis
Randy Travis is another celebrity to have battled with aphasia, having been left with the degenerative disorder after undergoing heart surgery in 2013. The American country singer suffered a stroke during the operation, which, in turn, caused him to develop issues with speech.
In 2021, Randy's wife, Mary Davis Travis, explained that he has not lost any of his cognitive faculties—but continues to struggle with verbal expression.
"The memory is as sharp as it ever was," she said. "Everything's up there, it's just the aphasia and getting it out that's the frustrating part."
Emilia Clarke
Emilia Clarke is one of the younger celebrities known to have suffered from aphasia. The Game of Thrones star underwent a traumatic medical ordeal ordeal in February 2011, shortly after she'd wrapped up filming the first season on the popular TV series.
She recalls how, just as she was about to take a trip to her local gym, she experienced a headache 'so bad it felt as though an elastic band were squeezing my brain.' The next thing she knew, she was being rushed to the hospital, where an MRI detected a subarachnoid haemorrhage, a.k.a bleeding in the space that surrounds the brain.
In the two weeks after her emergency operation, she suffered from aphasia so severe that she couldn't say her own name. She has fortunately since recovered, and is now an outspoken advocate for brain injury awareness.
Emma is a Lifestyle News Writer for woman&home. Hailing from the lovely city of Dublin, she mainly covers the Royal Family and the entertainment world, as well as the occasional health and wellness feature. Always up for a good conversation, she has a passion for interviewing everyone from A-list celebrities to the local GP - or just about anyone who will chat to her, really.
Emma holds an MA in International Journalism from City, University of London and a BA in English Literature from Trinity College Dublin.