The stunning filming locations of ITV's Beecham House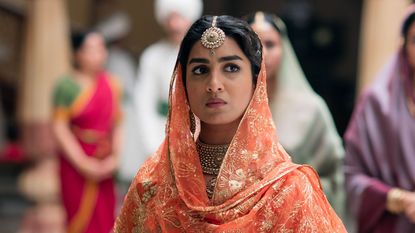 If you've been following ITV period drama Beecham House, you'll be familiar with the picturesque settings. Here, we take a look at some of the filming locations.
From grand palaces to beautiful gardens, there's a lot to take in when watching Beecham House. The new six-part series is set in 1795, a key moment in Indian history.
The period drama is set in Delhi, but there are a variety of locations from across India that feature on screen. Here are some of the places to feast your eyes on.
Chomu Palace
This 58-room luxury heritage hotel is stunning to look at, and is a popular destination for weddings (we can see why!).
MORE: ITV are adapting Jane Austen's final novel Sanditon – here's what we know so far (opens in new tab)
In the series, this is home to Murad Beg (Adil Ray), who agrees to help former soldier John Beecham secure a trading licence. Naturally we soon see Murad host a spectacular party, because what else are you supposed to do with such a beautiful home?
Samode Palace & Samode Bagh
Also known as 'Samode Garden', it's spread over 20 acres and is described as a 'garden paradise'. Here you'll find waterways, flowers, trees, stables, fountains and a pavilion.
Tom Bateman, who plays John Beecham is particularly fond of this location, saying "there was this beautiful quad where we were staying, and it's out the back, they had a swimming pool and stuff, and out the back was John Beecham's garden."
The sandstone Samode Palace is located 4km away from Samode Bagh, and now operates as a 43-room hotel for lucky visitors. It's a beautiful location with marble floors, mosaic walls, luxury carpets, wall paintings and patios.
MORE: ITV announces it has banned all-male comedy writing teams (opens in new tab)
Jaipur's Amber Fort
This key filming location serves as headquarters for Frenchman General Castillion (Gregory Fitoussi).
Tom also shared some thoughts on this place, saying "There's these huge stone archways out of nothing, and there's this garden there, and it's the most insanely – we'd just sit and have our lunch there, didn't want to go back to work, because you're just looking out over this most incredible view."
Amber Fort overlooks Maota Lake, and is one of the most popular tourist attractions in Jaipur. With views like that, we can definitely see why!
The Taj Mahal
Our final location needs no introduction, as it's probably one of the most popular tourist spots for visitors.
Film crews set up behind the Taj Mahal, so they could block out the modern world. Beecham House creator Dakota Blue Richards said "We filmed from across the water, which meant that we didn't have to contend with the crowds of tourists. But we did have that on quite a few of our other locations, so when we were shooting, a lot of the emperors' palace stuff, there were up to a thousand maybe more people with their phones out filming us."
"They would clear the space behind us so they could shoot on us – and then everything else was just full of people!"
Which Beecham House location would you love to visit the most?
Lucy Buglass is a Digital Writer specialising in TV, film and lifestyle content and has written for What's On TV, GoodtoKnow and Whattowatch.com. She's passionate about entertainment and spends most of her free time watching Netflix series, BBC dramas, or going to the cinema to catch the latest film releases. In her spare time, she writes film and television reviews for JumpCut Online and her own blog, Lucy Goes To Hollywood.