Angelina Jolie and son Maddox make a rare public appearance together
The mom and son duo attended a State Dinner at the White House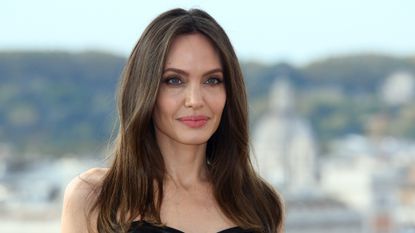 (Image credit: Getty images)
Angelina Jolie and her son, Maddox Jolie-Pitt, attended a State Dinner together at the White House, marking a rare public appearance for the mother and son duo.
Angelina Jolie brought her adopted son, Maddox, who is 21 years old, to a White House State Dinner to celebrate and honor South Korean President Yoon Suk Yeol.
The two got glammed up for their night out, with Angelina wearing a stunning white gown with a matching white blazer, as well as some beautiful, beaded jewelry that added a boho vibe to the elegant ensemble.
Maddox showed up in style, too, wearing a sleek black suit and matching black coat.
This State Dinner, held at the White House, was hosted by President Joe Biden and First Lady Jill Biden, where they gathered a group of esteemed individuals together to honor South Korean President Yoon Suk Yeol and First Lady Kim Keon Hee.
This dinner was held to celebrate the "70th anniversary of the U.S.-ROK alliance, which is critical to advancing peace, stability, and prosperity for our two countries, the Indo-Pacific, and around the world," according to a press release from the White House.
Maddox is just one of Angelina's six children - and was adopted by Angelina along with his sister, Zahara, before having three biological kids with Brad Pitt (Shiloh, Knox, and Vivienne) and adopting a sixth child together, Pax.
Although Brad and Angelina split in 2016, Angelina is still often spotted with her kids - and most of them are now grown up, or in college. Their daughter Zahara goes to the prestigious Spelman College in Atlanta, GA; she also recently borrowed her mom's 2014 Oscars dress to a movie premiere and the pics are adorable.
Maddox is the oldest of the six Jolie children - he was adopted when he was just seven months old in 2002 from an orphanage in Cambodia.
You could be wondering - why would Angelina Jolie be invited to a State Dinner to celebrate a South Korean diplomat. Well, the actress has a tie to the country - she visited South Korea in 2019 when she dropped Maddox off for his freshman year of college at Yonsei University, where he studied biochemistry. He ended up returning home a year later due to the COVID-19 pandemic-induced border shutdowns.
"I could not be happier about Mad's choice of university. It is, of course, closed at the moment because of the pandemic. But he's not transferring schools, he'll be back as soon as things settle," Angelina told South Korea's DongA Daily publication in 2020. "We are all so happy, as a family, that we will have the opportunity to get to know South Korea even better through Maddox, and with him, during his studies."
Madeline Merinuk is woman&home's US lifestyle news writer. She covers celebrity, entertainment, fashion, and beauty news but is also obsessed with internet trends - you can find her reciting trending TikTok sounds out loud at any given time.
After winning multiple student journalism awards for her investigative work, she graduated from Hofstra University in 2021 with a B.A. in Journalism. After graduating, she worked at today.com, the digital site for the Today Show, where she wrote pop culture news and interviewed big-name personalities like Emily Ratajkowski, Haley Lu Richardson, Emma Corrin, and more.
Her personal interests, in no particular order, are: cheese, Joni Mitchell, reading, hot yoga, traveling, having multiple chapsticks in every handbag at all times, and dancing to ABBA songs as if she were in the Mamma Mia movies.