Kim Sears supports husband Andy Murray as he makes winning return to tennis following injury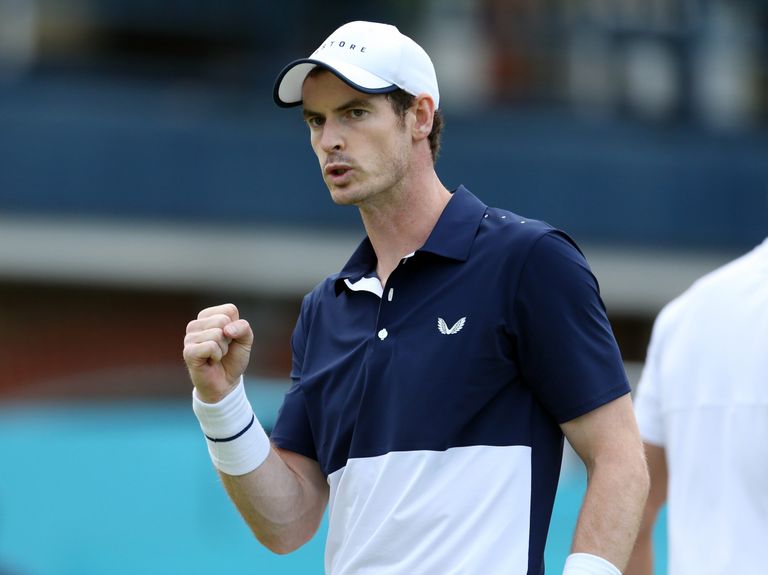 By Amy Hunt
Yesterday, tennis legend Andy Murray made a triumphant return to the sport at Queen's.
And as so many of his previous matches, his wife of four years Kim Sears was there in the crowd to cheer on her husband, after what's been a difficult few months for the 32-year-old.
Andy Murray had hip surgery in January, an operation which has likely saved his career. Before the op, the tennis star had openly admitted to struggling even with walking, leaving his future in the sport in question. He even revealed to media that he was facing the prospect of forced retirement, due to his health issues.
Kim was pictured looking tense during the match as Andy warmed up, but later delighted after he and his doubles partner, Feliciano Lopez, won at the Fever-Tree Championships.
And yesterday, he admitted that his first match back after a turbulent time health-wise felt far better than expected.
The dad-of-two confessed, "I learned quite a bit tonight. I expected to be the worst player on the court and to not feel particularly good on the court. I was prepared to feel that way, which was probably the case in the first set.
MORE: Nadia Sawalha shares her anger over very relatable relationship issue with husband Mark: 'Infuriating!'
"But I think I started to play better in the second and started to serve better, see the returns better. I have zero discomfort in my hip – like, nothing. If I had done this last year, I'd be here aching, throbbing, and feel bad the next day."
Andy Murray also revealed that he plans to return to the Wimbledon tournament once again this year to play doubles, as he did yesterday.
However, he confirmed that he's yet to finalise his partner for the games.
MORE:Judy Murray reveals the personal and financial sacrifices behind Andy's success
It would likely be a huge achievement for Andy to return to Wimbledon, the place where he has won multiple singles titles. Prior to his hip operation, he held an emotional press conference stating his belief that he would be forced into retirement if the surgery did not work.
It's great to see you back in action Andy! And we can't wait for Wimbledon this year - now where did we put our strawberries and cream?