Adele thanks 'best fans in the world' after cancelling Las Vegas shows
Adele revealed on Thursday that she's been forced to cancel the shows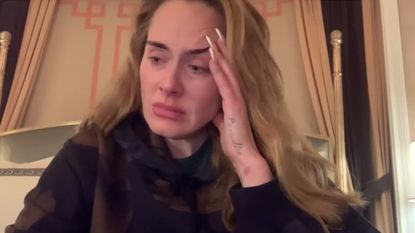 (Image credit: Twitter)
Adele has tearfully thanked her fans after cancelling her Las Vegas residency less than 24 hours before her first show was scheduled to take place.
Taking to Twitter, Adele wrote on Friday night: "I have the best fans in the world! Your graciousness and love tonight is overwhelming! Thank you."
The British singer took to social media on Thursday night to announce the devastating blow, tearfully apologizing to fans for the letdown in a self-recorded video.
The 33-year-old explained that Weekends with Adele, which was supposed to kick off on Friday night at Caesers Palace' iconic Colosseum in Las Vegas, has officially been postponed due to Covid-related delays.
The glitzy residency was to mark the Grammy-award-winner's return to live concerts after a nearly six-year hiatus, as well as her first chance to perform the new material from the Adele 30 album to her legion of adoring fans.
The Easy on Me singer delivered the heartbreaking news to her followers on Instagram and Twitter last night, in what appeared to be an unscripted message.
"I'm so sorry, but my show ain't ready," she said at the beginning of the video. "We've tried absolutely everything that we can to put it together in time and for it to be good enough for you."
Unfortunately, these efforts were simply not enough to safeguard the show from the impact of the ongoing pandemic.
Adele confessed that the residency has been "absolutely destroyed by delivery delays and Covid," adding that, "half my crew, half my team are down with Covid."
"It's been impossible to finish the show," she went on. "I can't give you what I have right now. I'm gutted. I'm sorry it's so last minute."
Robyn is a celebrity and entertainment journalist and editor with over eight years experience in the industry. As well as contributing regular to woman&home, she also often writes for Woman, Woman's Own, Woman's Weekly and The Sun.