8 fascinating facts about women and the Blue Plaque scheme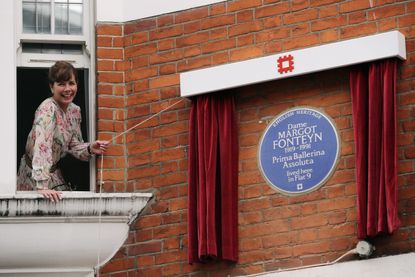 (Image credit: Getty)
Started in 1866 London's Blue Plaque scheme honours notable women and men throughout history who have lived and worked in some of the capital's most formidable buildings.
For more of a window into how women have been recognised in the schemes' more than a 100-year history, below are 8 fascinating facts about women and the Blue Plaque scheme.
1. The first plaque to a woman was erected in 1876 – though this no longer survives – and honours Welsh born actress Sarah Siddons (1755 – 1831) who was dubbed 'one of the greatest English tragic actresses'.
2. By 1905, just five women – one actress and four writers (including George Eliot) – had been commemorated with a plaque, with this figure climbing to 45 when English Heritage took over the scheme in 1985.
3. Of the 944 Blue Plaques – just 132 recognise the achievements of women.
4. Earlier this year the London Assembly launched a campaign to redress gender balance of London's Blue Plaques, urging the public to suggest 100 women to be nominated.
Nominations included the following:
Claudia Jones (equal rights campaigner and Caribbean Carnival organiser)
Jayaben Desai (heroine of the Grunwick strike)
Reina Lawrence (first female councillor elected in London)
Emily Davison (suffragette, activist)
Jill Dando (journalist)
Princess Diana (opens in new tab)
5. Women due to receive blue plaques (subject to permission from the buildings' owners) are as follows:
Margaret Lockwood – One of Britain's most popular film stars of the 1930s and 1940s, who starred in films including Alfred Hitchcock's The Lady Vanishes
Noor Inayat Khan – a British WWII heroine who was the first female radio operator sent into Nazi-occupied France
Gertrude Bell – a traveller, archaeologist and diplomat who became highly influential to British imperial policy-making
MORE:Everything you need to know about the woman&home Amazing Women Awards 2019 in partnership with Hotter (opens in new tab)
6. Though rare, there are a number of London houses that have two official blue plaques; one honouring a man and one honouring a woman. Examples include 29 Fitzroy Square (George Bernard Shaw and Virginia Woolf) and 20 Maresfield Gardens (Sigmund Freud and Anna Freud).
7. Unusual blue plaque dedications for women include Designer of Spitalfields Silks (Anna Maria Garthwaite) and Friend of all in Need (Mary Hughes).
8. The oldest surviving blue plaque to a women is for Frances (popularly known as Fanny) Burney (1752–1840), an English satirical novelist, diarist and playwright.
Miriam worked for woman&home for over five years and previously worked on the women's lifestyle magazines Woman and Woman's Own.