50 Over 50 Awards: 'Friendship Above and Beyond' shortlist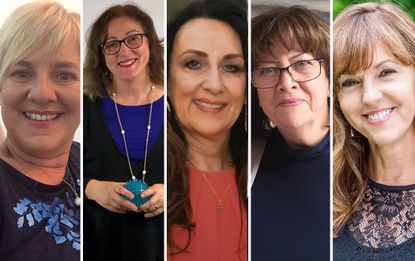 The friends who have gone beyond the call of duty – nominated by the people that love them
We're delighted to reveal our latest list of nominees in our 50 Over 50 Amazing Women Awards, in partnership with JD Williams.
For the Friendship Above and Beyond category, we askedWoman & Homereaders to nominate their nearest and dearest - and the stories they shared were incredible.
You'll find details on the five finalists below, including the woman who has helped heal her friend through a shared love of running to another who showed her true worth when a loved one was diagnosed with breast cancer.
Read all about these inspiring nominees below, and then cast your vote in the poll above! Voting closes on Sunday 22 July and the winner will be revealed in our November issue.
Angela Robinson, 53
The running buddy who's been a 'lifesaver'
Angela was nominated by her friend Rosemary Leworthy. They met as nervous new runners, achieving running milestones together.
Rosemary says: "In 2017 I had Trans Global Amnesia and my life was turned upside down. Angie helped me restart my running by driving me to events, texting me regularly, chivvying me along, encouraging me to socialise again and generally being a fabulous friend."
Angela says: "Rosemary traumatically lost her memory and confidence, and went through a very tough time. I hoped getting her back out running would help."
Angela Robinson, 53
The running buddy who's been a 'lifesaver'
Angela was nominated by her friend Rosemary Leworthy. They met as nervous new runners, achieving running milestones together.
Rosemary says: "In 2017 I had Trans Global Amnesia and my life was turned upside down. Angie helped me restart my running by driving me to events, texting me regularly, chivvying me along, encouraging me to socialise again and generally being a fabulous friend."
Angela says: "Rosemary traumatically lost her memory and confidence, and went through a very tough time. I hoped getting her back out running would help."
Jane Eaton, 51
A companion in bad times
Jane was nominated by her friend Georgina Tankard. Jane showed her true worth when Georgina was diagnosed with breast cancer.
"We met at our local WI. We're both northern girls and her openness meant we clicked," says Georgina.
"I hadn't known her long, when in her forthright but kind way Jane insisted I shouldn't go to appointments alone. She took me to my pre-op at 7am one morning, visited me after surgery, was there for my CT scan and radiotherapy."
Jane says: "I lost my mum to breast cancer when I was 15 and she was 41. Cancer wasn't spoken of back then and she had little support from friends. Georgina's mum lives in Australia and her husband was focused on caring for their two daughters. I decided she wouldn't go through cancer treatment alone."
Veronica Kumeta, 58
The friend to all breast cancer patients
Veronica lost two close friends to breast cancer several years ago, so in 2000 she set up Ladies Fighting Breast Cancer (opens in new tab) and has since raised over £1m for equipment at her local hospital, including two mobile mammogram units.
Her nominators, Trish Kennedy and Patricia Noon, say: "She's an amazing friend to all breast cancer patients and goes out of her way to help everybody."
Veronica says: "I'm Mancunian – I like to be hands-on and get involved. I run fashion shows and invite patients to be models. They've said this gives them a great lift and a chance to feel feminine again.
"My proudest achievement is funding the pink mammogram unit – the first in the country. It's more welcoming than the standard white NHS one, and patients have said it's helped make the screening experience far less clinical and frightening."
Rachel Breakspear, 53
The woman who turns lives around
Rachel has changed many lives. "I met her a year ago when I was trying to help homeless families at Christmas," says friend Toni Flavin. When Toni herself was desperate, Rachel bought nappies for her children, gave her shoes and clothes to wear to a job interview and even got a retired teacher to help tutor Toni's daughter for free.
Rachel is a back pain and movement specialist, and has developed a Pelvic Floor online workshop (opens in new tab). The exercises have alleviated Toni's back problems, meaning she could look for waitressing work.
Rachel says: "I feel privileged I was able to help Toni and her family, and proud of her as she is now helping others."
Wendy Scott, 62
The Godsend during a bereavement
Wendy was nominated by her friend Christine Brolan, who she met through work. After they were both made redundant, their friendship grew and then tragedy struck for Christine.
"Within 18 months I lost my mum and my husband became terminally ill," says Christine. "During his last days, Wendy's friendship touched my heart.
"Without me knowing, she took my brother-in-laws to one side and suggested a rota so I could get some sleep. Then she popped home and returned with fish and chips for all. Over the weekend she made sure I ate, my children were comforted and my tea was strong.
"When my husband died, she drove late at night to tell my dear dad in person so he wouldn't be alone when he heard the news."
Wendy says: "I've had my fair share of tragedy and would never have coped without wonderful friends. I'm simply paying it forward."