How to start a skincare business - invaluable tips from three successful entrepreneurs
These women have turned home-made products into sought-after brands.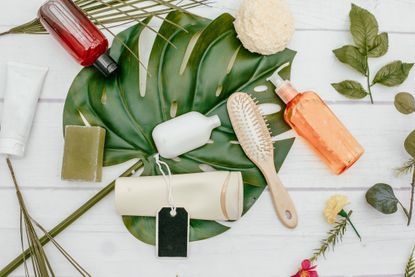 (Image credit: Getty Images)
woman&home newsletter
Sign up to our free daily email for the latest royal and entertainment news, interesting opinion, expert advice on styling and beauty trends, and no-nonsense guides to the health and wellness questions you want answered.
Thank you for signing up to . You will receive a verification email shortly.
There was a problem. Please refresh the page and try again.
Always wondered how to start a skincare business? We reveal the insider tips that will help make your dream a reality.
Considering starting your own side hustle or taking life in a brand new direction professionally? Every month we ask three successful female entrepreneurs how they set up their own profitable businesses. They reveal what sparked their ideas, their breakthrough moments, and most importantly, how much it all cost...
'Mum had the expertise to research and test ingredients'
Sarah Thomas, 34, and her mother, Karen Horsley, 61, live in York. They joined forces five years ago to create Clockface Beauty (opens in new tab), a range of natural, waterless skincare products.
The idea
Sarah: When I was pregnant with my first son, Alfie, who's now four, my skin developed problems – from breakouts to dryness. After trying over-the-counter products, which either didn't work or were not suitable to use in pregnancy, I turned to my mum, Karen, who had created her own serum when she started getting dry skin in her mid-50s.
She's retired now, but Mum was a biomedical scientist in the NHS for 30 years, so she had the expertise to research and test different natural ingredients. After using Mum's serum regularly, my skin changed dramatically for the better. I thought, 'I want to take this to market!'
What happened next?
Karen: After Sarah had her brainwave, I carried on developing skincare formulations. We spent two-and-a-half years getting 16 organic and cruelty-free products ready for our launch in October 2018. It's important we use natural, sustainable and vegan ingredients. We also wanted our skincare to be waterless – unlike many products that are made up of 70% water, ours only contain active botanical ingredients.
MORE:Nominations for the W&H Amazing Women Awards 2020 are now OPEN!
Sarah: I gave up my job as an accountant and juggled the business with being a parent – my second son, Henry, arrived in October 2017. There were accreditations to work through – for instance, our products had to be certified by an external chemist and registered with The Vegan Society.
We gave testers to friends and family in exchange for filling in feedback forms, and engaged a marketing company to create the branding and a website. I came up with the name when I realised our core message was all about time – a combination of the 'me time' associated with a spa experience, and concerns about anti-ageing.
Their breakthrough moment
Sarah: When we won three beauty industry awards in the same week in February 2019! Karen: As a scientist, it was achieving a texture from a vegan candelilla wax – that took a lot of work.
Steepest learning curve?
Sarah: I underestimated the time and resources needed to reach a customer base from nil. Despite that, we achieved a lot – in the six weeks before we officially launched, we went from zero to 3,000 followers on social media.
Where we are now
Sarah: We added three more products in 2019 and have a couple more for next autumn. We sell mostly from our website and small businesses around the UK, but our target this year is to get a large retailer on-board.
Karen: It's been amazing to go on this new journey after retiring from the NHS, and to work with Sarah on a shared passion.
Business cost breakdowns
Start-up costs: £35,000 Comprising… Website and branding: £15,000 Stock and packaging: £15,000 In-house development: £5,000 Current turnover: £75,000
Top tip?
Don't compromise on your core message. Ours was being waterless. Now it's a big trend in skincare!The products are organic, vegan and cruelty free.
'I can't think of anything I'd rather do'
In 2014, Shann Jones, 52, successfully treated her son's eczema using goat's milk. Since then, she and her husband, Richard, have built an award-winning skincare and gut health business, Chuckling Goat (opens in new tab), using goat's milk kefir made on their farm in south-west Wales.
The idea
When my son Benji was little, he suffered recurring bronchial infections and eczema. Antibiotics didn't help, so we turned to the traditional Welsh remedy of using goat's milk. We bought a pedigree Anglo-Nubian goat, Buddug, and gave her milk to Benji. His condition improved dramatically.
I learned to make kefir with the leftover milk, and I started wondering about using it in skincare products. After a lot of research, I couldn't find anyone else making and selling kefir products direct to the public, so I knew there was a gap in the market.
What happened next?
I went to soap school and learned to make cold-pressed soap and lotions. No one knew how to infuse kefir into the formulations, so I had to figure that out. I spent nine months developing my recipes, using 100% natural ingredients, including Finnish oat oil, essential oils, herbs, spices and, of course, goat's milk kefir.
I concocted everything at the kitchen stove, with friends, family and mums from the school run testing the products. Richard managed the farm and grew the herd.
My products then had to be safety checked, which took around six months. Richard sold his motorbike to fund our venture – our mantra being if we couldn't afford to pay for something in cash, we couldn't have it. We launched Chuckling Goat in 2014, selling soaps, skin lotions and kefir drinks.
Breakthrough moment
In 2016, I was invited onto the Steve Wright show on BBC Radio 2 to talk about kefir. The publicity melted our website and, as we make everything by hand, it took eight weeks to ship orders!
Steepest learning curve?
Learning to trust ourselves. It's tempting to hire a consultant, but no one knows our business as well as us. We want to make our own decisions.
Where we are now
We've had amazing growth, increasing sales by 6,000% and shipping to 55 countries. There have been exciting events, including being mentioned in the Duke and Duchess of Sussex's book, Our Royal Baby.
In March 2019, we launched microbiome testing, where we identify bacterial flora in a person's gut, as I believe this is critical to good skin health.
We've chosen not to automate our processes, but employ local people. We have 22 staff, including my three daughters and son-in-law. We've added a hydrating balm to our range, and there's a 'dream cream' for dry skin in the pipeline. My fifth book, How to Start a Business on your Kitchen Table, is due out in May. I have such a passion for this business, I can't think of anything I'd rather do – it gets me up in the morning and keeps me awake at night!
Business costs breakdown
Start-up costs: £1,700 Comprising… Our goat, Buddug: £200 Kefir grains and equipment: £300 Safety testing: £200 Website and packaging: £1,000 Current turnover: £3.4 million
Top tip?
It's important to stay true to your values and only use the best ingredients for your products – people will find you and support you.
'Our brand reflects our heritages'
Friends Rabia Khan, 39, and Samar Fazil, 41, became business partners in 2015 when they launched natural organic skincare brand, soapNskin (opens in new tab). Both have three children and live in Hertfordshire and Wembley, north-west London, respectively.
The idea
Samar: I couldn't find skincare that didn't irritate my skin, so I started making my own soap and body butters with storecupboard ingredients my mother and grandmother had used. When I was a teenager, my mum – who is of Pakistani heritage – used to tell me to wash my face with chickpea flour to help with my acne. From research, I now know its high-zinc content helps calm the skin and balance excess oiliness.
MORE:Female entrepreneurs more likely to stick with their business compared to their male counterparts, research reveals (opens in new tab)
Rabia: After my daughter was born, my skin became super sensitive and I ended up using olive oil, as it was the only thing that didn't hurt. I was moaning about it to Samar, and she gave me some of the body butter she made for herself. After trying it, I said, 'You're a magician! Why don't you sell it?' She was reluctant at first, but I suggested we do it together.
What happened next?
Rabia: We gave ourselves a year to launch, which was tough. There was so much work formulating the products and complying with regulations. We invested in better equipment and called in favours to get the website done for free. We aimed to sell online, and at trade fairs and markets, so we could educate customers about natural skincare.
Samar: I was reluctant to go into business with someone so dear to me, but we work together so well, I couldn't have done it with anyone else! After launching soapNskin, we had such positive reactions, and we won several indie beauty awards. But over the next couple of years, we let things coast and didn't achieve the sales we wanted.
Breakthrough moment
Rabia: In 2017, we went to a trade fair and met big retailers. They thought our products were lovely and that we hada great story, as British Muslim women with a brand that reflected our twin heritages. But they were also brutally honest in telling us our packagingand branding were not strong enough. It propelled us to relaunch the brand.
Steepest learning curve?
Samar: We didn't anticipatejust how saturated the market would become. When we started, green beauty was just gaining momentum, but now there's more competition.
Where we are now
Samar: We relaunched in 2019, using feedback from retailers and mentorsto help us define our brand. Ourstory revolves around reviving ancient beauty rituals from the Silk Roads,with products such as Skin Cashmere,a nourishing mask inspired by Kashmiri bridal rituals. Gentle and multitasking, customers can tailor many items to their own skin concerns.
Rabia: We changed our packaging to make it more premium and to increase its gift appeal. We make everything in our London studio, with ingredients still used in the Silk Road regions, including argan oil and turmeric, as well as British ingredients such as lavender.
Response to the relaunch has been great andI'm concentrating on social media and SEO. We're confident we've got our branding right, and sales reflect that.It's important to stay true to your values and only use the best ingredients for your products – people will find you and support you.
Business costs breakdown
Start-up costs: £20,000 Comprising… Ingredients and safety assessments: £5,000 Design and packaging: £10,000 Marketing £5,000 Estimated turnover: £20,000 soapnskin.com
Top tips?
Rabia: Take time and invest in branding and your story. People want to buy from independents, but need a story that resonates with them.