Cool, crisp bedlinen that will combat those hot Summer nights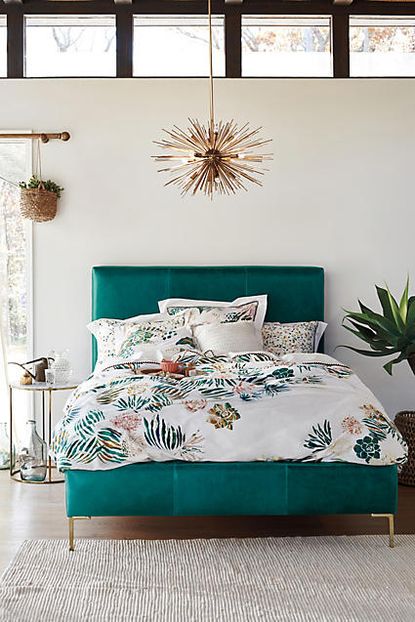 We all know the benefits of a good night's sleep. But we've entered that time of year when it becomes trickier to achieve those coveted 8 hours. The hot, muggy summer nights have set in and they have even the best of us waking up sweating. Not the most glamourous of subjects we know, but it's a real issue.
One of the easiet solutions to this problem is to switch out your bedding. Replacing synthetic pillows and duvets for those made of natural alternatives can help. Wool is an amazing fibre that thermoregulates. It's also renewable, hypoallergenic, antibacterial and dust mite free (so great for asthma sufferers). And contrary to popular belief, wool is a very cool fibre to sleep on, thanks to its superior ability to wick away moisture. The Wool Room (opens in new tab) has a great selection of wool bedding to choose from with prices starting at around £32.
Bamboo is another brilliant, breathable natural fibre that's softer than cotton, excellent at regulating temperture and very absorbant. We're quite taken by the Miracle Bamboo Pillows (opens in new tab), which are £59.99 for two.
Basically, when it comes to keeping cool in bed, natural fibres are the way to go. And unsurprisngly that theory carries through to the actual bedlinen too. You want to avoid poly-cotton blends and choose 100% cotton (generally Egyptian is the finest quality), linens or silks. Don't get too wrapped up in thread count either, it isn't always an indication of quality anymore. A high thread count can be just a numbers game with some companies cheating with double twist yarns in a cheaper fabric.
But enough about the practicals, now for the pretty bedding! Here's our edit of the chicest and coolest bedding currently on sale.
Christy Osaka in Tangerine, from £24.50 at House of Fraser (opens in new tab)
100% cotton with a 200 thread count, Osaka Tangerine is a beautiful floral design in complimentary tones of orange and blue, which feels fresh and zingy for summer. This rich and vibrant print is perfect for achieving a zen, Oriental inspired look. Pair it with accessories in similar shades to make a colour statement, or, for a softer look, tone down with grey throws and cushions.
Flamingos in blue, from £12.50 at Secret Linen Store (opens in new tab)
What better way to freshen up your bedroom for summer than adding this super fun blue flamingo bedding? Made from 100% cotton jacquard, not only will the print make you smile as you slip between the sheets, but it feels very luxurious and super silky too (that would be the 260 thread count and sateen finish). Bonus: The duvet cover is reversible.
Sweetpea & Willow Pure Silk in nude pink, from £65 at Sweetpea & Willow (opens in new tab)
Extravagant, yes. But the Gingerlily collection is undeniably beautiful. It's made from 100% A grade long fibre Mulberry silk. It's soft and seamless, and has a fantastic sheen. As well as being cooling it's also great for your skin and hair too.
Hiroto bedding, Living by Christiane Lemieux, from £20
at House of Fraser (opens in new tab)
A striking print on a supersoft cotton (it has a 300 thread count), Hiroto has buckets of charm and will add interest to any neutral bedroom. NB: the description calls this set purple, it's actually more like a dark petrol blue.
Buckingham floral bedding (opens in new tab) and Polka dot sheet (opens in new tab), from £12 at Joules
We love how these prints both contrast and complement one another. That's one of the great things about Joules' bedding, it all mixs and matches wonderfully. And every set is fresh, contemporary and soft to the touch.
William Morris floral print bedding, from £17 at John Lewis (opens in new tab)
If you want something classic that won't date then look no further than the William Morris Strawberry Thief range at John Lewis. It's iconic and the 300 thread count means it feels wonderfully opulent to the touch.
Missoni zigzag bedding, from £154 at Amara (opens in new tab)
That print is instantly reconginzable as Missoni so it's an easy way to inject a fashionable touch into your bedroom. And as you'd expect the cotton is of the finest quality and the bedding is made in Italy.
Brompton bedlinen, from £26 at The White Company (opens in new tab)
This range screams luxury hotel bedroom. It's that crisp white cotton, graphic border and the lovely oxford pillowcases. It has a gorgeous subtle lustre and a 300 thread count.
Floral bedding in navy, from £35 at Ted Baker (opens in new tab)
This set makes a bold statement, but it does so elegantly. The oversized floral is something of a Ted Baker signature and compliments the current trend for grey interiors. It's a cotton sateen too, which means it has a soft sheen.
Butterfly bedding, from £9.99 at Zara Home (opens in new tab)
Zara Home is our go-to store when we're after bedding that's a bit different from the norm but is affordable. They always have a plethora of whimiscal patterns, and this delightful butterfly print is no exception. Few things symbolize summer better than butterflies! Team it with a contrasting sheet and pillowcases for a contemporary spin.
Aprile bedding, from £58 at Anthropologie (opens in new tab)
If you want something that feels summery but butterflies aren't your bag, then try a tropical bloom. This set would compliment a mid-century modern interior beautifully, and we love that it can work with lots of schemes due to the print's varied and clever colour palette.