Create a luxurious dining room look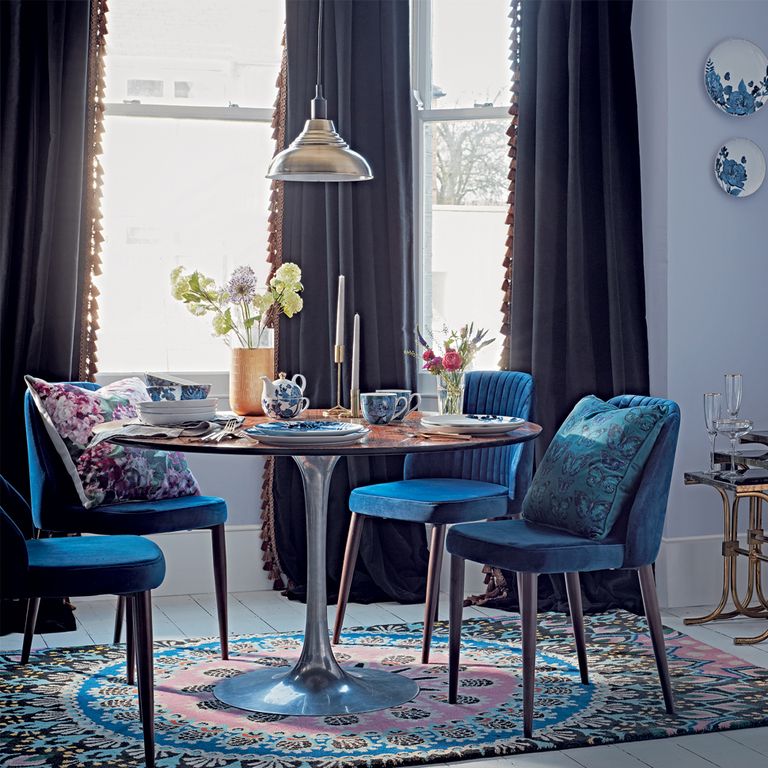 Make every dinner party a meal to remember with the glamorous Butterfly House Collection
Promotional Feature
Those of us who love entertaining always want to make the experience as memorable as possible. We'll spend hours planning the perfect menu, deciding who's sitting where and choosing the right wine. But how do you make your evening really stand out in your guests' minds?
Well it all starts with a warm welcome, a well-dressed table and the smell of something tantalising emanating from the kitchen. This spring, we're bowled over by the glamour and sophistication of Sainsbury's Butterfly House collection of dinnerware and soft furnishings.
Featuring rich purples and sapphire blues fused with opulent golds, this is an unashamedly luxurious collection. Use it to dress your dining room and you can be sure of one thing - you will be upping the style stakes.
Start with the elegant dinnerware, which teams floral watercolour prints with gold detail. Add golden cutlery - what else? - and matching serviettes, then finish with elegant candlesticks for a table that will really stand out.
Invite your guests to sink into luxurious velvet cushions in a palette of hot pink, rich purple and vivid blue florals that complement the tableware - and they won't want to go home!
Tempted? Here's our edit to whet your appetite...
The new Butterfly House collection is available at selected Sainsbury's stores now. To find your nearest store, visit sainsburyshome.co.uk
Champagne flute, £5 each
Greet your guests with a chilled glass of champagne in these gold rim flutes.
16-piece cutlery set, £30
If you're really looking to make a statement, look no further than this 16-piece luxe gold cutlery set.
Glass bottle, £4
It's quite often the finishing touches that make a lasting impression, like this vintage two tone glass bottle. Just add a few spring blooms for a delicate finish.
Floral cushion, £14
What better way for your guests to relax over a sumptuous feast than by settling into the comfort of a velvet cushion.
Scented candle, £5
Place a pretty glass scented candle in the hallway for a fresh, welcoming scent.
Gold lantern, £12
Decorate the room with these stylish gold trace-work lanterns to create a warm ambience.
Platter, £10
This sophisticated floral platter is a show-stopper - use it or display it on a wall.
Faux peony display, £8
Faux flowers have come a long way - this blowsy deep pink peony is an irresistible spring detail.
Tea pot for one, £12
There's nothing quite so English as a cup of tea. Luckily you've got the perfect little pot to serve it up in.
Large lantern, £24
Create a warm welcome with candles placed in golden lanterns for the ultimate wow factor.