Helen McCrory On Her Passion For Charity Work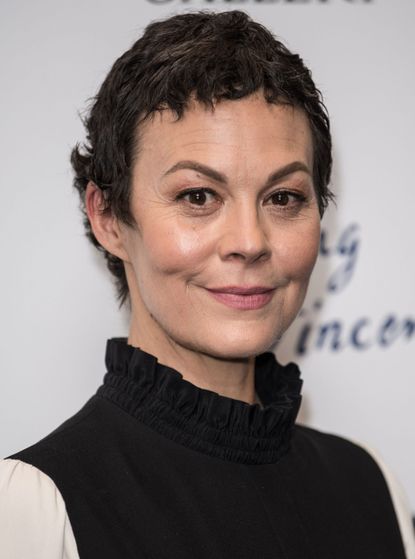 There are a lot of reasons why we're fans of Helen McCrory - her talent as an actress, her wit and her honesty - but one that gets less recognition is her dedication to giving back. In her role as Patron of the Sir Hubert Von Herkomer Arts Foundation, Helen is devoted to helping provide children with a gateway to the arts, which is why this weekend she joined Savoy Executive Chef Ludwig Hely and Debbi Clark, CEO of the Sir Hubert Von Herkomer Arts Foundation, as they delivered a chocolate and cake decorating masterclass to children supported by the Foundation.
Named after the distinguished 19th century artist, composer and playwright Sir Hubert von Herkomer, the Foundation aims to equip primary school aged children across England with the tools they need to pursue lifelong passions in the arts by providing courses in disciplines such as painting, drama, photography and film.
The special event was supported by the Savoy and saw 10 children attend from William Ellis Boys School, St Marylebone Girls School, Westminster City School, UCL Academy and Regent High. And never one to stand on the sidelines, Helen got stuck in making chocolate and marzipan teddy bears with the children as they learned the art of cake decoration before being treated to a tea party.
Helen has worked closely with the charity for a number of years, saying: "When I was asked to be an official patron of the Sir Hubert von Herkomer Arts Foundation, I didn't hesitate. A small, grassroots charity which offers after-school and holiday arts clubs to children in both primary and secondary schools in London is just the kind or organisation I would like to see flourish. Children learn so much about themselves through creativity and it is my privilege to be able to help even in some small part in bringing attention to the need for more opportunities for young people to develop and grow through exposure to the world of the arts."
But Helen's role as Patron isn't her only link to Von Herkomer. It's said that Vincent Van Gough - the subject of Helen's latest film, Loving Vincent - also drew inspiration from the multi-talented figure. The stunning oil-painted film tells the story of Van Gogh's life and sees Helen star alongside the likes of Douglas Booth, Aidan Turner and Eleanor Tomlinson. You don't want to miss it.
Loving Vincent is in cinemas now. Helen also returns to TV screens in the fourth season of BBC Two series Peaky Blinders, airing in November.