Channel 4's The Great - is it accurate and who was Catherine the Great?
Comedy-drama The Great follows the life of the famous Russian Empress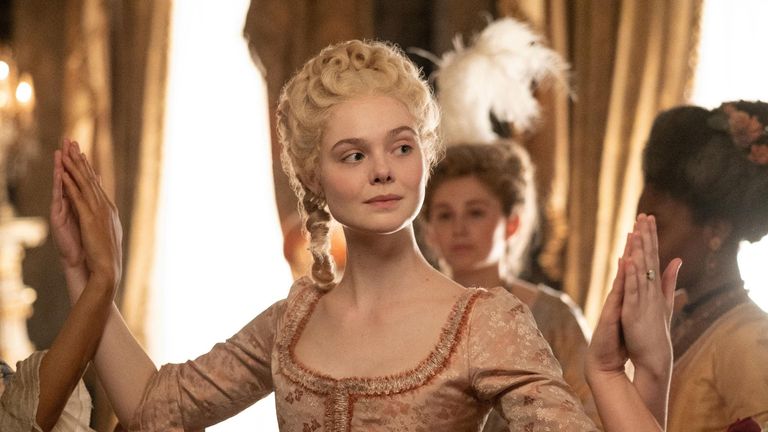 (Image credit: photo: Ollie Upton / ©Hulu / Courtesy Everett Collection via Alamy)
Channel 4's The Great has brought some historical excitement to our screens this winter as viewers are drawn into the court intrigue, romance and scheming of the Russian court. 
While some might imagine The Great is a period drama, the show is also brilliantly comedic. 
It stars Hollywood actors Elle Fanning and Nicholas Hoult as Empress Catherine II and Emperor Peter III of Russia respectively. Netflix's The Crown prompted many to ask 'how true is The Crown?' leading it to receive some criticism from some about the level of dramatic license used. It seems that The Great, which is now airing on Channel 4, has avoided similar comments. 
While The Crown has received calls from some for the show to carry a "warning" reminding viewers of its fictional nature, each episode of The Great is understood to be preceded by the statement: "An occasionally true story."
Though whilst the lavish comedy-drama clearly presents their own unique version of historical events, the characters and court it focuses on were undeniably real. 
But who was the real Empress of Russia, Catherine the Great?
Who was Catherine the Great in real life?
Masterfully played by Elle Fanning in Channel 4's The Great, the real Empress Catherine was born Princess Sophie von Anhalt-Zerbst-Dornburg in Prussia in 1729. 
She later moved to Russia to marry the future Emperor Peter III, arriving at age 15, before marrying Peter only a year later and becoming known as Catherine. 
Early on in the show, Catherine is portrayed as naive, hoping for Peter to actually fall in love with her until she eventually becomes disillusioned. 
Unlike the fictional Catherine, who romanticizes everything, the real Catherine the Great seems to have been far more ambitious. She overthrew her husband Peter III and took control of the Russian Empire in 1762.
Peter died not long after his wife seized power and some have even suggested he was assassinated, though this has not been confirmed. 
Did Catherine the Great have affairs?
The Great portrays Catherine the Great as embarking upon an affair with a man named Leo, chosen by her husband Peter in the show. In real life, it's thought that Catherine had had several affairs. 
She gave birth to her successor, a son, Paul, in 1754, though his paternity was supposedly the subject of many rumors. 
Perhaps the most significant of Catherine's supposed affairs was Grigory Orlov. In the series, he is shown to be a close friend of the emperor. This is yet another point where The Great deviates from history when it comes to telling Catherine's story.
Orlov is believed to have helped Catherine to overthrow her husband and aided her rule for many years until he eventually fell out of favor. Catherine was Empress of Russia for 34 years and her rule is reportedly still known as a "Golden Age" of Russia.
Catherine the Great was succeeded on the throne by her son, who became Emperor Paul I of Russia.
The first three episodes of The Great are available to watch now on All 4.
Emma is Senior Lifestyle Writer for Goodto.com, womanandhome.com and Myimperfectlife.com and she loves sharing the latest lifestyle, royal, celebrity and entertainment news. Before joining Future, previously TI Media, Emma was a Freelance Editor and before that a Publisher for an independent digital publisher. When she's not writing about the next big lifestyle trend, she enjoys cooking, long walks and watching as many crime dramas as she can!