Brilliant Madeleine Albright quotes on politics, feminism and leadership
Former US Secretary of State Madeleine Albright passed away at the age of 84 but her legacy lives on through these memorable quotes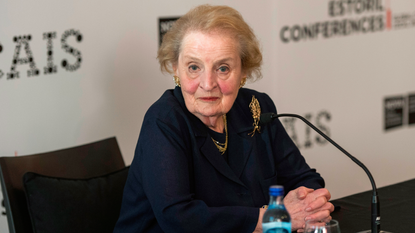 (Image credit: Horacio Villalobos / Contributor)
Madeleine Albright, the first female United States Secretary of State, who served under former President Bill Clinton, passed away from cancer at the age of 84 yesterday.
Born Marie Jana Korbelová in Czechoslovakia in 1937, Madeleine and her family immigrated to the United States in 1948. Her long and illustrious career kicked off at Wellesley College in 1959, following a PhD at Columbia University and a stint as an aide to Senator Edmund Muskie.
She eventually took on a position on the National Security Council under Zbigniew Kazimierz Breziński. She remained there until President Jimmy Carter left office in 1981.
Madeleine began advising Democratic candidates on all things foreign policy while also joining the faculty of Georgetown University.
After helping President Clinton assemble his National Security Council after the election, the politician appointed Madeleine the US Ambassador to the United Nations. She served in that position for four years before becoming Secretary of State—the very first female to hold the title in the history of the United States of America—until Clinton wrapped up his terms in 2001.
In 2012, then-President Barack Obama awarded Madeleine the Presidential Medal of Freedom.
Madeleine married Joseph Medill Patterson Albright in 1959. The couple divorced in 1982, after having three kids: Alice Patterson, Katherine Medill, and Anne Korbel.
Although Madeleine's unique career is getting all the attention it deserves, we'd love to remember the iconic figure through some of her most enduring and brilliant quotes.
---
Madeline Albright quotes
From feminism to politics, leadership and the plight of the underdog
"I think what needs to happen is we need to help each other. And my motto is that there's a special place in hell for women who don't help each other." -TedTalk in 2010
"Did my career cause my divorce? I have always resented the question. I consider it insulting to women who want a career, and I reject the implication that I was selfish. I also resent the question because I don't know the answer. There are many contradictions in the way I feel." —Madam Secretary: A Memoir
"My hope is that young women like my two granddaughters—those who have lived in a world where Roe v. Wade is the law of the land, who played school sports thanks to Title IX and who have never had to check "married" or "single" on a job application—will build on the progress we have made. But that will happen only if women help one another. And for those who do that, there will always be a special place of honor." —New York Times op-ed (opens in new tab)
"As a refugee myself...I understand how important it is to be received somewhere with respect and a sense that you are not just a problem for everybody, that it's a human issue, and you are opportunity." —Buzzfeed News (opens in new tab)
"I do not believe that the world would be entirely different if there were more women leaders. Maybe if everybody in leadership was a woman, you might not get into the conflicts in the first place. But if you watch the women who have made it to the top, they haven't exactly been non-aggressive–including me." —Third Way (opens in new tab)
"I think that we all know what evil is. We have a sense of what's evil, and certainly killing innocent people is evil. We're less sure about what is good. There's sort of good, good enough, could be better - but absolute good is a little harder to define."
"Life is grim, and we don't have to be grim all the time."
Anna Rahmanan is a New York-based writer and editor who covers culture, entertainment, food, fashion and travel news. Anna's words have appeared on Time Out New York, the Huffington Post, Fortune, Forbes, Us Weekly, Bon Appetit and Brooklyn Magazine, among other outlets.