In Conversation With Nina Stibbe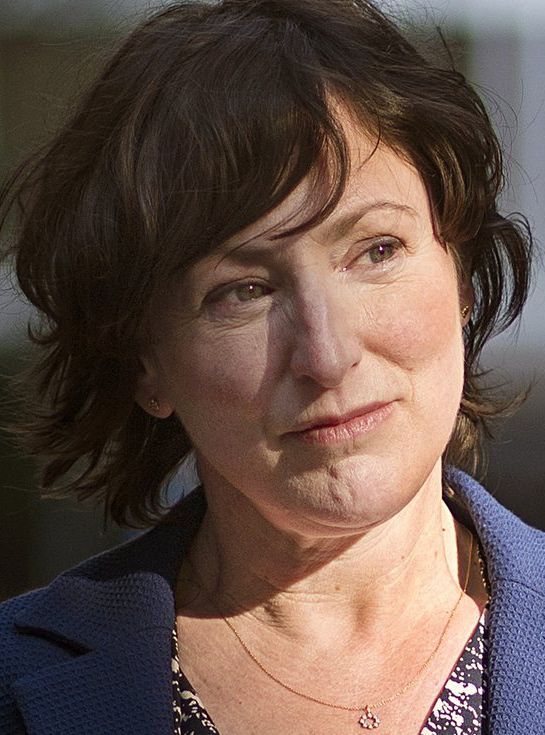 The bestselling novelist talks to Fanny Blake about her childhood, writing about her mother in her novels and how she proposed...
Nina lives in Truro, Cornwall, with her partner Mark Nunney and their children, Eva, 16, and Alfred, 14. Nina's bestselling first book Love, Nina, about her time as a nanny, has been made into a TV series starring Helena Bonham Carter. Her novels, Man at the Helm and Paradise Lodge, which is out this month, are very autobiographical and her mother plays a key role.
My parents married and had four children very quickly, then separated equally quickly. I don't even remember living with my dad who married again almost immediately and had another family. We didn't see him regularly as he lived too far away but then his second wife died when their three kids were nearly teenage. After that we all became very close because Dad was on his own.
After their divorce my mum made the mistake of moving to the country with us kids. She was shunned by everyone. She was naive, upbeat, adventurous, excitable and very pretty so when we rocked up in this Leicestershire village, people were like, hang on a minute, who is this and where's the guiding hand of a man? That was the inspiration behind my book Man at the Helm.
Divorce wasn't common then: it was still very stigmatising. It hadn't been an acrimonious split and we were fine but I remember a teacher once saying to me, "Well, I'm not surprised you can't sew, your mother didn't work at the marriage." But the four of us had a great childhood with this crazy, easy-going mum.
Our childhood has affected us all in that we still never quite believe that we're welcome anywhere. When I see my children turn up at their grandparents' or my sisters' houses, there's delight on the faces of people when they see them. We never saw that. It was more, "Oh God, it's Elspeth and her brood."
Thank goodness my stepfather, Alan, came along when he did. I was 13. He was absolutely crucial. He wasn't scared of telling us how we should tidy ourselves up and have a bit of self-respect. I don't know what we'd have done without him. Then when Mum had their baby, he couldn't escape! He's still there and he's still who I ring for advice.
I left school when I was about 15 to work in The Grange, a nursing home in the next village. Many of my experiences there are the basis for my latest novel Paradise Lodge. I was happy working at the home but a couple of years later when my friends were going to university I realised I'd made a huge mistake. That's when I came to London to be a nanny to Mary-Kay Wilmers' two boys, Sam, ten, and Will, nine. Mary-Kay is the editor of the London Review of Books and good friends with Alan Bennett who was a neighbour.
My letters home to my sister Victoria about the life of the house were the basis of Love, Nina. Vic kept my letters in a box and we found them years later. When a friend of Mary-Kay asked if I'd like to contribute something to a book of tributes he was compiling for her birthday I asked my sister to dig through the letters for me. After one of them was read out at the party, a publisher contacted me about publishing them. But Mary-Kay didn't like the idea. A couple of years later, I was asked again and this time she agreed.
I had lots to do with the TV adaptation of Love, Nina, which was written by Nick Hornby. I went on set and chatted with Helena Bonham Carter about Mary-Kay, who she plays. Faye Marsay who plays me is absolutely brilliant, which has been really strange for me to watch. My daughter's an extra in the show too.
I'd written most of Man at the Helm years before. But when Love, Nina came out, people kept saying they liked the voice of the young Nina. It's not my voice any more but it does come naturally to me. So I rewrote Man at the Helm in the voice of the young me and it all came streaming out. Man at the Helm is very autobiographical and it's my mum who carries the whole thing. I asked her to read it to see if she felt it was all right to publish and she laughed a lot but she wasn't difficult about the things I thought she'd be difficult about. She didn't mind the abortions, the miscarriages or having sex with the vicar but she was mortified that she sent Vic and me to London to get her prescription tranquillizers from a private doctor, which was true.
I thought the book would only work if there could be a celebration at the end. I also felt she was the hero and I had to do it warts and all. So, I ended with her meeting my stepfather and marrying. If she didn't like it, I would have written something else. In the end, she said, "Yes, do it." I loved my time at The Grange - and that's the basis for Paradise Lodge. A lot of the elderly women were single and there were a couple of men there. Our lives were like a story to them, and their lives were like a story to us. Some of them were going slightly senile but they were very honest and funny. It was all lovely.
The characters in Paradise Lodge are a mix of real and imagined. I did once get bitten by a lady with no teeth though. She sank her gums into my hand and locked on to it. The atmosphere in the novel is as it was, with the lovely authenticity of relationships between the young and old. It's all got a ring of truth about it.
I met my partner, Nunney, in London when he was having a year out before university and I was working for Mary- Kay. He thought I shouldn't have left school and encouraged me to take A levels. He was fab but after a while our lives diverged and he went abroad.
I decided in my mid-thirties that I ought to have a child. When I thought about who I wanted to do that with-it had to be Nunney. Except by then he was living in Innsbruck. He came back to visit and asked me for a coffee. I thought, here's my chance. So I said, "Do you want to get back together and have a baby?" God knows what made me do it. But he said yes!
When I had kids, I tried to be like all the perfect mums and not like my mum at all. But it became obvious that was not the right thing to do. My mum showered us with books, culture and praise.
When I finally got to college what mattered was the fact that I'd been brought up with books. Friends are very important to me. My very best friend Stella and I went to Thames Poly together and we're still firm friends even though she lives in Edinburgh now. I'm a big believer in girls' holidays and I've just come back from Majorca with my friend, sister Vic and my mum. We had a fantastic few days. My daughter's becoming an honorary friend now she's of an age.
My most precious possession is a glass that Stella gave me. It's full of coloured stones that are apparently good for fertility. Everyone pooh-poohed them but within minutes of having them I got pregnant.
My advice to my 15-year-old self would be: don't worry. Be a good friend to your friends and don't let themdown. w&h
Paradise Lodge by Nina Stibbe (Viking) is out now