These grandmothers are using their signature dishes to teach some important life lessons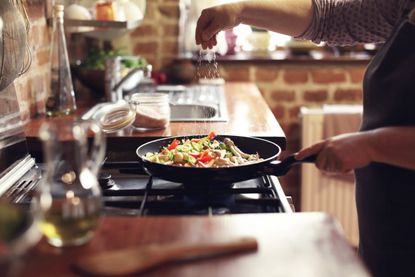 woman&home newsletter
Sign up to our free daily email for the latest royal and entertainment news, interesting opinion, expert advice on styling and beauty trends, and no-nonsense guides to the health and wellness questions you want answered.
Thank you for signing up to . You will receive a verification email shortly.
There was a problem. Please refresh the page and try again.
There's no doubt that our grandmothers, whether we're lucky enough to still have them around, or not, are eternal sources of wisdom in our lives.
As women who have lived through a very different world to the one we see now, their advice, knowledge, and perspective on life is invaluable. And in a new, crowd-funded cookbook, Grand Dishes (opens in new tab), created by journalist Anastasia Miari and creative director Iska Lupton, older women across the world are offering some of their best snippets of wisdom for readers - along with their most trusted recipes. In the book, which 'is dedicated to capturing the stories and recipes that risk being lost forever', we see the moving, uplifting, enlightening, and sometimes, downright hilarious, tales from women from all over the world.
Grandmothers from London to Madrid share their life experiences alongside the dishes they love to create, and what inspired the food - because what unites us more than the food we create and share with our loved ones? Passing recipes and widsom down from generation to generation is a treasured, family tradition. But with this book, readers can sample the unique and personal dishes that embody the cultures of women in their later life across the globe - some of who are probably nothing like our own grandmothers.
Because after all - what is life without the lessons we learn from the generations who've come before us? Many of the women in the Grand Dishes book have offered their sage wisdom on all aspects of life - including grief, hard work, love, and family. And we've collated the very best, below...
Gloria, from Columbia, on dealing with loss
"When my son died at the age of 21 in a traffic accident, I cooked and cried many times. I used to lay the table for him even when he wasn't there anymore. He told me always, "mummy, never stop dancing or cooking." It was a very hard time.
"So much of grief is being able to just, be sad and admit, "I feel this sadness because I loved this person and because I am alive". If I didn't feel it, a part of me would not be alive anymore. Me crying, me feeling sad is an expression of my humanity - not an expression of weakness. To be able to cry in a way that is healing and true to yourself actually requires a lot of strength."
"I really believe that being optimistic, open to life, life experiences and what other people offer is what is important. It's important to receive what people have to give and to give back too - we get enriched when we give."
Tigger, from London, on the importance of treasuring what you have
Tigger and her husband headed to Uganda just a year after welcoming their two children, and spent much of their married lives in India.
"In India, hospitality is very important, and in each village, sometimes three in a day, we would be fed – often peanut stew - by people who could scarce afford to feed themselves. Spices were sold in the markets in the tiniest plastic bags with just enough of each spice for a single meal. It was all most villagers could afford.
"Seeing people who haven't got any food makes me wild about the way people buy food and then waste it. You learn to treasure food when you see others who don't have enough. Each night, as I snuggled into bed, I would think, 'Why was I born in England with so much, and not here with so little?'"
Zena, from London, on the best way to stay healthy in later life
"My cooking is simple but it's always healthy and tastes delicious. There's no question that the key to keeping youthful is to eat well and exercise.
"I have chronic Leukaemia but I don't even think about it. My granddaughter Olivia bought me a Pilates DVD and I learnt it by heart so that I can take a mat wherever I am and do the exercises every morning. It's mainly for the core and the hips and they're excellent. I can hold a plank for 300 counts.
"I never think of myself as my actual age. I used to see people that were 80 and think 'Oh God, are they old!' but here I am at my age and I really do think young. I've had a very active life."
Nicole, from France, on the secret to a happy marriage
"I first met my husband at a party. We were only 17 and it was a soiree for society children, arranged by our parents so we could meet other children from 'good' families, as they would put it.
"On one occasion, there happened to be a power-cut and a friend began playing piano in the dark. I was sat next to François and he turned his head as I turned mine. That was our first kiss. I had a feeling then that he was the man I would marry.
"When we married we went to see a priest and the priest told us to always agree in front of our children. We have always followed that advice.
"After thirty-four years, we understand each other. We know what the other's thinking. I think the key has been to listen and to always talk. Everyday you can turn to the other person and tell them it's over, the hardest thing to do is to decide that it's going to work and that you'll make it work."
Clara Maria, from Madrid, on the best way to succeed in life
"I founded Alambique - a culinary school and shop in Madrid - after being inspired by what I had seen of the culinary scene in New York. I was a very good friend of Elizabeth David in London, so I asked her advice when I was thinking about doing it and she was very enthusiastic about it.
"All my friends back home were telling me, you're crazy – what are you doing? We have cooks in our houses, why do we need to learn to cook? The first month, only four people came into our shop but I didn't mind a lot. As women, we should really trust our instincts. My friends were terrified but I wasn't worried at all because I believed in what I was doing.
"It's so important to have faith in whatever you go into. You must believe in what you do, very much. You have to believe it is going to happen. That's why I made a success of Alambique, because I truly believed in it. It's a question of character. Sometimes, you do something and you think, 'Oh I am crazy, this is ridiculous, I'm going to lose everything.' But if you are sure of what you're doing, it's magic. It opens all the doors. All you must do is believe."
Shera, from Eritrea, on perseverance through hard times
After two stints in prison, Shera decided to walk herself to Sudan, after her family insisted she joined the fighters of the guerrilla war, or leave.
"When I arrived in Sudan, I didn't have anything. No clothes, no shoes. Nothing. The final leg of the journey was for eight days and eight nights with little food or water and I was completely alone. My (now) husband thought I didn't want to be with him because he hadn't heard from me in such a long time.
The first thing I did was found an Eritrean family and asked to have a shower. I asked for two buckets of water, a towel and some soap. I had only sipped at the little water I had left and ate dates for eight days. I didn't even know how long it would take me to get there.
"I never thought I would die though. Someone asked me, after all this, were you scared? I was never scared. I always think, "Yesterday is finished so I can now look forward to tomorrow". Tomorrow, you don't know what life is going to bring and what is going to happen to you. Whatever is going to come is going to come. You have to embrace it."
June, from London, on the importance of creating new memories
"I do think it's funny, as you get older you go out, meet up with the girls, do a little ladies who lunch thing, but I do realise, all we talk about is the things we used to do.
"It's all hilarious, you know, like the time we lost Joan in Paris or whatever, but after you've done it two or three times, you think, what about now?"
Granddishes is currently being crowdfunded alongside publisher Unbound, but it needs your help to get off the ground. If you want to donate and make the Grand Dishes recipe book a reality, visit the website HERE (opens in new tab).
Plus, 10% of the book's profits will be going to the Campaign to End Loneliness, which aims to tackle the issue of isolation in older people.
Amy Hunt is an experienced digital journalist specialising in homes, interiors and hobbies. She began her career working as the features assistant at woman&home magazine, before moving over to the digital side of the brand where she eventually became the Lifestyle Editor up until January 2022. Amy won the Digital Journalist of the Year award at the AOP Awards in 2019 for her work on womanandhome.com.