Best luxury Christmas crackers that will make your festive celebrations go off with a bang
We've listed 17 of the best luxury Christmas crackers available to buy for your festive dinner table, from brands including Fortnum & Mason and Liberty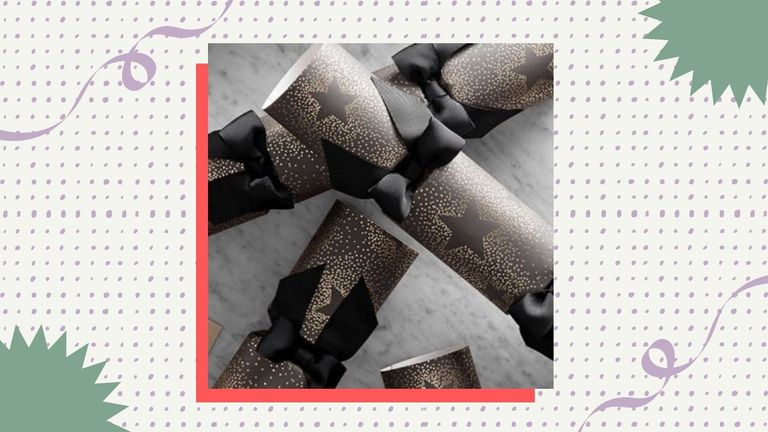 (Image credit: Future/Cox&Cox)
Choosing the best luxury Christmas crackers can be hard, as there's so much choice and it can be difficult to decide whether you want to go for fun, style, or something a little bit unique. But we've rounded up the best ones out there to buy right now, to ensure you're prepared when the festive season rolls around.
Whatever your preference is when it comes to Christmas decorating ideas, luxury Christmas crackers are a fun and essential part of every festive celebration. And in our list there's an option for everyone—from crackers containing alcoholic or foodie treats, to those containing beauty products, or handy kitchen devices. There is also a cracker set for every budget too—from hundreds of pounds down to around £15, depending on what you've decided to spend. But, hurry, many of the best luxury Christmas crackers will sell out fast, so you'll need to buy yours ASAP.
And once you've chosen your crackers, why not get ahead on some more festive essentials, by taking a look at our guides to the best artificial Christmas trees and the best real Christmas trees?
Best luxury Christmas crackers 2021
1. Marks & Spencer Luxury Dinner Party Cocktail Crackers
Specifications
RRP: £30
Number in set: Six
Recyclable: Yes
Gifts: A hat, joke, conversation starter and M&S cocktail
Reasons to buy
+
Fun alcoholic gift included
+
Great value-for-money
Everyone loves a tipple during the festive season, and these Marks & Spencer crackers are perfect if your drink of choice is a cocktail. Alongside the classics you'd expect in your cracker (a hat and a joke), you'll also get a conversation starter topic, as well as the store's eminently popular cocktails in can—expect favorites such as a Passion Star Martini, a Pina Colada, a Mojito, a Gin and Tonic, a Think Pink Gin and Tonic, and of course a Cosmopolitan. Plus, they'll come in gorgeous gold and blue 'present-style' cracker boxes, to make your dinner table that little bit more special. These would go down a treat for an early friends Christmas meal, or perhaps to help you along when planning your Christmas tree decorating ideas...
2. Floris Christmas Cracker
Specifications
RRP: £22
Number in set: One
Recyclable: No
Gift: 10ml eau du parfum
Reasons to buy
+
Really unique gift to treasure
+
Luxury but inexpensive
If you really want to treat your guests to something special this Christmas, pick up one of these unique Floris Christmas crackers, which come complete with their signature A Rose For...eau du parfum scent, in a stylishly decorating 10ml bottle. While the cracker alone is stunning enough (with gorgeous gold ribbon and embellishment), you and your family/friends are sure to love what comes inside, as the perfume has notes of incense and Darjeeling black tea, red rose, amber, vanilla, sandalwood, and patchouli. It may not be your typical Christmas cracker (there's no hat or joke), but it's definitely something a little bit special.
3. Cox & Cox Supersized Luxury Golden Deco Stars Crackers
Specifications
RRP: £130
Number in set: Six
Recyclable: Yes (but remove the bows)
Gifts: Shampoo bar, soap bar, travel tin candle
Reasons to buy
+
Incredibly unique gifts inside
+
Premium crackers
These oversized crackers from Cox & Cox (who also do some of the best Christmas decorations) may be among the most luxurious on our list—with a price to reflect that. Designed in an ultra-chic black and gold star pattern, they also contain gifts you'll actually want to keep too. In each cracker, your guests will receive either an orange pepper shampoo bar or a mineral gris shampoo bar for your hair, a soap bar in an amber musk or bright lime scent, or a travel tin candle, in an amber musk or sweet verbena scent. All product have been hand-poured, and the soap bars and candles are also vegan-friendly. You won't get the standard paper hat and joke in this one, but something tells us you won't miss them.
(opens in new tab)
4. Harvey Nichols Go Crackers
Specifications
RRP: £60
Number in set: Six
Recyclable: N/A
Gifts: Jam, mints, gin liquer, champagne stopper, spring, wood whistle
Reasons to buy
+
Great alcohol-based gifts
+
Very impressive design
Sure, these are pricey, but luxury Christmas crackers don't come much more dazzling in design than these gorgeous Harvey Nichols ones, with a shimmery black and gold pattern and oversized ribbons! These would look amazing as the centerpiece of any table, but particularly in homes with modern decor (you can also see our guide to some brilliant Christmas centerpiece ideas here). But onto the cracker itself—each one contains a gift, snap, gold or silver crown and a joke. And the gifts speak for themselves—our favorites are the Blackcurrant Preserve jam or the Harvey Nichols Damson Gin Liquer which will likely go down a treat at Christmas. As would the champagne stopper which is also on offer in one of these crackers...
5. Liberty Estella Bartlett Gold-Plated Accessories Cracker
Specifications
RRP: £20
Included in set: One
Recyclable: N/A
Gifts: Beaded hoop earrings and gold-plated bracelet
Reasons to buy
+
Jewelry gift included
+
Stunning design
Forget mini wooden spoons or dice—what could be better than getting jewelry in your Christmas cracker? With this special option from Liberty, you can look forward to just that! This very special, single cracker contains two pieces of jewelry from Estella Bartlett—gold-plated beaded huggie hoop earrings, and a gold-plated stars slider bracelet. Both of the items altogether are actually worth £42, so you'll be saving £17 by purchasing this cracker. Never mind that it comes inside this very stylish Liberty print box, which will elevate your Christmas table at the same time.
6. Claridge's Christmas Crackers
Specifications
RRP: £80
Number in set: Six
Recyclable: N/A
Gifts: Gold/silver crown, Claridge's keepsake, anecdote from Claridge's archives
Reasons to buy
+
Great for London history buffs
+
Gifts offer something a bit different to typical crackers
One for those who love classic hotels/London landmarks, these Claridge's crackers are a real treat. Included in the set are six crackers decorated in a unique art-deco style, and inside, you'll find either a luxury silver or gold crown, a keepsake 'inspired by the hotel's heritage', and instead of a joke, you'll find a fascinating anecdote plucked straight from the hotel's archives about the London institution.
(opens in new tab)
7. Drinks By Post Luxury Alcholic Christmas Crackers
Specifications
RRP: £18 each or six for £100
Number in set: Available to buy individually or a six
Recyclable: Yes
Gifts: Pre-mixed cocktail, hat, trivia, and an acorn
Reasons to buy
+
Variety of alcohol and non-alcoholic options
+
Unique compared to other crackers
For something completely unique look no further than this special crackers from Drinks by Post. Personalized from the off, you can request for each cracker to come with your guests name in hand-written calligraphy on the front. You can also choose the color of the cracker and the ribbon—you could order six of the same, or six completely different ones. And inside, it only gets better. Choose from a range of pre-mixed cocktails—or, for the non-drinkers, a no-alcohol alternative. There's even a hot chocolate stirring stick for children—they really have thought of everything. Not only that, but you'll also get the classic party hat and trivia, as well as an acorn to to grow your very own tree and give back to the environment. Plus, they are recyclable, compostable, sustainable and vegan friendly, given that they are plastic free, contain no foil, include uncoated paper and are wrapped with reusable organic ribbon. What more could you ask for?
(opens in new tab)
8. 12 Days of Christmas Luxury Crackers
Specifications
RRP: £19.99
Number in set: Six
Recyclable: Recyclable card
Prizes : Yes—variety of bamboo gifts
Reasons to buy
+
Bamboo gifts more sustainable than plastic
+
Sophisticated design
These decadant-looking deep purple crackers, with a lovely bird design (in the style of the 12 Days of Christmas) and gold ribbon, and deeply sophisticated and will look great in homes with all adults or homes with a darker color scheme. The card these crackers are made of is fully recyclable but it's worth noting that the content is not. The Lakeland luxury Christmas crackers come with a gold hat, a joke, and one of many sustainable bamboo gift options—including a dice, spoon, honey drizzler, juicer, scoop and plant labels. This means no plastic—a win for us and a win for the environment.
9. Fortnum & Mason Snowy Christmas Crackers
Specifications
RRP: £60
Number in set: Six
Recyclable: Unknown
Gifts: Yes—kitchen and cooking themed
Reasons to buy
+
Special glitzy design
+
Great gifts
Fortnum & Mason for known for producing some really special Christmas items and these luxury crackers are no exception. In fact, they could be perfect if you are a family of keen cooks, or just keen foodies! As well as a the obligatory paper hat and a joke, also included within each of these cracker is a miniature cooking utensil (such as a grater, a honey stick, a whisk and cookie cutters) and a recipe from Fortnum & Mason's own cookbook, which is a great gift and super unique for a Christmas cracker. Just be sure not to fight over the gift with your family members...
10. Classic Holly Pattern Eco Cracker Set
Specifications
RRP: £45
Number in set: Six
Recyclable: Uses recycled and recyclable paper and biodegradable ribbon
Gifts: Yes
Reasons to buy
+
Handmade and sustainable
+
Unique gifts
These handmade, eco-friendly and plastic free Christmas crackers from The Little Green Cracker company not only look great (with a stylish white and blue design), but they're great for the environment too. Hand-tied with biodegradable linen ribbon, and made from recycled card, you'd be hard pressed to find a cracker more eco-conscious than this one. Plus, there are some great gifts offered inside too. Expect some luxury pampering products, such as a scented St Eval tea light, a solid shampoo bar, and two plastic-free tea bags—or some tasty snacks, including a gold-medal jam and a packet of pea shoot seeds. You'll be reaping the rewards from the cracker long after the 25th...
(opens in new tab)
11. Advent of Change Charity Christmas Crackers
Specifications
RRP: £25.95
Number in set: Six
Recyclable: Entire cracker and its contents are recyclable or compostable
Gifts: No, donation to charity with each "pull" instead
Reasons to buy
+
For a brilliant cause
+
Jokes written by celebrities
Christmas can sometimes seem like a season of excess, so it's good to take stock and give back to those less fortunate than yourself. The easiest (and most fun!) way to do this is with these crackers. Each cracker you pull donates £2 to a worthy charity—be it protecting the oceans to providing food and medicine for those in need. But there is some fun to be had too—each cracker also contains a hat, plus a joke written by a top celebrity. These are definitely the kindest crackers we've seen available at John Lewis—who also do some of the best Christmas tree skirts and Christmas tree topper ideas.
12. Amara FOREVER CRACKERS Baobab x Forever Crackers Christmas Cracker
Specifications
RRP: £250
Number in set: Six
Recyclable: No as contains glitter
Prizes: Yes
Reasons to buy
+
Beautifully presented
+
To be used year after year
You'll find the perfect mix of sustainability and style in these AMARA: FOREVER CRACKERS X Baobab Collection collaboration crackers. Made of silk and linen, these are designed to be used year after year—and they're beautiful enough that you'll definitely want to! Each cracker comes with a banger and a joke inside, as well as a mini Baobab candle—the scents being 2x Aurum, 2x Platinum, 2x Cyprium. Designed to be unwrapped rather than pulled, these are great for elegant dinner parties, and will see you through year after year, so although they're expensive, they're a great investment option.
13. Hotel Chocolat Mini Chocolate Christmas Crackers
Specifications
RRP: £17
Number in set: 10
Recyclable: Unknown
Gifts: Yes—chocolates
Reasons to buy
+
Includes chocolate treats
+
More crackers for your money
Often Christmas crackers (even luxury ones) can be a little disappointing, with gifts we won't use again and hats that seem to disappear as soon as lunch is eaten. But who could possibly be disappointed by chocolate?! Well, that's why these mini Hotel Chocolat crackers had to make it onto our list. With 10 mini crackers coming in one pack, you and your guests can expect chocolate galore when you open them up. You'll receive either a Pecan Praline, Wafer Praline and Dizzy Praline a Salted Caramel Cream or a Caramel Cheesecake. Our mouths are practically watering at the thought...
14. Selfridges Ivy-embellished Recycled Card Crackers
Specifications
RRP: £50
Number in set: Six
Recyclable: Yes—made of 100% recycled card
Gifts: Yes
Reasons to buy
+
Comes presented in a nice box
+
Great for the environment
These Little Green Cracker Company crackers available at Selfridges (where you'll also find some of the best Christmas wreaths) have a chic ivy embellished leaf design that is super stylish, so would be a great addition to the home of any decor-conscious hosts or hostess' this Christmas. Presented in a lovely box, they come tied with a dark green festive ribbon. Each cracker contains a hat, joke, and a gift, although there's no information about what the gifts might be. However, it is one of Selfridges' Project Earth products, so you can rest assured that it's one of the better products for the environment.
15. Molton Brown Woody and Aromatic Christmas Cracker
Specifications
RRP: £20
Number in set: One
Recyclable: Gifts can be reused
Gifts: Yes—beauty items
Reasons to buy
+
Comes with indulgent beauty gifts
+
Would make for a great present
Stick with us on this one! Yes, it may not be a traditional luxury Christmas cracker, but it's certainly worth your time and money. If you want to do something a little different for your guests this year, or find a fun unique cracker to give as a present in 2021, why not opt for this Molton Brown cracker filled with gorgeous skin and bodycare bits? Inside you'll find the brands Russian Leather Bath & Shower Gel 50ml, Coastal Cypress & Sea Fennel Bath & Shower Gel 50ml, Re-Charge Black Pepper Bath & Shower Gel 50ml, Neon Amber Bath & Shower Gel 50ml—everything you need for a pampering morning shower! Okay, there are no festive jokes or hats, but we reckon any ladies in your life might like this a bit better...
And if you love everything beauty come christmas, take a look at our run-down of the best beauty advent calendars available to buy now ahead of 1st December.
16. Fortnum & Mason Golden Christmas Crackers
Specifications
RRP: £175
Number in set: Six
Recyclable: Unknown
Gifts: Yes—tea, marmalade, and honey
Reasons to buy
+
Utter luxury
+
Great gifts for tea lovers
For everyone out there who loves a delicious tea or coffee, look no further than this luxurious pack of six Christmas crackers from Fortnum & Mason. Not only do they come in an impressive shimmery gold packaging—each one contains a joke, a paper crown, and a tasty edible treat from Fortnum's. The options include Fortnum's 3-minute Tea Timer, Breakfast Blend Coffee (75g), Breakfast Blend Loose Leaf Tin 25g & Green Elderflower Loose Leaf Tin (25g), Sir Nigel's Marmalade (100g), Breakfast Blend Pocket Tin, and Honey from Shropshire—and whichever we got we'd be pretty delighted with...
17. Whitley Neill Gin Christmas Cracker Set
Specifications
RRP: £24.90 (now £17.90)
Number in set: Six
Recyclable: Yes
Gifts: Mini bottle 5cl gin
Reasons to buy
+
Great for gin lovers!
+
Colorful for table decor
Adults-only celebration this year? Then a mini bottle of gin liqueur inside your luxury Christmas cracker could be just the thing! Each one has a different flavour, which includes Parma Violet and Pink Grapefruit. We also love how each cracker is a different color—not only for your guests enjoyment, but also to add some color to your festive tablescape. Overall, we reckon these will do down a treat with guests.
And if you've got an alcohol fan in your life, why not take a look at our guide to the best alcohol advent calendars of 2021?
Faye M Smith is an award-winning journalist with over 15 years experience in the magazine industry. Her continued work in the area of natural health won her the coveted title of the Health Food Manufacturers' Association (HFMA) Journalist of the Year Award 2021. Currently Health Editor across several brands including woman&home, Woman and Woman's Own, Faye specialises in writing about mental health, the menopause, and sex and relationships.