Why an eReader will change your life: 6 reasons to make the change from print to digital
If you're like the Woman&Home team, an eReader will change your life for the better when you're ready to make the switch from print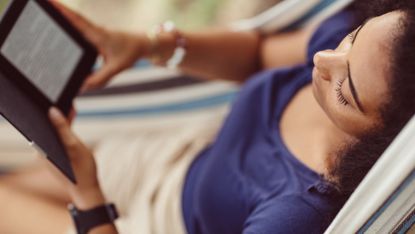 (Image credit: Getty Images)
woman&home newsletter
Sign up to our free daily email for the latest royal and entertainment news, interesting opinion, expert advice on styling and beauty trends, and no-nonsense guides to the health and wellness questions you want answered.
Thank you for signing up to . You will receive a verification email shortly.
There was a problem. Please refresh the page and try again.
Over the last few years, eReaders have ushered in the new world of digital reading, brimming with titles, perks, and features for bibliophiles and novices alike. Here's why they're worth the investment.
We can't count how many times a good book was exactly what we needed to end our day, and sometimes start it too. With as little as a few hundred words, we have had the pleasure of exploring the world, going to space, falling in love in strange places, playing detective, and so much more. The world is limitless when reading, but the space in our houses, for every book we love, is not - our bookcases can only hold so much. If you're like the Woman&Home team, an eReader will change your life for the better when you're ready to make the switch from print.
Preferences on style and features vary from person to person, but what doesn't change is the benefits of switching to an eReader for a great reading experience. The best eReader is the one that is unique to you and your reading needs. While some prefer an eReader that's lightweight for travels, and easy on sensitive eyes, you may be more interested in one that connects to your social media or is waterproof, for reading in the bath.
6 reasons why an eReader will change your life
1. Get a good book in minutes
There's nothing worse than finishing a book and realizing you don't have another one ready to go. Taking a trip to the bookstore is not always convenient, or maybe you're just not willing to leave the cosy comforts of your home. An eReader provides you with millions of titles in the palm of your hands, all ready within minutes of finishing your last book. All of the best books of 2021 await your arrival.
C.S. Lewis once said, "You can never get a cup of tea large enough or a book long enough to suit me." Good thing there are endless possibilities on an eReader to challenge that theory.
2. Take a thousand books with you wherever you go
Perhaps you're in the mood for some classic literature. Maybe you're more interested in a good romance novel, murder mystery, historical fiction, autobiography, or all the above. With an eReader, your book taste of the moment doesn't matter since every genre you can imagine is available on one device. Save yourself from the boredom of waiting rooms or long journeys with Agatha Christie, Jane Austin, Charles Dickens, Mary Shelley - all at the same time, if you like. With print, you can only be saved by one at a time.
3. Never wait for an inventory restock again
We have been disappointed on so many occasions when we get to the bookshop only to find out that they don't have what we were looking for. With shoulders slumped, we've settled for second choices but, with an eReader, that feeling is a thing of the past. Every book you've always wanted to read is waiting patiently for you to find them. Now you can find exactly what you're looking for with just a click or two.
John Steinbeck said, "I guess there are never enough books," and he couldn't be more on point. One book will never be enough, and now it doesn't have to be.
4. Features that will take your reading to the next level
Whether you want a Kobo Libra or one of the best kindles, eReader features enhance your reading experience more than print ever could. With a physical book, I can't make text bigger or smaller, copy phrases to tweet, or words to check their meaning. There's no "one-size-fits-all" approach to reading with eReaders, as with print. Everyone is unique in how they like to read, and eReaders provide a variety of options that fit anytime and anywhere you're ready to lose yourself in the world of books.
Additional features eReaders have over print are:
5. Skip the late fees and save your money
Everyone knows that a local library can connect you to stories for free, but most people don't know that eReaders can connect you to those same libraries without changing out of your pyjamas. Better yet, you'll never have to pay for late fees since e-books are automatically returned on the due date.
Diane Duane said, "Reading one book is like eating one potato chip," and I couldn't relate more. One book will never be enough, and now it doesn't have to be.
6. Low light reading
If you like reading in bed or snuggled up on the couch in the evenings, you know the pains of finding the right lighting to enjoy your book. eReaders skip the inconvenience of using a portable reading light or leaning into the bedside lamp to catch the next sentence. Adjust the brightness to fit the lighting in the room, and you'll never miss any precious time.
Print books will always have a special place in the heart of every bookworm, but when you're ready to make the switch, you'll understand why eReaders are here to stay.