What can you plant in August? Plus five other important jobs to do in the garden this month
Horticultural experts reveal what you can plant in August to get your garden ready for when the seasons change, plus other key jobs to do in the garden this month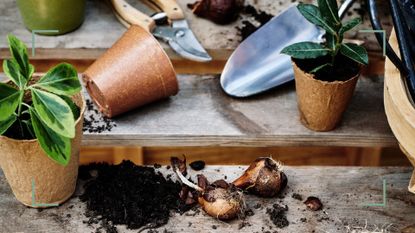 (Image credit: Dobbies)
When the weather is as warm as it is at the moment it's easy to assume that the answer to what can you plant in August is 'not much'. However, this couldn't be further from the truth and there are actually plenty of bulbs that can be planted this month, as well as key jobs you can get done in the garden in August to stay ahead of the seasonal changes for your plot once fall arrives.
Some of the best garden plants for autumn and spring can be planted in August and there's also important pruning and planning to be done if you plan to grow your own vegetables next season.
We caught up with horticultural experts who provided both gardening tips for beginners and the well-seasoned, as well as advice on what you can plant in August and what jobs you should be ticking off you list this month to keep your backyard looking for the seasons ahead.
What can you plant in August?
August is an opportune time to get ahead of your planting for beds and borders next year, as explained by Dobbies' (opens in new tab) Horticultural Director, Marcus Eyles.
"August is the time to get ready for next year and plant spring flowering bulbs such as Crocus, Daffodils, and Snowdrops, which can all be planted now for a colorful display next year," Marcus explains.
"Plan winter gardens whilst spending time outdoors in the sun," says Chris. "Plant bulbs such as nerines and colchicums ready for autumn."
Marcus also advises the August is the best time to prep in time for colder months by planning out garden borders and planting seeds for your vegetable patch. "In August, plant vegetables such as broccoli and cabbage to ensure they are ready for winter harvesting,"
5 important jobs to do in the garden as well as planting in August
1. Tend to parched lawns
It goes without saying that lawns need a little TLC during the month of August, especially at the moment with temperatures reaching record highs.
"For a manicured garden, regular mowing will be required in August if the grass is growing," advises Marcus, who adds, "to keep the grass green, I would suggest keeping the blades high." The general consensus when it comes to how often you should mow your lawn is about once a week.
"For a wildflower lawn, by August most of the flowers will have finished so now is the time to cut the lawn down, but make sure all the seeds are scattered first."
It's key to keep lawns well watered during the heat, but try using repurposed household water where possible to preserve water supplies. Or, as Nat White, from Rated People (opens in new tab), recommends, "consider getting a drip or trickle irrigation system. These systems are exempt from hosepipe bans because they are really efficient in how they distribute water. "
"They need to be fitted with a pressure-reducing valve and a timer and they can't be handheld. The timer controls how long your system is on and shuts it off automatically and the pressure-reducing value prevents spikes in water pressure which can lead to a flood. Make sure your system releases water drip by drip onto or beneath your soil, so you don't see any water running off the surface or traveling through the air by jet or mist."
Chris Bonnett, founder of GardeningExpress (opens in new tab) adds, "do not use high nitrogen fertilizer as this only encourages growth, which will be harmed by the upcoming colder weather. The late summer means a slower lawn growth, so ensure that lawn mowers are set to a higher cut."
2. Water and mulch beds and borders
Another key area to address when it comes to watering during the hottest month is young plants in beds and borders. Marcus explains, "watering your beds and border is an important job in August, and giving new plantings a thorough soaking every few days will encourage roots to grow down into the soil rather than towards the surface during the warmer weather."
"To retain moisture and improve soil health, I'd advise mulching well with a good quality peat-free compost."
To save on water wastage Nat suggests using greywater, "Greywater is household wastewater like water from your shower, sink or leftover boiling water," she explains. A great sustainable living solution for your household to try. "Collect this to use in your garden. Water that you've used to boil vegetables can contain minerals so it can be great for your plants - just remember to let it cool down first to avoid damaging them."
3. Pay extra care and attention to container plants
As well as keeping your lawn, borders and bed well-watered when possible, Marcus also advises notto forget about your container plants. "In addition to well-watering try adding liquid fertilizer to encourage strong, healthy growth with ensuring continual flowering through to autumn, and you should make sure you remove spent flowers to allow for new growth."
"If you are going on holiday, I would suggest moving any container plants into the shade to reduce the risk of drying out, or for longer holiday breaks, consider an automatic irrigation system to make sure your plants get the hydration they need."
4. Begin pruning back
Marcus advises that any flowering herbaceous plants that have finished flowering can be cut back and tidied this month to make room for new bulbs.
"When it comes to pruning in August, early summer flowering shrubs such as Deutzia and Weigela can be cut back," suggests Marcus. "Remove any branches that have flowered with secateurs to allow new growth that will carry next year's display, and deadhead Dahlias and Roses regularly to extend the flowering season into fall."
"Fruit trees, such as apples and pears, should be pruned once they are trained, and remain in the sunlight for further ripening," advises Chris. "Plants such as wisteria should be pruned regularly to keep it under control, and lavender should be pruned for it to remain compact and bushy."
Deadheading summer plants is a key job to ensure new grow in future and to keep gardens look their best. "Remove deadheads to encourage new flowers to develop and to avoid unsightly gardens," advises Chris.
"Concentrate removing deadheads from perennial plants – such as dahlias and lilies – to promote an ongoing show of blossoms in the garden. To remove deadheads simply pinch the stem below the faded flower with your finger and thumb."
5. Start harvesting ripe produce
Ahead of planting for next year's crop, now is the time to start harvesting the produce that's ready to be enjoyed. "August means that vegetables, such as courgettes and sweetcorn, can now be harvested," explains Chris. "Lift up potatoes to make summer salads; remembering to store them in a hessian bag to allow darkness and ventilation."
"Runner beans can be regularly harvested to allow new pods to grow and prevent the beans from becoming stringy."
Tamara is a highly experienced homes and interiors journalist, with a career spanning 19 years. Now the Lifestyle Editor of womanandhome.com, she has spent the last 16 years working with the style teams at Country Homes & Interiors and Ideal Home, and it's with these award-winning interiors teams that she gained a wealth of knowledge and honed her skills and passion for shopping, styling and writing about every aspect of lifestyle and interiors.
With a keen eye for the latest interior trends, there's not a lot she doesn't know about home decor – whether it's what colour we should be painting our living rooms next season, or if the latest 'must-have' buys are actually worth investing in.
A true homes and interiors expert, Tamara has served as an ambassador for leading interior brands on multiple occasions, including appearing on Matalan's The Show and presenting at top interiors trend events such as the Autumn Fair and Spring Fair.