Shopping Is My Cardio: Your Fun, 5k Walk Around London's Best Shops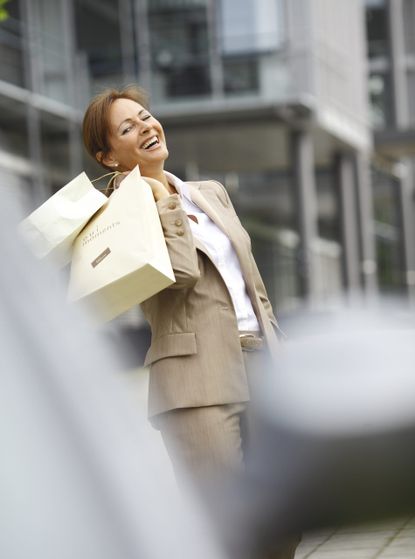 (Image credit: imageBROKER/REX/Shutterstock)
Struggling to clock up those 10,000 steps you promised yourself you'd log every day this year? If you don't have a dog, jogging buddy or, in fact, any motivation whatsoever to haul yourself off the sofa and out into the cold, we're here to help. Taking in London's very best shops, from hidden gems to high-end fashion emporiums, this walking route will have you clocking up 5k without even noticing... Don't worry, pit stops for coffee, cake and cocktails are included. Watching your waistline? Don't panic - we'll be stopping off at some of London's best health-conscious eateries, too. And don't forget, those bagfuls of gorgeous new clothes, perfumes and homewares will always be calorie-free and are perfect for toning those bingo wings...
Ready to revive your body, mind and wardrobe? Grab a friend, slip on your favourite flats and get set to follow our easy 5k walk around London... It'll take you from Marylebone to Oxford Circus, via Mayfair (of course). Whether you're in the market for an interiors update, menu makeover or wardrobe reset, you'll come back brimming with inspiration, as well as endorphins, guaranteed.
Your Walking Route Planner
Starting point A: Marylebone - Stop B: Daylesford Farmshop (0.5km; or 1km if walking from Baker Street or Regents Park)
A charming blend of quirky independent retailers and premium fashion and homeware brands, the little gems of Marylebone High Street are a hop, skip and a jump (OK, a 0.5k walk) from Baker Street and Regents Park tube stations. Going on a Saturday? MakeCabbages & Frocks (opens in new tab), a weekly market held in the grounds of St. Marylebone Parish Church, your first stop. Where else do organic cabbages, crepes and cupcakes jostle for space with vintage frocks, quirky homeware and affordable jewellery crafted by emerging designers, after all?
Hop over the road to gather some interiors inspiration atThe Conran Shop (opens in new tab)before stocking up on ditzy print homeware atCath Kidston (opens in new tab), reviving your gym kit atlululemon athletica (opens in new tab)(or enjoying a virtuous start to your day by joining their free Sunday morning yoga class), injecting a little Parisian je ne sais quoi into your wardrobe atagnès b. (opens in new tab), diving into ultimate designer destinationM (opens in new tab)atches Fashion (opens in new tab), indulging your inner boho goddess atAnthropologie (opens in new tab), checking out the latest in Scandi furnishings atSkandium (opens in new tab)and treating yourself to a little something (we won't tell if you don't) from The Duchess' favourite, L.K.Bennett (opens in new tab).
Skipped breakfast? Stop off atFischers (opens in new tab)for a dose of early twentieth century Viennese hospitality - alongside a basket of Viennoiserie and a Schokoladengenuss (that's hot chocolate to you and I) or a hearty plate of gröstl (paprika-fried potatoes and onion topped with a fried egg and bacon or spinach) to set you up for the rest of the day. Watching your sugar intake? Head up to theNatural Kitchen (opens in new tab)'s first floor Green Cafe: a plateful of halloumi, avocado, poached egg, slow roasted tomatoes, portobello mushroom and organic sourdough bread accompanied by a Rise and Shine Super Smoothie will keep you going 'til teatime.
Stock up on healthy foodie finds at theDaylesford Farmshop (opens in new tab), just off the High Street at 6-8 Blandford Street. Stocked with produce sourced from the organic Gloucestershire farm, this is a one-stop butcher, baker, candlestick maker (yes, really), creamery, grocery, winery, cookshop and gift shop in one. And if all those artisan cheeses are making you hungry, you have our permission to refuel with a nutritionist-approved 'Recharge and Detox' dish at the instore cafe - assuming you can resist the 'Chocolate Nemesis'...
Stop B: Daylesford Farm Shop - Stop E: Selfridges (1km)
OK, time to get moving (if you still can). TheSelfridges (opens in new tab)sale waits for no woman, after all. Have a mosey through fashion, homeware and gift meccaOliver Bonas (opens in new tab), at 63-65 Marylebone Lane, andJohn Bell & Croyden (opens in new tab)(Queen Victoria's former apothecary of choice and current landing pad for the world's most sought after cult beauty buys), at 50-54 Wigmore Street, on your way, though. Once you've finished exploring, why not treat yourself to awalk-in backrub (opens in new tab)? Go on, you deserve it...
Stop E: Selfridges - Stop F: Fenwick (0.7km)
Whether you're window shopping or shopping shopping, a leisurely stroll down New Bond Street, hopping fromMulberry (opens in new tab)toLouis Vuitton (opens in new tab),Jimmy Choo (opens in new tab)toHermes (opens in new tab),Dior (opens in new tab)toBurberry (opens in new tab)andLongchamp (opens in new tab)is sure to put a spring in your stride... And if not, the promise of lunch atFenwick (opens in new tab)will... Being good? Tuck into smashed organic avocado on grain-free Paleo toast with lime and chilli or an almond butter and strawberry jam toastie at their Bodyism cafe for a mere £6.50. In need of something a tad more substantial? There's a Sirloin steak in Bearnaise sauce with your name on it waiting at their Bond Street Kitchen restaurant...
Stop F: Fenwick - Stop I: Jo Malone (2km)
Now, you've just about got time to check outVictoria Beckham's candle and crystal-packed flagship store (opens in new tab)on Dover Street, which visitors have described as a "gallery" experience, and browse the wares of Chanel, Manolo Blahnik, Penhaligon's and Ladurée inBurlington Arcade (opens in new tab)before heading toFortnum & Mason (opens in new tab)forafternoon tea (opens in new tab). Feeling sufficiently revived? Good, because we're heading to Regent Street, via a couple of pitstops atFloris (opens in new tab)(the 1730 perfumery formerly frequented by Marilyn Monroe, Florence Nightingale and even Winston Churchill, which now offers 2-hour fragrance customisation sessions) and high-end concept emporiumDover Street Market (opens in new tab).
Stop I: Jo Malone - Stop J: Oxford Circus Station (0.8km)
Whether your budget is high end or high street, you'll find something to tickle your fancy onRegent Street (opens in new tab). As you meander towards Oxford Circus, you'll make your way fromJo Malone (opens in new tab)'s "immersive" Regent Street boutique toLiberty (opens in new tab)'s iconic mock-Tudor facade via the likes of Cos, Hobbs, Reiss and Coach. Beauty junkie? Take a detour viaCarnaby Street (opens in new tab), where you'll findThe Estée Edit,MAC, Benefit, Cowshed and Illamasqua. Treat yourself to dinner atDishoom (opens in new tab), London's best-loved Indian restaurant, where a Vada Pau ("Bombay's version of London's chip butty") will set you back just £3.90, or knock back a well-earned drink or two inCahoots (opens in new tab), a 1940s themed cocktail bar based in the disused Kingly Court Underground Station.
Congratulations - you've officially walked (at least) 5k! Walking around those shops counts too, don't forget! The more you browse, the more steps you'll have clocked up...