Tom Kerridge 'My Weight Loss Has Made Me A Better Dad'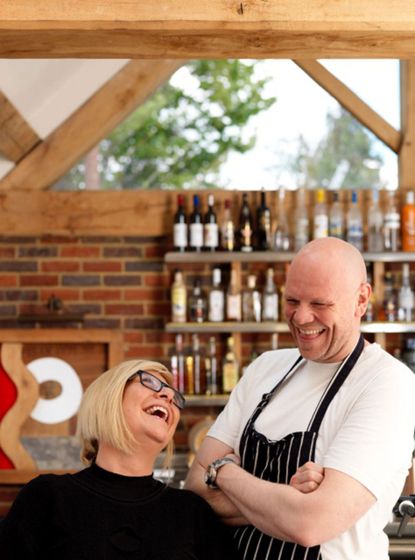 woman&home newsletter
Sign up to our free daily email for the latest royal and entertainment news, interesting opinion, expert advice on styling and beauty trends, and no-nonsense guides to the health and wellness questions you want answered.
Thank you for signing up to . You will receive a verification email shortly.
There was a problem. Please refresh the page and try again.
Tom, 43, first started cooking as a teenager for his brother while their mother was out at work. After working in a number of Michelin-starred restaurants, he went on to open his own gastro-pub, The Hand and Flowers, in Marlow, Buckinghamshire, in 2005. Within a year he had won his own Michelin star - and was awarded a second in 2012, the first ever pub to hold two. He opened his second pub, The Coach, in 2014. Tom is a co-presenter on BBC Two's Food and Drink and his new book Tom Kerridge's Dopamine Diet is out this month. He lives with his wife Beth, a sculptor, and their one-year-old son, Acey.
My 40th birthday was a major turning point. It's a time in your life when you look back at where you've been and where you're at now, as well as towards the future and where you want to be. I knew I was overweight and drinking too much, and I knew I had to do something about it. I honestly couldn't have done this diet if there was a painful journey involved. I have an all-or-nothing personality and was wondering how I was going to lose weight and stick to it. I wanted to find foods that I enjoy eating - and that I could do forever. I eventually worked out that it was possible by taking out almost all carbs. It's a total lifestyle change and you can't just dip in and dip out. I've lost the weight gradually - I was around 30 stone, and have lost 11 stone over three years. I'm happy with the weight I am now, but if I lose any more, then great.
I realised how much I was enjoying eating certain foods and then discovered the effect of dopamine. It's the brain chemical that makes us feel happy, and certain foods are rich in an amino acid that encourages dopamine production. So it then became a case of focusing on these foods and cramming in flavour and texture. You also need to exercise if you want to lose weight, so I swim regularly and go to the gym. I gave up alcohol too. The amount I drank every night varied but it was a lot, and it was always after service to wind down with the rest of the team. However, it's not difficult owning two pubs and being teetotal because I associate the pub with work. Booze was tough to give up socially, but sugar was much harder because you get that instant hit. I became really lethargic and tired after giving up sugar; it took me three weeks to get through that.
As an older dad, I'm staying healthy for my son. It's not all about me any more - it's about someone else's life and future. That was a big part of giving up booze.
My attitude previously was, "kids are a bit of a bind." What I meant was, my business wouldn't have got to where it has if we'd had the little man ten years ago. With a child, you have to make it completely about bringing someone else into the world. Because I'm a little bit older, I'm further down the line professionally and emotionally. I'm a better dad in my forties than I would have been in my twenties or thirties.
Acey's first solid food was black pudding - and he didn't seem that keen! I'm looking forward to teaching him to cook. We'll probably start with baking, maybe a cake, as it's good for a limited attention span. I'm not so sure I'd push him into being a chef when he's older, though. It would be completely up to him.
I grew up without a father figure - my parents separated when I was 11 and my father died when I was 18. He'd been diagnosed with MS by the time I was six, and was quite a solitary figure. But I figured since I have more than 100 members of staff, that if I can lead them alright, then I can have a go at being a dad.
I learned to cook for me and my brother, Sam, when my mum was out working as a secretary by day and washing dishes in a pub at night. It was a struggle for my mum raising two boys. Seeing how hard she worked definitely shaped my attitude - it's 100 per cent about the effort. I wanted to own a pub as lots of chefs end up working in places that they wouldn't go to on their days off. I didn't want to own a temple of gastronomy; I didn't want a hushed dining room. I was 29 and I'd won a Michelin star in a restaurant for someone else. I didn't know what I wanted to do next until someone said, "You're working 100 hours a week, you might as well do it for yourself." Looking back, if I'd known the reality of how hard it is to run your own business, I'm not sure I would have done it. But because I'm such a doughnut, I did!
Beth, my wife, is very happy with the way I was and the way I am now. She's made no real comment on my weight loss, but she still eats carbs. Beth gave up a lot so that I could open my own place, and her career as a sculptor was put on hold for several years.
A lot of the initial money for The Hand and Flowers came from four sculptures she was commissioned to make for a roundabout in Stoke. Then we decided to work together as we built the business, with Beth being front of house.
She's since gone back to work full-time as a sculptor. We're just a really good team; that's how it works. Our secret? Nothing is worth arguing over that much. We're also happy to be critical with each other - she will be honest about my food, and I'll be honest about her art. Neither of us is scared of telling the truth.
When our business was looking shaky in 2008, I really had to dig deep and push on. I thought we'd go bust. The bank encouraged us to buy the cottage next door to the pub, said they'd give us a loan, and then vanished. Beth left me three times during that period but it was never serious - it was more a case of, "I can't talk to you right now. Bye."
Beth and I have been together for 19 years now. Her first words to me were, "Do you have £3 for the stripper?" We were at a comedy club in London for a mutual friend's birthday and as a joke they'd hired a stripper to embarrass him. It was love at first sight for both of us.
Beth proposed to me! It was about six weeks later and late at night in Leicester Square. I'd finished work and she'd bought a ring and a bottle of champagne. The secret to a good marriage is that we both have separate lives and careers - and we're both interested in each other's careers. My motto in life is: don't do anything you don't enjoy. Other than the book, I don't have any plans for the future. I just want to get better at what I do every day and keep enjoying it. How dopamine works - and where to find it... Dopamine is one of the brain's chemicals responsible for our happiness. It helps to control the brain's reward and pleasure centres, affecting our mood, behaviour and general energy. Levels of dopamine can be increased naturally by eating foods rich in the amino acid tyrosine - for instance, eggs, chicken, bananas, dairy products, avocados and almonds. Coffee and chocolate are also "dopamine heroes". However, not all dopamine-promoting foods are good for you - you can also get a dopamine buzz from eating cheap junk food, say, or a sugary cupcake. The aim instead is to find that same enjoyment from something healthy. So bye-bye burger; hello hearty omelette.
Tom's everyday diet... Breakfast is eggs, maybe with bacon and sausage and some yogurt - soya is better as it has lower levels of carbohydrates. Lunch I'll have meat and salad. Dinner Maybe something slow-roasted or a broth. Boosts I still eat the odd square of dark chocolate and drink black coffee - nutritionists encourage athletes to drink coffee as it drives their metabolism. Treats Pork scratchings. You often miss crunch on a diet - like the crunch of a crisp. Pork scratchings are a crunchy, salty snack and they don't have any carbs.
Tom's recipe...Ham with cucumber and dill pickle salad This is my ultimate quick lunch or supper dish: a wonderful slab of salty ham spiked with heat from mustard seeds and black pepper, with a nice, tangy cucumber and dill pickle salad on the side. It ticks every box! To make it even more substantial, I sometimes top it with a fried egg.
Serves: 2. Carb count: 18g per person.
100ml dill pickle liquor, strained from the pickle jar 50g butter 2tbsp yellow mustard seeds1tbsp cracked black pepper 2 thick slices of good butcher's ham (200-250g each) Large dill pickles, diced 2 banana shallots, finely diced ¼ cucumber, deseeded and diced 2 pickled green chillies, chopped ½ bunch of dill (about 10g), chopped
1. Pour 100ml water into a large frying pan, add the pickle liquor and butter and bring to the boil. Add the mustard seeds and cracked pepper, then place the slices of ham in the pan and turn the heat down to low. 2. Gently warm the ham through and let the liquid and butter emulsify. 3. While the ham is cooking, in a bowl, mix together the dill pickles, shallots, cucumber, chillies and chopped dill. 4. Remove the ham from the pan, making sure each slice has a good coating of mustard seeds and pepper, and place on serving plates. Spoon the cucumber and dill pickle salad alongside and serve. Tom Kerridge's Dopamine Diet: My Low-Carb, Stay-Happy Way to Lose Weight (opens in new tab) (Bloomsbury) is out on 12 January.