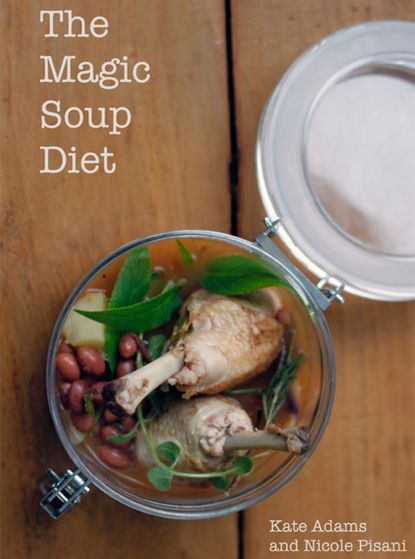 (Image credit: Kate Adams)
Lose up to 7lbs in 7 days by enjoying nourishing and delicious soup recipes
22 September 2014
When Flat Tummy Club founder Kate Adams swapped her usual lunchtime sandwich for a bowl of soup, she lost 7lbs in 7 days - without feeling hungry. Four years later, and 2.5 stone lighter, and Kate is sharing her slimming soup secrets with us.
Together with Nicole Pisani, chef at Yottam Ottolenghi's Soho restaurant NOPI, Kate has created The Magic Soup Diet e-book, designed to help you lose weight easily and healthily.
Kate explains that not only does eating more soup help you lose weight, but it's also a great way to pack more nutrients into your diet, while enjoying varied, delicious and comforting food. In fact research shows that eating soup is more filling than eating the same foods 'dry' since soup takes up more room in your stomach.
Inspired by the women of Mauritius who eat 'magic soup' after giving birth to help them lose weight, The Magic Soup Diet provides entire menus for 7 full days plus a month of soup recipes. The best part? You won?t feel hungry!
So if you want to lose weight in a week while eating delicious food, read our round-up of the seven main principles of The Magic Soup Diet.
The first principle? Start the day as you mean to go on! Kate recommends starting your day with a cup of herbal tea or hot water and lemon, followed by complex carbs like oats or protein-packed eggs for breakfast.
'Your metabolism is strongest in the morning and you can help fire it up by feeding it with a healthy breakfast. You can even eat a bit more in the morning and not worry about it as you burn off the calories more quickly.' We like the sound of that!
Keep reading to discover 6 more secrets of The Magic Soup Diet...
Buy The Magic Soup Diet by Kate Adams and Nicole Pisani (£4.99)
Don't go hungry
'It seems a bit mad to say, but if you try too hard not to eat your blood sugar levels will drop, causing cravings for high calorie foods, and you might put your body in starvation mode, where it slows down the metabolism and holds on to each calorie you consume, making it even harder to loose weight.' Keep your blood sugar levels stable by having a mid-morning and mid-afternoon snack. Kate suggests veg cup crudites and humous, clementines, pear, apple, banana, grapes, avocado, natural yoghurt, nuts and seeds, and miso soup.
Add healthy foods
Kate says, 'Concentrate more on adding healthy foods than not eating 'bad' foods.' That means eating as much natural and unprocessed foods as you can. But to get started, try to avoid the usual suspects and you'll soon see a difference. You know the ones: bread, booze, biscuits and cakes, white potatoes, pasta, pastry, ready meals.
Watch your portions
'Ideally have a bigger lunch and a light supper. If you can have soup for either meal you'll see the pounds start dropping off,' Kate says. 'Be aware of feeling two thirds full and then stopping as your tummy takes a while to let your brain know it is full. Eat mindfully, savouring each mouthful and taking your time.'
Drink plenty of water
'Drink plenty of room temperature water and/or herbal tea throughout the day.' 'This will really help to get rid of any water retention, which is usually a good few pounds in the first week,' explains Kate.
Add a bit of exercise for a big difference
'For me, just making sure I walk every day always tips things back into my favour,' Kate says. 'And if you are fit and well enough to add some cardio exercise then even an hour a week will transform your body and how you feel. The key is to find something that can fit in with your timetable and that you know you enjoy.' 'Promising yourself that you'll go to the gym three times a week from a standing start of previously doing no exercise at all rarely works. But taking 20 minutes every lunchtime for a walk usually does.'
Eat soup
The staple of the Magic Soup Diet is, of course, soup! From Chicken Soup for the Soul and Manuka Honeyed Parsnip to Apple Cider Beetroot and Pho soup, The Magic Soup Diet is packed full of easy to follow, nourishing and delicious soup recipes designed to help you loose weight and feel great this winter. A recipe for 'magic soup,' the soup that women in Mauritius eat to loose baby-weight, is also included. Buy The Magic Soup Diet by Kate Adams and Nicole Pisani (£4.99)
Sign up to our free daily email for the latest royal and entertainment news, interesting opinion, expert advice on styling and beauty trends, and no-nonsense guides to the health and wellness questions you want answered.