Scientists have tipped this little-known aquatic plant as the next superfood – and you won't believe what it can do for your health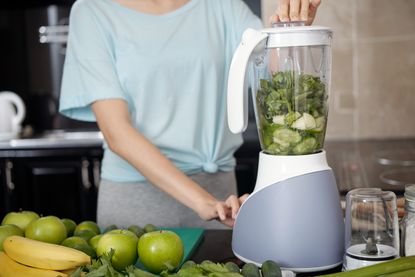 (Image credit: DragonImages/Getty Images)
From goji berries to ancient grains such as Teff, barely a day goes by without a new item of food or drink being dubbed the next superfood.
Now a new study published in the American Diabetes Association's Diabetes Care journal (opens in new tab) has continued to feed our appetites for dazzling dietary news, revealing that little-known aquatic plant Mankai duckweed could have potential as the world's next superfood.
A team of researchers from Ben-Gurion University of the Negev (BGU) compared consumption of a green shake containing Mankai to consumption of a yoghurt shake equivalent, looking at carbohydrates, protein, lipids, and calories.
The 20 'abdominally obese participants' were required to have their allocated shake in place of dinner for the duration of the study period.
Following two weeks of a monitoring with glucose sensors, the group consuming the duckweed shake were found to have fared better in a variety of measures including lower glucose peak levels; morning fasting glucose levels; later peak time; and faster glucose evacuation. They also reported to feeling more full.
As well as a high-protein content, Mankai is rich in minerals (including iron and zinc), vitamin A, vitamin B complex, and vitamin B12 (opens in new tab) and rich in polyphenols – micronutrients that are packed with anti-oxidants.
Another bonus is that the Mankai duckweed aquatic plant is sustainable – with the ability to grow it year-round using a technique called hydroponic cultivation.
It is currently being grown in a number of countries including Israel in a closed environment – using a fraction of water to produce per gram of protein when compared to kale, soy or spinach.
MORE:Superfoods to boost your day (opens in new tab)
On its website Hinoman – and Israel based company plant protein cultivator firm that 'breeds, develops and cultivates Mankai [trademark]' – describes what is so special about what some have dubbed as 'the world's smallest vegetable'.
It writes, 'Mankai Plant [trademark]…contains all 9 essential amino acids that the body must source externally. Its protein profile is extremely close to that of egg, the Gold Standard. Mankai Plant's [trademark] growing methods and superior strain produce very predictable nutrient levels.'
It also goes on to outline that it offers health features including the fact that it is 'low fat, low sodium, low sugar [and] low carb'
Would you consider adding it to your diet?
Miriam worked for woman&home for over five years and previously worked on the women's lifestyle magazines Woman and Woman's Own.