Is cereal healthy? These popular cereals contain more sugar than a doughnut
Wondering is cereal healthy? These popular brands have more sugar than a doughnut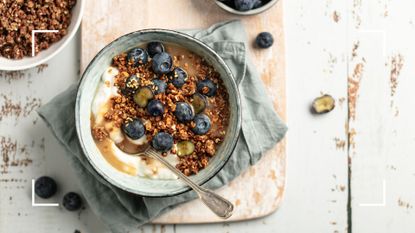 (Image credit: Getty Images)
Is cereal healthy? Despite being one of the most popular breakfast options, many people are surprised by how much sugar many popular kinds of cereal contain.
As one of the most popular options at the breakfast table, we often think of cereal as a healthy middle-ground pick - not quite oatmeal and not quite a pastry. And while there's nothing wrong with a serving of sugary cereal once in a while, if that's what you like, many people don't know how much sugar the most popular brands contain.
If you're looking to improve your diet, whether you want to lose weight in a week or just stick to the recommended daily sugar intake, these are the cereals best avoided. Plus, with top tips from a dietician, we've outlined the best types of healthy cereal to replace your favorite with.
Sugary cereals
A sugar doughnut from a popular UK supermarket chain contains an average of 6.2g of sugar per serving. While this is on the lower end of the sugar spectrum, many of these cereals also contain more sugar than a glazed Krispy Kreme - which has double this at 12.6g of sugar per serving.
When it comes to cereal, Reema Patel, London dietitian for Dietitian Fit and Co. says that we should be looking out for sugar content as a top priority. "Aim to choose those that are lower than 5g total sugar per serving, before adding milk or additional toppings."
And be wary of those 'hidden' sugars we're often warned about. "These include syrups or honey or date syrup, agave ecetera. These are all different types of added sugars," she says.
In order of best to worst, these are the cereals to avoid if you're looking to ditch sugar cravings and make healthier choices:
1. Nestlé Shreddies
They're definitely not one of the worst, but Shreddies still have 5g of sugar and 0.29g of salt per 40g serving. This means they're just over dietician Patel's recommended sugar intake for cereal.
Frosted Shreddies, the cereal's self-confessed sugary alternative, contain a whopping 14g of sugar, which actually works out at 11% of your daily sugar intake. So if you're going for breakfast Shreddies, be sure to opt for the original flavor over the frosted version.
2. Nestlé Cheerios
These delicious crunchy O's are packed with 4 wholegrains and 5.3 grams of sugar, which just about pushes them over dietician Patel's recommended sugar content for cereal. So much like Shreddies, they're not enough on their own to have you in trouble at the dentist but they're not the best either.
3. Kellogg's Krave
Traditionally more of a kids' cereal, but we know plenty of adults who love tucking into a bowl of Krave first thing - at 7.8g of sugar per serving. It's definitely not one for anyone looking to know how to stop eating chocolate either, as this cereal is made from wheat, oat, and rice but is full of chocolate hazelnut filling.
4. Jordan's Crunchy Crisp
Jordan's might be packed with all the benefits of strawberries - but low sugar certainly isn't one of them. Coming in at 9.3g of sugar per 45g serving, it's a lot closer to the Krispy Kreme sugar content than the regular doughnut sugar content.
5. Alpen Original Muesli
Alpen's Original Muesli is a mixture of dried fruit and wholegrain oats but it's still another classic case, much like Jordan's Country Crisp, of being a muesli with loads of added sugar. With a hefty 11g per serving, it's (surprisingly) one of the worst on the list.
They do have a 'no added sugar' alternative, but this still comes in at 7.2g of sugar per serving - which is 2.2g more than Patel's recommendation.
6. Kellogg's Crunchy Nut
And last, but definitely not least when it comes to sugar content, is the cereal with the highest sugar content on the list: Crunchy Nut. At 11g per serving, it's double dietician Patel's recommended intake and higher in sugar than many of the other standard cereals in the supermarket.
What makes a cereal healthy?
If you are looking to swap your cereal for a healthy alternative, there are some cereal 'green flags' to look out for. "Aim to choose a cereal that has more than 3g fiber per suggested serving size," says Patel. "You also want to choose a whole grain cereal, which will provide more nutrients and fiber, as well as keeping your blood sugars more stable and feeling fuller for longer."
A cereal made from wholegrains is also a good idea, she says, as these naturally provide a higher source of fiber and nutrients compared to refined grains. "These can include a higher level of vitamin B, as well as iron and folate."
Typical examples include:
Porridge
Weetabix
No-added sugar muesli
Shredded Wheat
Bran flakes
Lizi's low sugar granola
Bio&Me
A digital health journalist with over five years experience writing and editing for UK publications, Grace has covered the world of health and wellbeing extensively for Cosmopolitan, The i Paper and more.
She started her career writing about the complexities of sex and relationships, before combining personal hobbies with professional and writing about fitness. Everything from the best protein powder to sleep technology, the latest health trend to nutrition essentials, Grace has a huge spectrum of interests in the wellness sphere. Having reported on the coronavirus pandemic since the very first swab, she now also counts public health among them.