Eating nuts could lead to a flat tummy, plus 6 other benefits
Snacking right could bring big rewards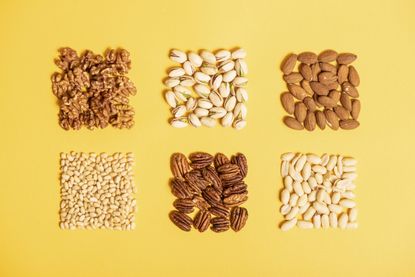 (Image credit: Getty Images)
Put off eating nuts because you think they're calorific? This could mean you're missing out on a host of other health benefits.
"In fact, a handful (around 30g) of KP peanuts provides less than 200 calories," says nutritionist Fiona Hunter. So, as long as you keep your portions in check, the calorie content shouldn't put you off eating nuts. "Women should aim for 400 calories for breakfast, 600 for lunch and 600 for an evening meal. This means you can eat 2 x 200 calories snacks during the day and still be within the recommended calorie target of 2,000 calories per day," says Fiona. Here's how else a handful of nuts can help…
1 Eating nuts can help boost bones during the menopause
Going through the menopause? Eating nuts can help keep joints healthy. "Aching and stiff joints are common before, during and after the menopause and this is caused by the decrease in oestrogen," says nutritionist Dr Marilyn Glenville. "Eat plenty of foods rich in omega 3 fatty acids, such nuts, as these have been shown to help with the symptoms of menopause."
2 A diet of nuts will help you sleep better
If you're struggling to get enough shuteye, nuts could be your snacking saviour. A study by sleepfoundation.org found sleep quality is better if you avoid white bread, refined pasta and sugary snacks, and opt for melatonin-rich foods, such as nuts, instead. Melatonin is a hormone that helps to regulate your sleep cycle. Try a handful of Holland & Barrett's Wowsers Walnuts (£1.59) an hour before bed for an easy fix.
3 Eating nuts can help boost gut bacteria
Scientists have found that a diet enriched in walnuts is great for your gut microbiome as it enhances good probiotic and butyric acid producing bacteria. Butyric acid helps maintain the health of the colon.
4 Walnuts can also help your heart
The omega-3 fatty acids found in walnuts have a positive effect on keeping blood cholesterol at a healthy level. "Not only are walnuts a heart health powerhouse with fibre, but they are the only nut to contain significant amounts of the plant-based essential omega-3 ALA," says registered UK dietician Sian Porter. "Research has shown ALA to have a beneficial role in the prevention of heart disease and strokes. In fact, California Walnuts have the heart-healthy seal of approval from the heart health charity, Heart UK."
5 Nuts can slow down brain deterioration
The Mediterranean diet has a healthier balance between omega-3 and omega-6 fatty acids than other Western diets, and both of these essential fatty acids are linked to preventing degenerative brain conditions, including Alzheimer's disease. Pick pistachios – they're rich in omega 6.
6 This snack helps ward off depression
Like walnuts in particular? Then you're in luck. An American study found that people with depression had 26% lower depression scores when they ate walnuts and 8% lower for those who ate other nuts, compared to those who did not eat nuts at all. "Another reason to include them in a healthy eating plan," says Dr Lenore Arab from the David Geffen School of Medicine, Los Angeles, who led the study.
7 They'll help flatten your tummy… almost
While, sadly, nuts won't help you lose weight, snacking on them can make you feel fuller for longer. Which means you'll snack less. "Peanuts are low in carbs, which means they won't cause unhealthy spikes in blood sugar levels," says Fiona, working alongside KP Nuts, who have launched a collection of 225KG resealable bags in three flavours. "Peanuts are also a great choice because they're a source of protein and fibre, which studies show can help you feel fuller for longer."
Faye M Smith is an award-winning journalist with over 15 years experience in the magazine industry. Her continued work in the area of natural health won her the coveted title of the Health Food Manufacturers' Association (HFMA) Journalist of the Year Award 2021. Currently Health Editor across several brands including woman&home, Woman and Woman's Own, Faye specialises in writing about mental health, the menopause, and sex and relationships.