I celebrated my 60th birthday by diving with sharks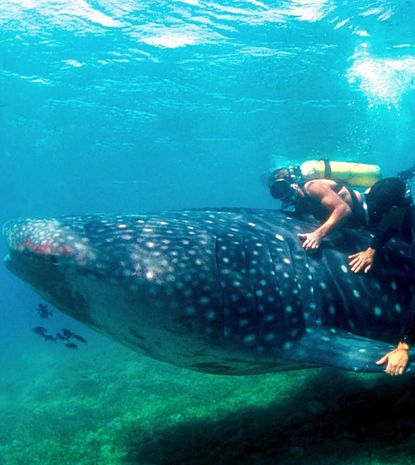 (Image credit: Shutterstock/Rex)
woman&home newsletter
Sign up to our free daily email for the latest royal and entertainment news, interesting opinion, expert advice on styling and beauty trends, and no-nonsense guides to the health and wellness questions you want answered.
Thank you for signing up to . You will receive a verification email shortly.
There was a problem. Please refresh the page and try again.
Author Kathy Lette treats herself to an age-defying birthday present she'll never forget…
Middle-aged women are being encouraged not to forget to have sex because it's good for your memory… Sorry, what was I saying again? But seriously, scientists maintain that females who have sex more often score on average two percentage points higher on cognitive tasks.
Staying young is on my mind a lot right now because I've just turned 60. (Try and look shocked, will you?!) Another sure-fire way to stay young, these same experts insist, is to take on new challenges and conquer old phobias.
Which is why I recently found myself in the middle of the Indian Ocean, flippered feet dangling over the edge of a boat, poised to plunge into the deep, dark waters below to dive with whale sharks in the Seychelles. (Off the east coast of Africa, this glorious archipelago is made up of 115 islands surrounded by marine parks, so it's the perfect spot.)
Now, hailing from Australia, I have a complete shark phobia. Surely if God had meant us to swim in the ocean, he would have given us shark-proof metal cages? There must be a reason fish never look truly relaxed… Could it be because something much, much bigger is always trying to devour them?
My chirpy dive instructor, Lisa, promised that whale sharks, although the size of a lorry, are harmless. "But no creature gets that big from eating periwinkles, right?" I asked, nervously.
Strapping the oxygen tank onto my back, Lisa calmly explainedthat whale sharks only eat algae. But the rock-and-roll motion of the boat in the big seas was making me go a distinct shade of green. "What if a whale shark mistakes me for a piece of plankton?"
As she lowered the dive mask over my face I was having serious second thoughts. I hadn't scuba-dived for 10 years. When my mother was my age, the most athletic activity she attempted was licking an envelope. Mum made a pot plant look active.
Ogling the churning sea with terror, I thought how right she was. Clearly "diving with whale sharks" is just a euphemism for "organ donor".
As Istepped off the boat into thin air I wished I'd opted for a physical activity not known for its fatalities, say, hopscotch or knitting.
Bobbing about, trying to repress my terror of what might be lurking beneath, I slowly deflated my vest and descended to the sandy seabed.
The underwater topography of the Seychelles is a sculpture park of giant granite boulders that have tumbled from the mountainsides into the sea. Burstsof bubbles indicated the tanks of the other divers as they finned through rocky canyons of Jackson Pollock-style coloured corals.
I scissored towards them but the weight of the tank caused me to roll drunkenly from one side to the other. My mask kept filling with water, making me flounder even more. Nor would my ears pop properly. I just couldn't find my equilibrium. Clearly I was way, way too old for thiskind of adventure.
Finding my sea legs
All around me a silent fish symphony was underway, as clown, lion, parrot, puffer, butterfly and angel fish darted about in their colourful choreography. But all I could concentrate on was the sound of my own panicked breathing. In fact my breathing was so rapid and jerky that I used up all my oxygen too quickly and had to ascend.
When I flopped aboard, my self-esteem was also running on empty. I felt more deflated than my BCD vest. I'd wanted to step out of my comfort zone for my 60thbut this new postcode was proving way too demanding.
When the other divers finally clambered back aboard, they excitedly catalogued their many marine sightings, but sadly, no whale sharks. "We'll have to sing their mating call," one advised.
"Whale Meet Again?" I suggested, lamely, before proposing we abandon our mission and simply head to the beach bar for a birthday cocktail.
"But didn't you want to do something remarkable and memorable to celebrate your 60th?" my new dive buddies insisted.
Bolstered up by their enthusiasm, I agreed to set sail for a favourite whale shark haunt at Silhouette Island. "Are you ready?" my instructor asked, strapping a fresh oxygen bottle to my back.A lobotomised grin was the best I could manage. But on my second dive, something magical occurred. I stopped worrying and simply lost myself in the majestic grandeur of the kaleidoscopic underwater world. Finning my way through coral encrusted caves,I marvelled as Mick Jagger impersonators (technically known as cleaner wrasse) whirled past me.
A giant sea turtle emerged through silvery shards of sunlight just as a huge stingray, with its theatrical cape and stage-villain grin, swooped by above.
The instructor made the diving sign for "Are you OK?"
I wondered what the international hand signal was for "I'm so happy! Can we just stay down here forever?"
But just as a warm sense of calm washed over me, I glimpsed something menacing in the shadows. Not a gentle giant of a whale shark but a big, grey, 10ft predator. I recognised it as a nurse shark. Although known as the "couch potato of the sea", the huge creature's permanently gaping mouth full of long, sharp teeth, gave the impression that it had some serious anger-management issues.
The nurse shark and I looked at each other for an eternity; though my watch recorded it as six seconds. My vision blurred and my eyes swam – the only part of me that could, mid-panic attack. I clung to the dive instructor likeRobinson Crusoe to his life raft.
I forgot my phobia
But the nonchalant shark simply swam on by, uttering a "No thanks. I already ate". And then an astounding thing happened. Watching the magnificent creature glide so effortlessly past, I forgot my phobia and found myself swimming after it, enthralled and entranced by its streamlined grace.
The rest of the dive I spent enraptured by nature's marvels and thrilled by my rediscovered sub-aquatic prowess.
Hauling myself back onto the boat, I felt completely elated. I had conquered my shark phobia and fear of the deep. As for whale sharks? The biggest beasts I saw that day were a few bloated Russian oligarchs bobbing about near the beach.
By the end of the week I still hadn't found any whale sharks, but Ididfind a new lease of life, my sense of adventure, my lost youth, many new friends and a passion for scuba-diving.
On my birthday trip I spent so much time in the water, I practically grew gills. But Silhouette Island isn't just a marine park. A whopping 98% of the island is a nature reserve, sheltering unique flora and fauna, from the magnificent coco de mer (sea coconut) to giant 200-year-old tortoises.
No roughing it required, however – when I saw my opulent villa, nestled on a palm tree-fringed beach in a tranquil, turquoise bay,I had to tilt my head backwards so that my eyeballs wouldn't fall out in amazement.The Hilton Seychelles Labriz Resort & Spa hotel is so luxurious you find yourself talking in exclamation marks. "Wow! Incredible! This private plunge pool and Champagne bubble bath is really all for me?!"
Swimming, bush walking and cycling all day also means there's noneed to install speed bumps by the buffet. By day I dived into the sea; by night, I dived into Asian fusion, Italian fine dining, Creole cuisine and feasts of Japaneseteppanyaki. The Coco Signature Facial in the exquisite spa was as effective as a Tardis time machine – it took years off! Moving onto the Hilton Northolme Resort & Spa on Mahé, the largest of the Seychelles islands (its capital, Victoria, is one of the smallest capital cities in the world), I became really suite-wise in a luxury villa overlooking the opalescent sea.
At the spa my aromatherapy massage was bone marrow-meltingly relaxing. Finally I moved onto the DoubleTree Resort, where guests can take part in a programme of "coral gardening" alongside locals – if they're feeling enthusiastic.
A diving holiday in the Seychelles is a once-in-a-lifetime trip. But so is turning the big Six Oh!Women my age want to have adventure and fun. They do not want to sit at home in beige cardigans knitting their own bus passes.
I wanted to start my seventh decade doing something brave and brilliant – and I did. I wanted to challenge myself by trying something remarkable and memorable – and I have. The exhilarating experience has left me feeling younger, stronger, happier, healthier and more positive than I have done for years. I'm already planning other escapades, from a cycling marathon to flamenco dance classes and a scuba in Cuba, for the rhyme alone.
I'll see you there!
Lauren is the former Deputy Digital Editor at woman&home and became a journalist mainly because she enjoys being nosy. With a background in features journalism, Lauren worked on the woman&home brand for four years before going freelance. Before woman&home Lauren worked across a variety of women's lifestyle titles, including GoodTo, Woman's Own, and Woman magazine.